The beauty of being a skier is that you can spend your whole life (wealth and health permitting) exploring the best and most exciting runs the planet has to offer. There are hundreds - thousands - of ski runs for you to choose from across the world, from Canada to France, Italy to New Zealand. All have their merits, this much is true - but when it comes to the best of the best, which ones come out on top?
We've compiled a list of five of the world's best ski runs by our estimation. If these aren't on your bucket list, they should be.
Flying Kilometre
Les Arcs, France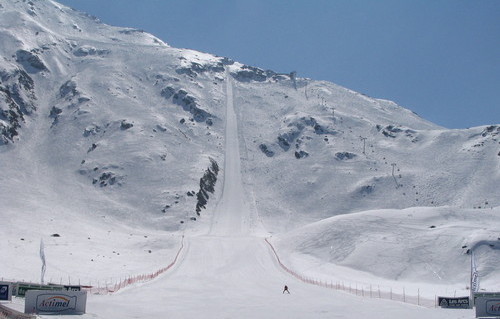 You may be fooled into thinking this much-loved run is some kind of injury enabler, but the Flying Kilometre is perfectly doable - you just need to focus, and not think too much about the 76 per cent gradient and almost-freefall you'll be undertaking. This run is all about maximum velocity rather than distance travelled; Philippe Goitschel holds the current record at 250.70kph (160mph), despite FIS regulations limiting competitions to 200 km/h. Just to be clear, Goitschel was moving at twice the speed of Britain's motorway speed limit. Just take a moment to let that sink in.
You don't need any special qualifications - just the €12.50 entry fee, which includes equipment hire, and a 'survivor's medal'. Don't forget to tuck yourself in and assume a sort of 'toilet squat' as you're setting off - you want to be as compact as possible.
Combe de La Saulire
Courchevel, France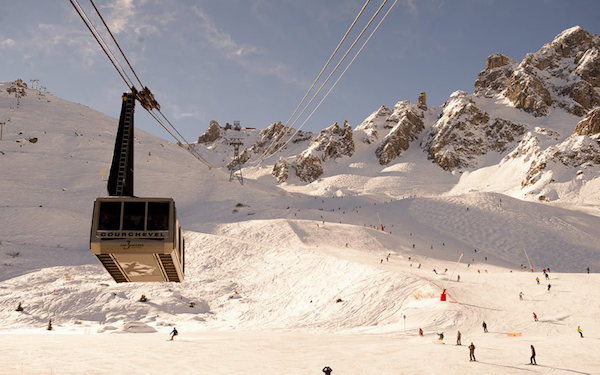 This red run is good fun for families, unless the crowds make it a stop-start affair. It's not too difficult, but watch out for the steep start - after you've negotiated that, the rest of the run is open and wide, with spectacular views that make it so special. If you fancy pushing yourself, head straight into the bowl - younger and less confident skiers may want to take the gentler path on the right hand side.
Look up to your left as you descend, as you'll see daredevils tackling Sous Pylons, Emile Allais and the Grand Couloir.
While this is a run you shouldn't miss, too many people will reduce your enjoyment. Our advice? If you're staying in Courchevel, tackle it straight after breakfast, before your fellow skiers arrive from Méribel.
Corbet's Couloir
Jackson Hole, USA
Spoken of in reverent tones as one of North America's most notorious runs, Corbet's Couloir is first glimpsed from the cable car ride you'll need to access the run. Things don't get off to a slow start - you leap from a cornice and enjoy a free-fall of about 12 feet. Prepare yourself for a difficult landing and turn quickly, otherwise you'll crash into the wall of the couloir, which will be painful and unpleasant at best.
Despite the slight tricky start, this isn't a run to be feared. It's hardly the most challenging in the continent, it's just the toughest one with a name. The reason to tackle this bad boy, along with the intense adrenaline surge you'll experience, is the bragging rights you'll have access to. Many a skier has been spotted in one of the bars of Jackson, down in the valley, regaling the locals and other skiers with the story of their descent.
South Face
Lake Louise, Canada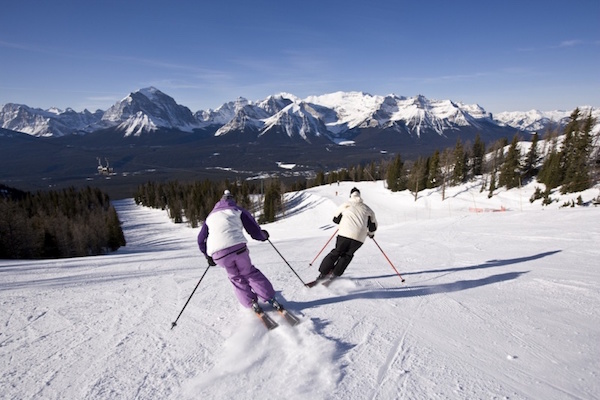 Let's get one thing straight - if you're after stunning views coupled with a challenging, exciting run, you're in the right place. The frozen lake itself draws many admiring glances - it's surrounded by pines and high cliffs, and skiers often take some time out to slow down and appreciate the natural beauty all around them. However, don't just take our word for it - reviews for the area righteously concur and praise the 'long, wide open runs', and the 'phenomenal view at the top'.
If you'd like to give an intermediate run a go, head out from the Top of the World Express quad chair down Sunset Terrace. The run then becomes a thrilling descent down the black-diamond Men's Downhill, which is a rewarding yet tricky run when it's groomed. Want a gentler alternative? Give nearby Juniper a go.
Ventina
Cervinia, Italy
If this run was magically transformed into a person, it would be a people-pleaser; ready to adapt at a moment's notice and comfortable in anyone's company. Ventina is equally enjoyable for new skiers and winter sports fans seeking powdery thrills; it's not the speed which draws the crowds, but its wide open space and length. From the top of the cable car at Testa Griglia to the bottom lift station in Cervinia, you'll travel for 8km.
Novices - this is where to head at the end of your first holiday as a treat, and to show yourself that you're improving. You'll have the opportunity to explore the whole mountain, and you'll discover just what makes skiing so addictive. More advanced skiers - this is racing terrain. Be warned, though - bombing down it in one will leave you with fairly wobbly legs.
This article was written in collaboration with Columbus Direct, who specialise in winter sports travel insurance to keep skiers safe on ski slopes like these.
Related
Ski instructor courses in the Three Valleys, where a couple of these runs are.
Snowboard instructor courses in the Three Valleys, as above.