Case Study – Leeds Snowriders
SnowSkool is pleased to announce that this year we'll be sponsoring the Leeds University snowsports club - Leeds Snowriders .
Leeds Snowriders is the largest club at the university boasting a formidable figure of over 1,000 members! The last couple of years have seen the club go from strength to strength; their two holidays (run during the Christmas and Easter breaks) both record solid attendance numbers, normally 300 at Christmas and 400+ at Easter.
Leeds Snowriders also recorded some great competition results this year; Jonny Corsane, new president for the '11-'12 season, took 1st place in the Men's BUISC snowboard slopestyle, in the Ladies' snowboard slopestyle Vic Peacock placed 2nd. In the ski freestyle Kirsty H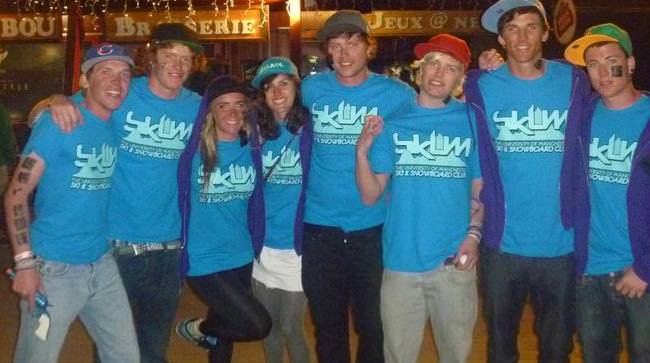 owe and Paul Godsmark both narrowly missed out placing 5th in their respective categories. In addition to these fantastic results the ski and snowboard race teams also recorded some very respectable finishes in both dryslope and on-snow racing throughout the year. Abby Clifford also represented the club in Women's Ski Racing at the world university games as well as producing a fine haul of medals along the way!
The club is well-renowned throughout the UK not just for its prowess on the slope... but also for its ability to get the party started wherever they go, an ability challenged only by their fierce but friendly rivals at SKUM (University of Manchester). In the past the Leeds/Manchester rivalry has been known to get a little heated, but recently relations have become more amicable and the two clubs appear to have joined forces of late… if only to encourage the more competitively focussed clubs to lighten up and join the party.
Each and every year the club concludes the year with what can only be described as an epic party. This year's end of year blowout saw a real snow rail jam in early June with demos from UK pros, an inflatable wrecking ball game, lots of booze, and live music until the wee hours of the morning. If you missed out… what were you playing at?!
Jonny Corsane, Club President for the coming season, has some big plans in store for the club:
"THIS YEAR IS GOING TO BE LEKKER LIKE A FIRECRACKER BRU" - He remarked in his finest South African accent (allegedly he's from there).
"But seriously, this year is going to be off the chain, we'll be continuing on from last year's awesome results competing in everything we can. We'll also be providing more and more training and trips for club members, as well as keeping up with our record for throwing the biggest and best socials and holidays in the UK!"
"Oh and we'll be promoting SnowSkool's Ski & Snowboard Instructor Courses too…" – Thanks Jonny!