[5 min read]
Book your place now for the original, best, longest, most fun, and fantastic value course on your list
GBP £8,950 for a 13 week course (including flights*) or ... for our Aussie friends, AU $15850 (not including flights) ... in the most wonderful resort with the best instructors and course reps to ensure you have the best time and gain the best qualifications. Read on to discover more ...
"Snowskool Banff is a really fun and flexible course … One of the highlights, possibly the most obvious, of a SnowSkool course is the people that you are surrounded by. Everyone is there for the same thing, to improve their skiing, to gain an understanding of the professional side of skiing and to have an absolute blast in one of the most amazing places on planet earth. Despite age or nationality, you become one huge family because of this"
So says Annie Thallon, SnowSkool Graduate (pictured below), who now works back-to-back winters in the northern and southern hemispheres as an élite CSIA Level 4 Ski Instructor (think, elite-best-in-the-world level – qualified to teach Pros and other instructors) and a CASI Level 2 Snowboard Instructor … Living the Dream!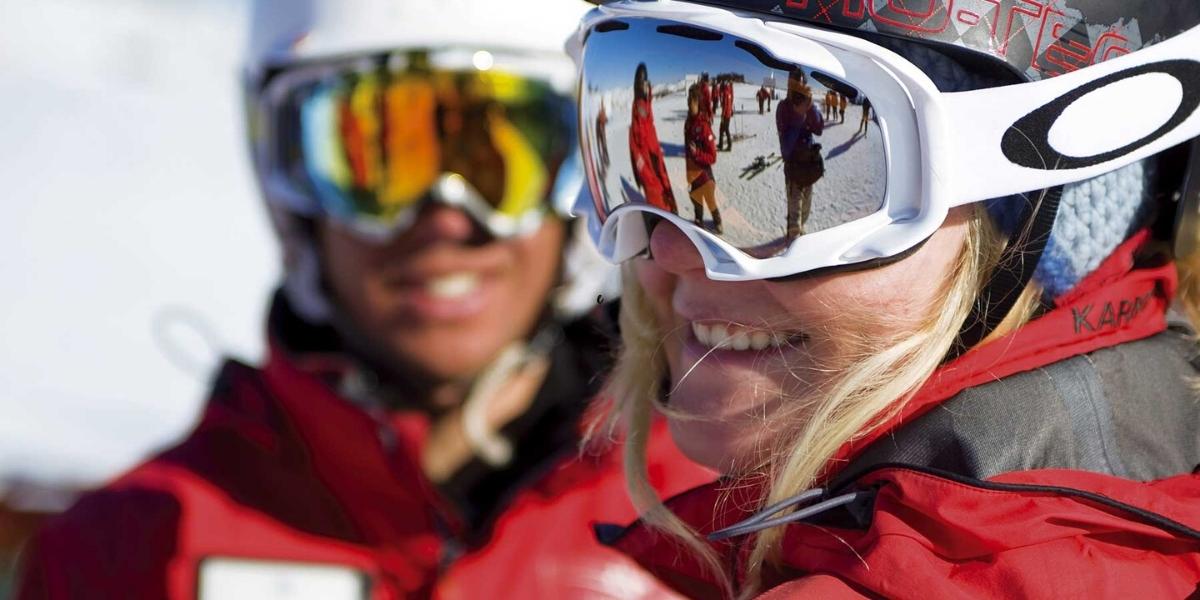 Want to know more?
The Banff SnowSkool Instructor course is our original and still our best. How so?
It is the longest, best value and most popular course on the market. Really? Explain.
The course has been running since 2003
It lasts 13 weeks (most are 11)
It takes place in the magical, traditional, epic Sunshine Village resort. Gorgeous, beautiful and crucially, snow-sure - think champagne powder from mid November to May every year.
You will be skiing / boarding over 3,350 acres of world class skiable terrain spread over three mountains. This includes two world-class free-ride zones, namely Delirium Dive and the Wild West, and three snowparks; as well as 120 named runs spread evenly between beginner, intermediate and expert level. Say no more ...
Your instructors are the best of the best – all Level 3 and 4 CSIA / CASI instructors – and are there to breed more; as our graduate success stories demonstrate below ...
Graduates go on to instruct and innovate all over the world, attracting top sponsors and generally making their dreams come true. Here's a flavour of what some of the illustrious SnowSkool alumni have gone on to do having attended that first life affirming, character forming, horizon reaching, friends-for-life-making, gateway SnowSkool course ...
Andrew McGregor
Got level 1 and 2 and race coach quals at SnowSkool. Returned to work for the Ski School Banff, got his Level 3 which enabled him to get a working visa to return each year. Long-term plan is to pursue 'endless winter' working back to back seasons in Canada and New Zealand and Level 4 Qual élite level where the world becomes your oyster.
Anna Briggs
After qualifying from SnowSkool, Anna landed a job at Telluride in Colorado; then went to work at The Remarkables on New Zealand's South Island. Anna now works for Snowmass Snowboard Divisions in Aspen, Colorado where she is training to sit the AASI Level 3 this winter
Anna says "A big thanks to SnowSkool for giving me the start I needed to get into this industry"
Benjamin Kay
After qualifying with level 2 CSIA and CSIA Snowpark instructor certifications from SnowSkool, Ben spent four southern winter seasons at Mt Hotham in Australia working as a freestyle instructor and northern winters at Sunshine working on regular lessons, freestlye and big mountain progressive sessions.
Benjamin then moved to the terrain park crew at Mt Hotham, helping to design and craft snowpark features, and tear-up the freestyle scene competing in multiple rail-jams and slopestyle events all over Australia, Canada and Japan. Placed as 'Best Skier' in the Mad Dog Jam in Niseko Japan, he now skis for TallT Productions Japan and Toastie Press Crew, and is sponsored by Rossignol. (Bit cool - understatement - Ed)
Annie Thallon
After completing the SnowSkool course at 18 yrs old ("I finished school and didn't 100% know what I wanted to do. Rather than jumping straight into university, I decided to combine eveything that I love doing (skiing, teaching, and travelling) which is when I came across SnowSkool") Annie has become one of our highest-achieving graduates.
Finishing with a more than an impressive list of qualifications (CSIA Level 1 Ski Instructor, CSIA Level 2 Ski Instructor, CSIA Snowpark Instructor, ACA-CSC Entry Level Race Coach, CASI Level 1 Snowboard Instructor) Annie is now a Level 4 instructor working end to end winters in Canada and her native Australia.
Annie has the following praise for SnowSkool and advice for aspiring participants
"Gaining a position in a ski school can be difficult as there are many people trying to get jobs. However, having the experience and knowledge of SnowSkool to lean on helped me out; you have already seen how lessons are structured and how a good Ski School operates. My best advice would be to speak to everyone and gain as many contacts as you can, you never know when you'll need people to recommend you or put in a good word...
The second thing, would be the level of trainers that you get to ski with five days of the week. Because of the high standard, future employers look at this and have no question as to where your standard may be.
The last thing would be the connections you make over the course. To this day, I am still in contact with many of my original trainers and see them at least once a season. It's also awesome for them as they get to see you improve and follow your journey – they're always stoked about that."
Well … enough said we're blushing now (Ed) … But also very proud, and this is what we want for all of our SnowSkool graduates. Annie's right. We love it as much as you. We also want you to have the best time whatever your ambitions or reasons for being on the course.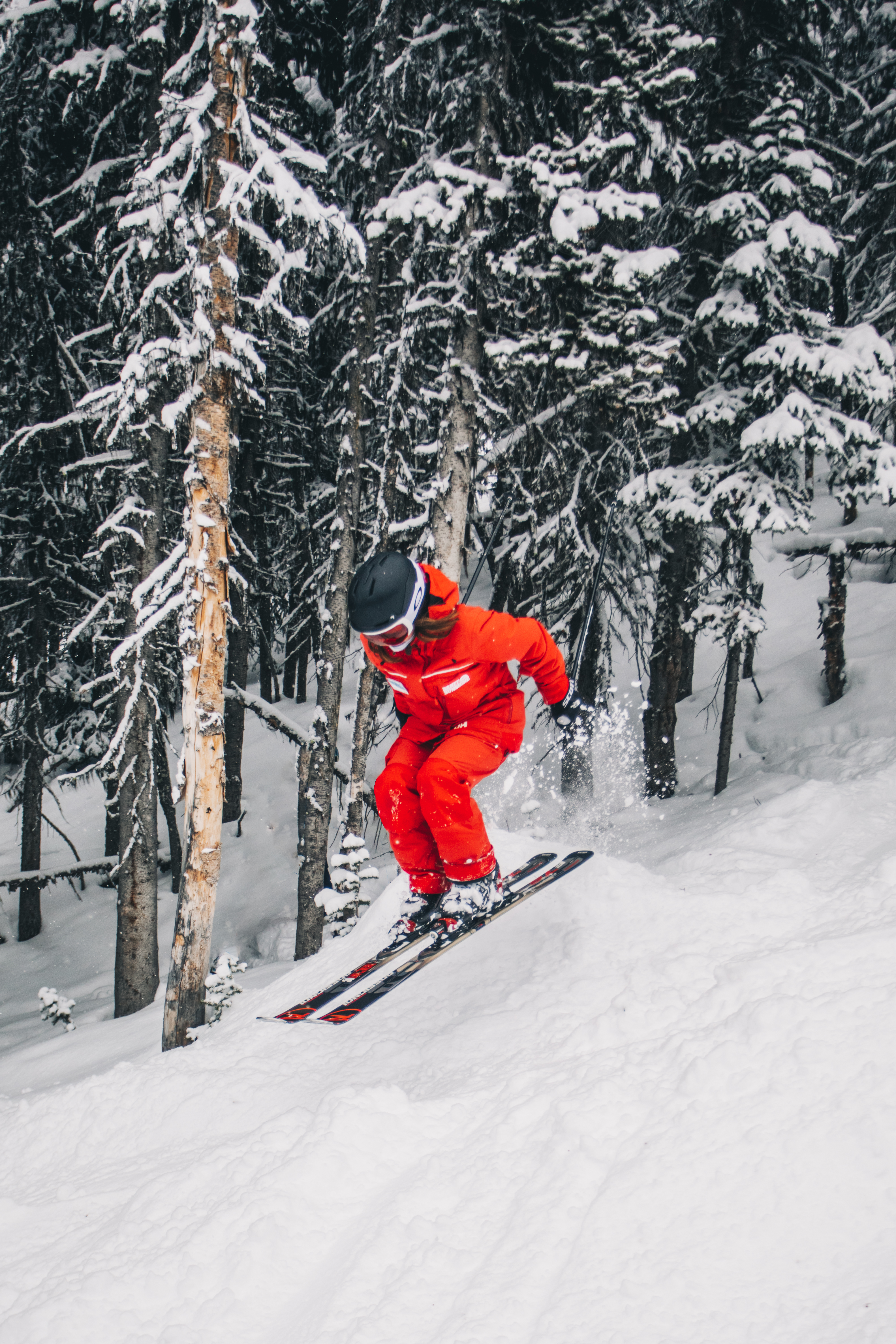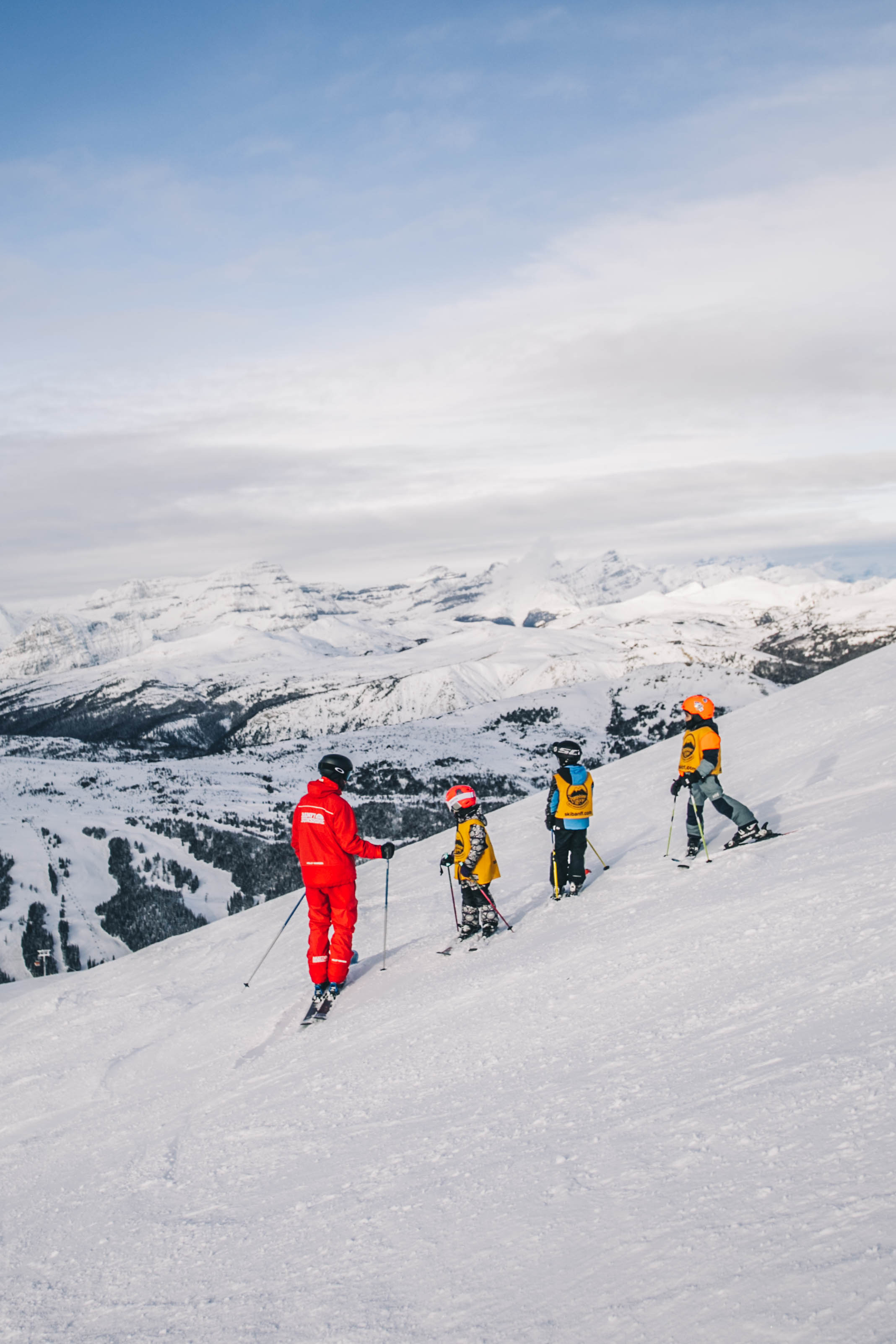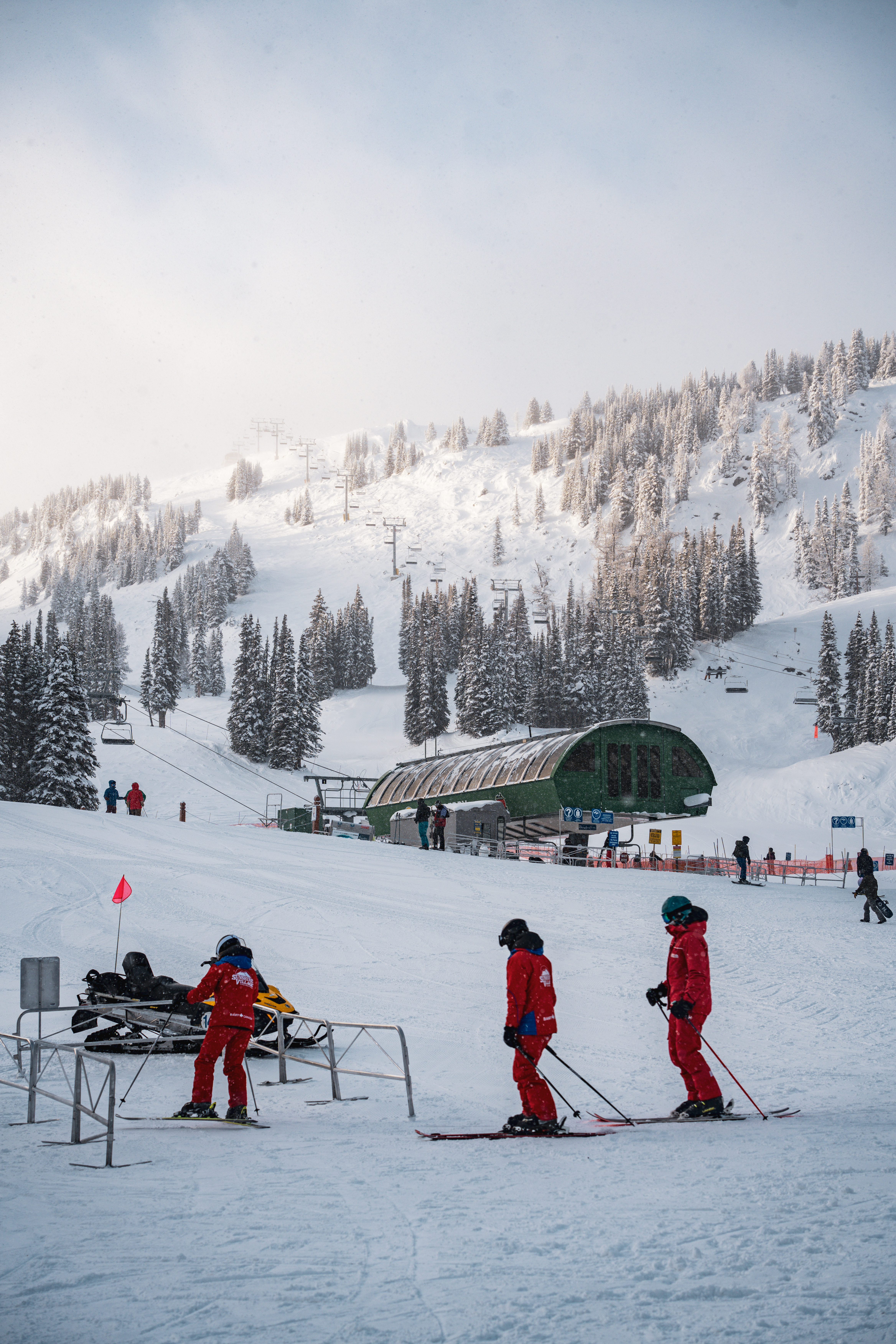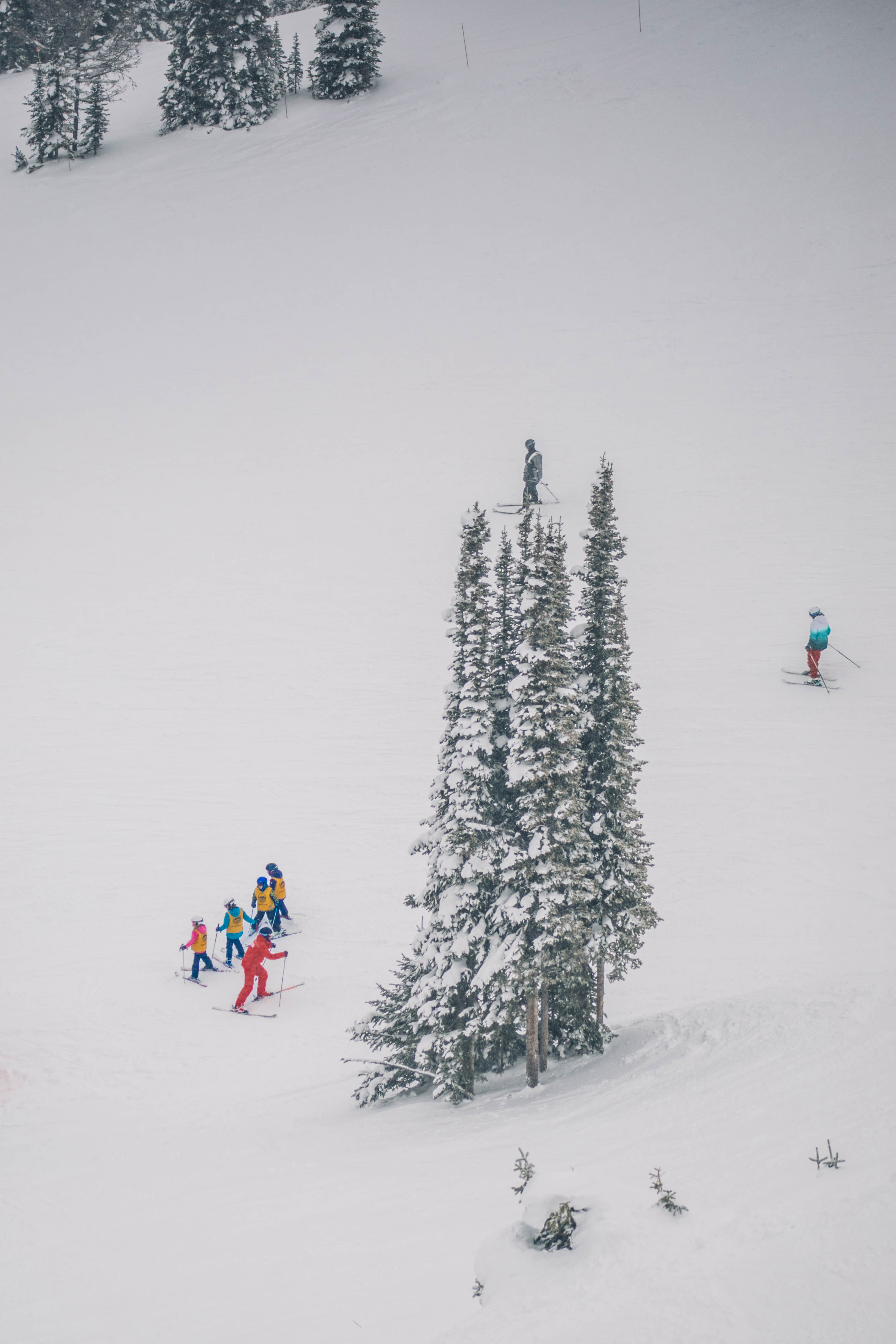 Snaps above from SnowSkool Banff 2023 now drawing to a close, and it has been an incredible season with 60 clients from many different countries
Your course, your experience, it's what you want, it's what you make it ... it's also what our SNOWSKOOL REPS help you make it too
It's not all about the highest aspirations, ambitions and successes. Getting a wad of certificates is fantastic. But there are lots of other soft skills you will develop on a SnowSkool course whatever certification you end up with. We want you to achieve what you want to achieve, and have a good time doing it too. It's about the overall life experience as much as gaining gateway qualifications to further your ski-instructing career. Which is where our SnowSkool reps come in.
SnowSkool reps give us the edge over other courses. They turn a good season into a great season. Chosen for their knowledge of the town and the ski hill, common sense, organisation and their love of the SnowSkool's courses (often SnowSkool graduates themselves), they are there to support and facilitate – ensuring you have the best time and the best outcome. The reps live on-site, they ski, eat, drink, hang out and … look out for you!
Not only in relation to your course but all the rest too. Nightlife - so much to do and choose from gigs, clubs, restaurants to other cool stuff; dog sledding, heli skiing, hot springs, spa, wellness and so much more. And just general mentoring support around the ups and downs a ski instructor course inevitably involves. There to high five your successes big and small, and for you to lean on when things aren't quite going how you'd like. You can rely on our reps for advice, support as well as that all important fun factor!
Want more details?
Check out our SnowSkool E-Brochure for further details on all of the above (maps, accommodation, resort info, week by week breakdown of the course, list of qualifications open to you, graduate stories, helpful stats, full breakdown of what's included in the standard cost. Plus some tantalising photos!)
SnowSkool Banff 2024 is the best value course you will find.
GBP £8,950 offers fantastic value for money and includes return flights* from the UK in one of the most popular resorts out there
Contact us to talk more and book you place – We're ready and waiting ...
* Packages without flights cost GBP £8,400
Writer Kate Swainson Price