Can you make a successful career from being a ski instructor?
This is a question often asked by those looking to join one of our courses or by parents trying to figure out if spending such a sum of money on an instructor course is the right career path. This is after all, a lot of money to commit to – much like university costs.
The answer is yes, you can have a very successful career as a ski instructor but like any career it won't happen straight away - you need to put the time and effort in and really motivate yourself to continue your development and progress.
Meet Shauna Rigby, an Australian who really has made a successful career from ski instructing. Shauna started off as an unsure teenager with a love for ski racing and a dream to create a career out of her passion. Through hard work and dedication, Shauna has gone from ski racing as a child in Australia, through gaining her Level 2 with SnowSkool in Banff Canada, to becoming one of the youngest ever females to reach APSI Level 4. And then to be selected to represent APSI in the national demo ski team!
We sat down with Shauna to discuss how she made her dream a reality.
SnowSkool: Like many young Australian school-kids you were part of the interschools race program for a number of years, for those out there that are not familiar with the Australian schools' regional races, can you explain what Interschools is?
Shauna: The Interschools Snowsports Championships is a series of events that allow kids from all over the country to participate and represent their school either as an individual or as a team in multiple ski and snowboard events including Giant Slalom, Skier Cross, Moguls and Slopestyle. Interschools is available to school students from Kindergarten through to Year 12.
You were one of the lucky few who, through interschools, were hand-picked for a SnowSkool Scholarship. How do you think that opportunity through SnowSkool has impacted your career to date?
Talk about life changing! When I applied for the SnowSkool scholarship I was planning on taking a gap year after school finished, then eventually heading to university to study something I wasn't sure about. SnowSkool gave me the opportunity to make the most of my gap year by travelling to Banff, Canada for 14 weeks.
When I left for Canada I had no idea if ski instructing would be for me, however the opportunity to live in another country, ski with some of the industry's best trainers, meet so many new people and make friendships and memories that would last a lifetime would be too much to miss! After successfully obtaining my CSIA Level 2 I was offered a job at Perisher for the following winter in Australia. I was excited but still had no idea what to expect from ski instructing. I loved every minute of it and learnt so much about myself that season.
Doing one season just wasn't enough. I wanted to grow and develop as an instructor and be able to apply everything I learnt from my rookie season into another winter of teaching. Once I made the (very easy) decision to dismiss uni for another year I became addicted to the lifestyle that comes with ski instructing. Traveling overseas, working with people from all over world who share the same passion, the tight knit community and sense of adventure that comes with the job, makes every day the ultimate dream!
If it wasn't for the SnowSkool scholarship, I would never have had this incredible experience.
Can you remember any highlights from your time in Banff?
On snow or off snow?! There were so many highlights, memories and laughs from the trip I don't even know where to begin….
After your time with SnowSkool, you managed to secure your first job back in your native homeland of Australia, at Perisher. Upon hearing this we asked you what your thoughts were about the prospect of teaching skiing full-time, you said:
"I literally cannot wait to get up there and start teaching! I was so happy when I got the call from Perisher telling me I'd landed the job! I'll also be working with a bunch of the guys from the SnowSkool course who also have jobs over here… excited doesn't cover it!"
Was your first season in Australia everything you thought it would be?
I think I answered this above, but my first season in Perisher was amazing beyond words. Even though I had my teaching certification I was so nervous for my first lesson. I clearly remember it! A 4-year-old girl who didn't know how to stop. She couldn't speak English and was crying for mum to come back. I was so unsure of the whole situation to begin with but by the end she was having fun and didn't want to leave. I had my first taste of guest satisfaction from my personal instruction. It was a great feeling and I loved every minute of teaching from then on.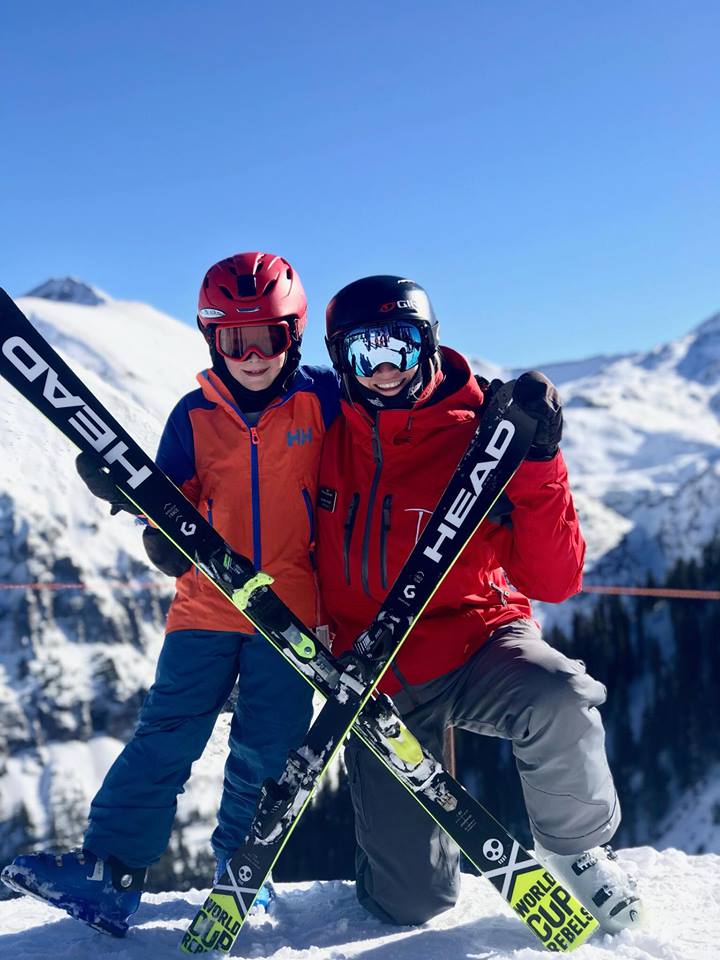 Shauna with a happy client...
With SnowSkool you qualified with your CSIA Level 1 and 2, at what point did you decide to transfer over to the APSI, and why?
In my second season at Perisher I decided to continue my training development because I knew I wanted to become the career instructor. Every lesson I taught was different but I wanted to challenge myself and provide more advanced instruction to my guests. I also wanted to make myself more attractive to overseas ski resorts. The APSI Level 3 is an internationally recognised certification and instructors who can obtain it are more employable worldwide.
How did you find that transfer process, simple or difficult?
Transferring from the CSIA to APSI wasn't too much of a shock to the system from a training point of view. They use different terminology but both associations are quite similar. I did my Level 3 pre-course that winter but unfortunately I ended up injuring myself which turned out to be a season-ender for me. I needed 6 weeks off snow for my fractured femur to heal! Two months later I was on a plane to Whistler, Canada for my first official season teaching overseas.
The following season I was back in Perisher and sat my Level 3 exam. It was a lot tougher than I had prepared for. The way the APSI conduct exams is very different to the CSIA Level 2 exam process. The APSI assigns you a bib number and you get 2 attempts at each skiing task. The examiners stand at the bottom of a run with notepads writing down a score between 0-10 with 5 being the standard. Not only do we have to pass skiing and demonstrations tasks, we also have to sit a written theory paper, do an indoor movement analysis test and successfully complete a skiing teach. I found the exam process quite overwhelming in comparison to the CSIA Level 2.
When did you achieve your Level 3, and how much of a jump was that in terms of technical difficulty from Level 2?
My first attempt at APSI Level 3 in 2012 didn't exactly go to plan. I passed 2/5 components and realized that I needed to train a lot more to achieve that level of certification. Understanding skiing movements at a slower speed was challenging for me as I had always been a faster skier due to my racing background. I also needed to work on my mechanical knowledge of skiing to improve my teaching especially when I get nervous.
I went over to Japan the following season and spent as much time as possible training and studying. I was able to re-sit the exam and successfully passed my second time round! The jump from Level 2 to Level 3 was pretty big. The examiners are looking for a lot more refined skiing and a stronger understanding of technical knowledge.
In 2014 you achieved your Level 4 Alpine APSI (Australian Professional Ski Instructor) qualification, and at 22-years-old, this made you at the time, one of the youngest females to have ever been granted that level of qualification!
If you could give 3 pieces of advice to those upcoming ski and snowboard instructors looking to progress up the levels, what would they be?
Set a goal and commit! People often doubt their ability to ski and teach, be confident and give it everything.
Absorb as much information as you can (there is no such thing as a bad training session).
Don't ever forget about your passion for skiing/snowboarding! Have fun and enjoy every moment.
The latest accomplishment, you are now on the APSI Interski demo team, representing Australia, which is incredible! How did that happen?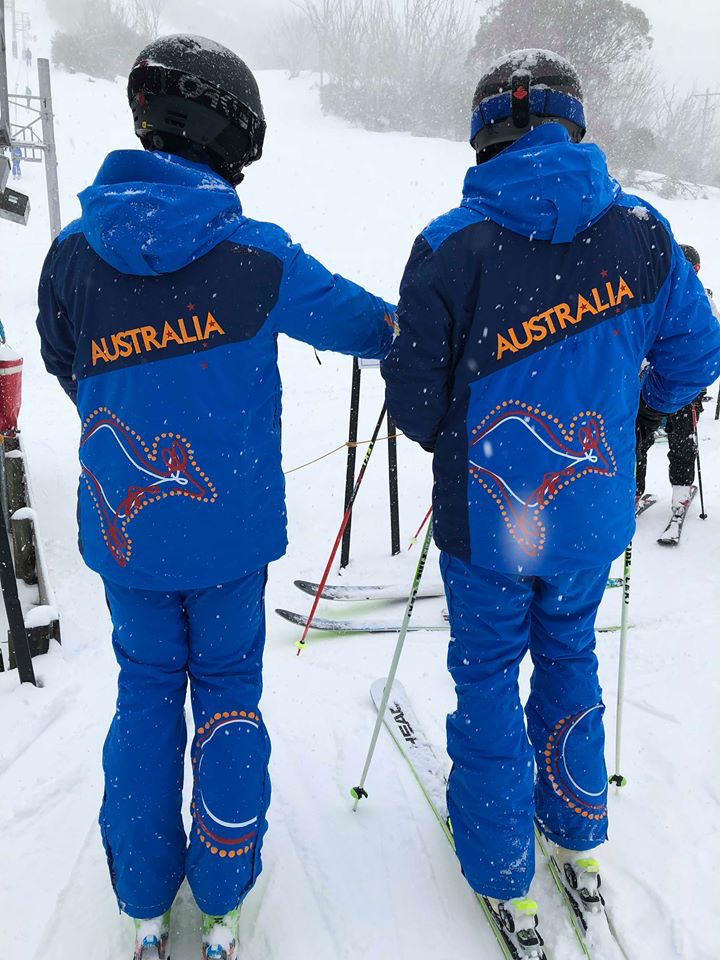 Shauna with the Interski Australia demo team
The year after I was selected as a rookie trainer with the APSI, the tryouts for the 2019 Demo Team were held. I honestly wasn't expecting to be selected when I applied – I just thought it would be silly not to give it a go. When you choose ski instructing as a fulltime career you should always strive to be better at your job and never turn down an opportunity to improve – you can only benefit and grow regardless of the outcome.
The selection process was full on! We had to showcase our skiing skills through short turns, long turns, a free run, fall line change, sychro skiing in pairs, and a few low end demonstrations. We also had to present an on-snow clinic, do an impromptu indoor presentation and have an interview with the selectors. The demo team tryouts were more stressful than my Level 4 exam!! To my surprise my name was called out and here I am… heading to Bulgaria in March 2019!
Being on the APSI Demo team, what does that mean for you?
It means everything. It has allowed me to become a mentor for all aspiring instructors, especially the female ones! In an extremely male dominated industry it can sometimes be hard to rise above and show your skills or even be able to relate yourself to your trainer. I'm not sure if you know, but we have 4 females on our Demo Team representing Australia in Alpine, Snowboard and Nordic. It feels incredible to be apart of a such a diverse team.
Being on the Demo Team has been such an amazing experience for me. I've grown as a person, instructor, leader and skier. Most of all it's shown me that you really can do anything if you put your heart into it. If you asked me 7 years ago if I thought I'd ever become a Level 4 instructor, Trainer, or Demo Team member I would have laughed. I always thought it was so unobtainable and only for the ski gods out there. Instructing is like anything you do, if you work hard you can achieve your dream!
Level 4, on the Australia Demo team, what's next for Shauna Rigby?
I always go season to season but at this stage I have spent the past few weeks shadowing Level 4 courses, so hopefully I will be able to run one in the near future!
You might see me in Japan this northern hemisphere and if not I'll definitely be back in Thredbo. For me, my love of skiing will always be there – I don't know where I'd be if it wasn't for instructing. Thanks to SnowSkool for giving me a life changing experience.
From your incredible experience to date, what final advice and tips can you give for anyone out there looking to make a career in the ski and snowboard instructor world?
Be yourself and enjoy the journey! Taking part in a winter season will completely change your life for the better. There aren't that many jobs that allow you to travel and work all over the world, soak it up and take any opportunity to work in a country you would never have dreamed of working. Also, don't worry if you have to live off 2 minute noodles for a while, it's well worth it for the experiences you will have!
What next?
Shauna's incredible ski instructor career started with SnowSkool. Spaces are still available for winter 2018/2019, see the available courses below and get in touch for more information:
And to find out more about starting a career, the salaries you can expect and what you should be doing post-instructor course, in the hunt for a job, take a look at these helpful guides: