Skiing off piste can be exhilarating but it can also be dangerous so it's best approached with caution – plenty of skiers come unstuck each year by forgetting to take precautions before going.
Nonetheless, off-piste skiing is still popular. So if you are going to do some off-piste skiing then here are five tips and things to check so you can do it safely.
Snowskool notes that they are easily memorisable as C.A.P.E.R
1. Conditions
Have you planned ahead? Look at the weather and snow report and make sure you have a good picture of what to expect on the day of your trip. What is the likely visibility, temperature, wind?
All of these elements are crucial to whether you can ski off-piste safely - ideally you'd be looking for high visibility, low wind and a temperature that's not going to produce too much ice.
2. Avalanches
Have you read and understood the Avalanche Report? Learn the ratings on the international 5 point scale and what they mean so you can avoid going if the conditions aren't safe.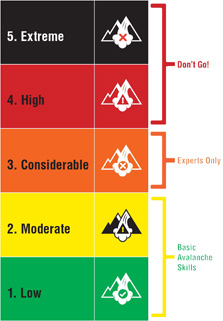 3. Partners
Who are you going with? Choose your friends carefully. Do they know as much as you? Are you confident and comfortable skiing with them?
You need to ski and work together as a team when you're off piste, making decisions as you go and potentially being the rescue services for each other.
You should also let someone who's not within the group where you're going and what time you'll be back. They can alert authorities if something happens and you're not back in time.
4. Equipment
Are you equipped? Do you have a pack with a transceiver, shovel and probe? Are batteries ok in your transceiver? Have you practised using your kit? Guide book, map, snacks all packed? Are your skis in good shape?
To recap, here are the critical things to bring:
* Transceiver (fully charged)
* Shovel
* Probe
* Map
Remember to practise using all of the above.
5. Route
Make sure you plan a route that's appropriate to the ability of your group. Ask: is your route appropriate in the conditions and are you likely to make the best of the snow conditions?
Useful Links
Here are some useful links to help you plan…
Snow forecasts: http://www.snow-forecast.com/
Avalanches: http://www.avalanches.org/eaws/en/main.php
Good luck! Be Safe
Related Content
Snowskool's ski improver courses can help you develop advanced ski skills.
Thanks to John Hendry of Parallel Lines Ski School for his expertise in this field.