This time, we're getting up close and personal with John Hendry, Ski Instructor and Director at Parallel Lines, Méribel, France
SnowSkool: Hi John! Could you tell us about your first experience of skiing?
John Hendry: I first skied when I was 12 or 13 on a school day trip to Glenshee, Scotland.
So after your first day at Glenshee, how often did you go skiing?
I joined a ski club and probably skied twice a week, one evening dry slope and one day on snow, from 13- 16 with a couple of longer stints at Easter.
And then you were hooked aye? Can you remember your first coach?
My first coach was called Gavin, I remember because his brother sometimes works with us at Parallel Lines. He was about 2 or 3 years older than me but could make short swings look easy and was good fun.
What was your first big achievement in skiing?
Skiing the bumps down The White Lady in Cairngorm without looking like a car crash!
Haha, So how did you get into instructing?
I got into instructing because I wanted to ski and needed a way to finance it. I organized a couple of ski groups on coaches to Aviemore and was asked to instruct some of the beginners, the seed was sown. Before doing my BASI Level 1 (formerly Grade 3), I spent a season as a ski tech and then worked at Nevis Range Ski School, where we trained and skied loads. John Clark, who now commentates on Eurosport, was our Head Instructor and was inspirational.
So when did you realise skiing was more than just a hobby?
When I left school I worked in an office. On Fridays, I would arrive with skis over my shoulder to head up to the mountains straight from work. When I went to work again on Monday I would be shattered and fall asleep at my desk. Something had to give, the job had to go!
Haha, we know the feeling. Where have you worked as a ski instructor?
I've worked seasons in Scotland (Nevis Range & Cairngorm), in France(Les Gets & Méribel), in Italy (Pila & Courmayeur) and in Mammoth, California for 4 winters. As well as running BASI courses in Switzerland (Saas Fee & Zermatt) and Austria (Stubai Glacier).
What's your favourite ski lesson to teach?
Every lesson is a challenge to make the difference your clients are looking for, but there's no doubt when you find something that clicks it's a terrific feeling to ski with someone who has just made a breakthrough.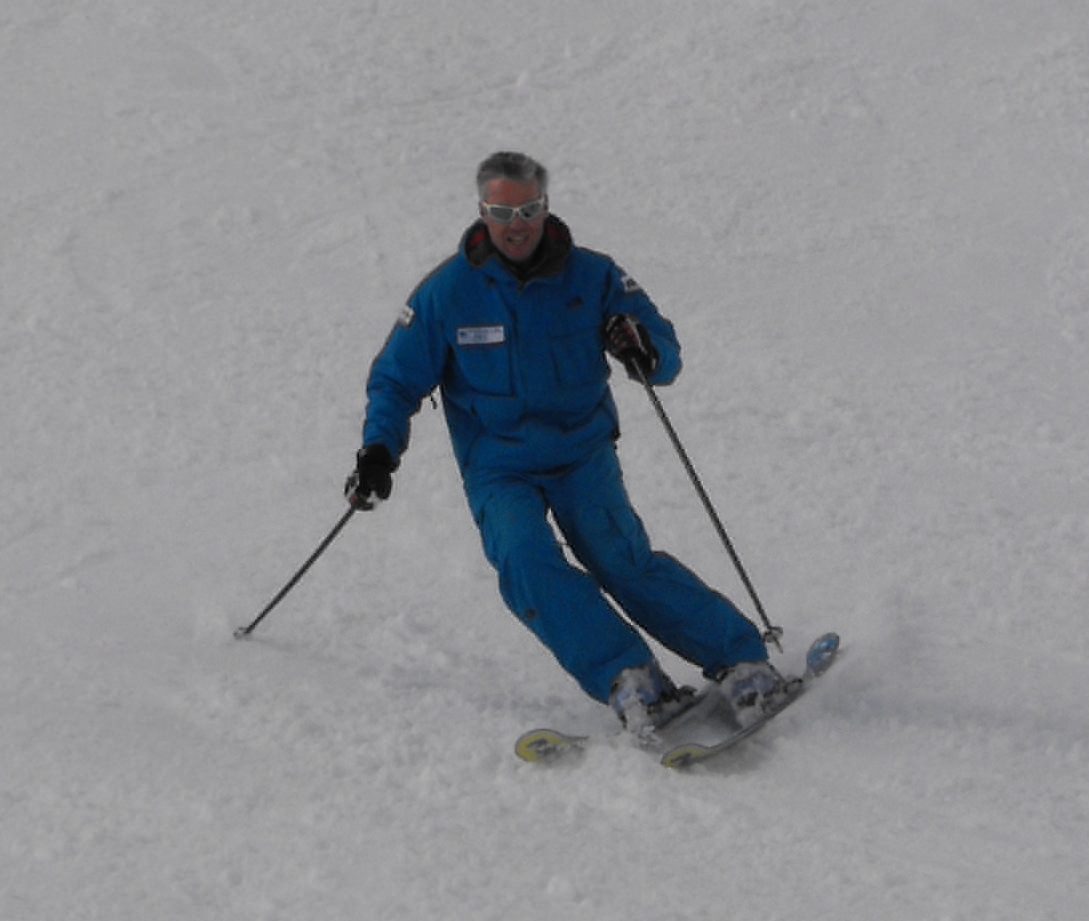 What makes a good ski instructor?
A good ski instructor works hard on their skiing to gain understanding and technical excellence in a broad range of skiing environments. Coupled with this, there needs to be the willingness to listen to your clients and put yourself in their shoes to understand what they are experiencing.
And what makes a great ski instructor?
A great ski instructor can be inspirational to her/ his students. The great instructor has the experience to combine all the threads of emotional, psychological, technical and physical in the right quantities to produce great lessons. The great instructor helps build rapport and support between all members of the skiing group. The great instructor works hard to produce the best lessons every time.
What are the best and worst parts of the job?
Best bits are working in Méribel, skiing every day, working with great clients. Worst bits are being stuck for periods in the office in summer when it's scorching hot outside!
So what instructor qualifications do you now hold?
I hold BASI Level 4 ISTD, I am also an AASI Level 2 qualified snowboard instructor (in the USA). I was a Trainer for BASI for 8 years and have recently started doing this again. I have also qualified as a sailing instructor, windsurfing instructor, kayak instructor, climbing instructor, and been a professional RIB skipper and boatman for years…not big on office jobs...
What advice would you give to those looking to follow in your footsteps?
You've got to love what you do, working in the ski industry looks like a holiday but in reality takes hard work and a fair few sacrifices. No job is as idyllic as it may look.....but working in Méribel is pretty close!
Thanks John!
No problem, see you in January!
If, like us, you like Parallel Lines...let them know on Facebook: http://www.facebook.com/ParallelLinesSnowsportsSchool
You