Once upon a time, night skiing was a common occurrence in a standard week in Biggie. The pandemic, and the staffing issues that followed, mean two years have passed where skiing only happens while the sun's up.
However! Night owls rejoice, because Big White's night-skiing set up is back for the 2022/23 season!
Michael Ballingall, who is the Senior Vice President at Big White Ski says night skiing "is a family favourite, and an essential attraction for our local skiers and snowboarders; we are so happy to have it back on the roster for the upcoming ski season."
Biggie has the biggest and the best
Luckily for us, Big White has the biggest night-skiing area in Western Canada - including the longest vertical drop (1955 feet from the top of the Bullet lift) of all night-skiing areas in North America! Three lifts will be running to service your after-dark exploration: Plaza Chair, Bullet Chair and TELUS Park Chair (on select evenings of the week).
Yes, you read that right – the park open at night on Thursdays, Fridays and Saturdays! It's a really cool experience and a great time to practice new tricks as it's generally quieter.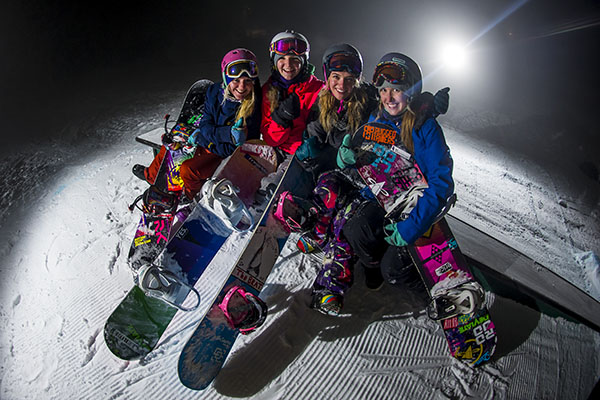 Why we love night skiing
As mentioned, the night skiing sessions are usually quieter and you get much more space to yourself. This is heaven for trying (and sometimes failing at) new skills, or just to cruise aimlessly with the wind in your hair… super peaceful!
As evening falls, any melted snow from the day starts to re-freeze. Often, the mountain team will groom the slopes ready for night skiing so you have the opportunity to ski fresh cords or crisp snow without getting up at the crack of dawn.
Night skiing is just pure good vibes. It feels like an added bonus to the day; it's often accompanied with heading to the bar for afters; and it's just a bit of novelty fun. It's impossible not to enjoy!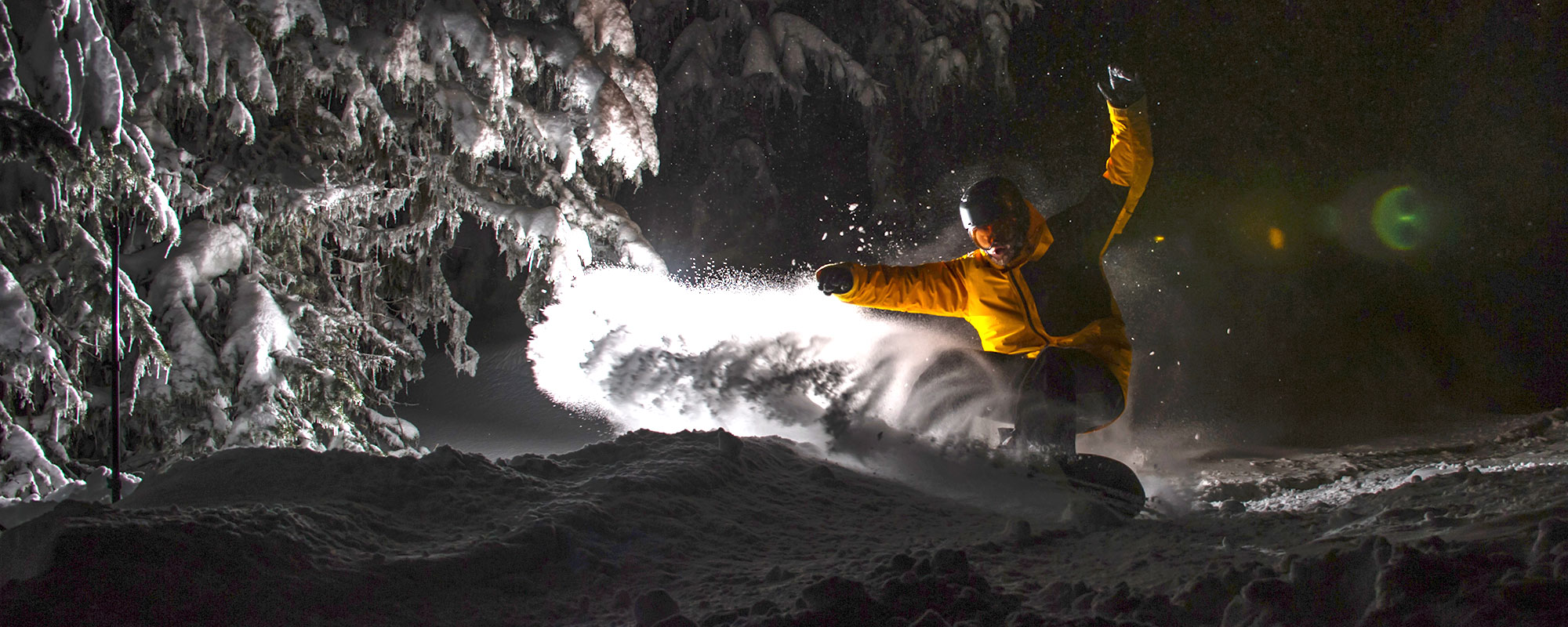 Our top tips for skiing at night
OK, there is one way that night skiing could quickly become un-enjoyable… here's a few things to be aware of to keep injuries at bay.
With the evening re-freeze, sometimes the snow can become icier than it is in the day: especially if the day has been super wet and slushy. Be conscious of this – use your piste skis or something suited to icy conditions if you have a choice.
This might be an obvious one, but it's colder at night! And when we're talking Canada, this can mean it's pretty cold! Layers are your best bet here.
The other thing to note is the floodlighting. Artificial lighting across the snow can make the bumps and texture look weird. Some shadows make bumps looks bigger and some bright patches don't show up bumps or chunky snow at all. Our advice: brace yourself, bend your knees, use you whiteout tekkers.
Other types of night skiing
If you become a little bit obsessed with night skiing (we don't blame you), there are other ways to explore.
Urban riding is based in snowy towns where streetlighting means rails, walls, benches (anything with snow on it!) becomes a feature worth jibbing on.
Powder night riding is an other-worldly experience. This usually involves being taken up into the backcountry via a cat or quadbike and left to cruise through the perfect, fluffy powder back to base. Often people attach lights to themselves to find your way and see where the rest of the crew are. Obviously, riding off piste at night is crazy dangerous, so you'd need to be accompanied by a guide and know the area well.
Going ski touring or split-boarding at night is also on the bucket list. This can be a super-pure experience as it's not dependant on flood-lights, just the light of the moon! A favourite is to skin up to the top of a hill, with a flask and brekkie, just in time for sunrise. You'll need to get some experience with all the kit that goes with touring, so chat to someone who's done it a lot.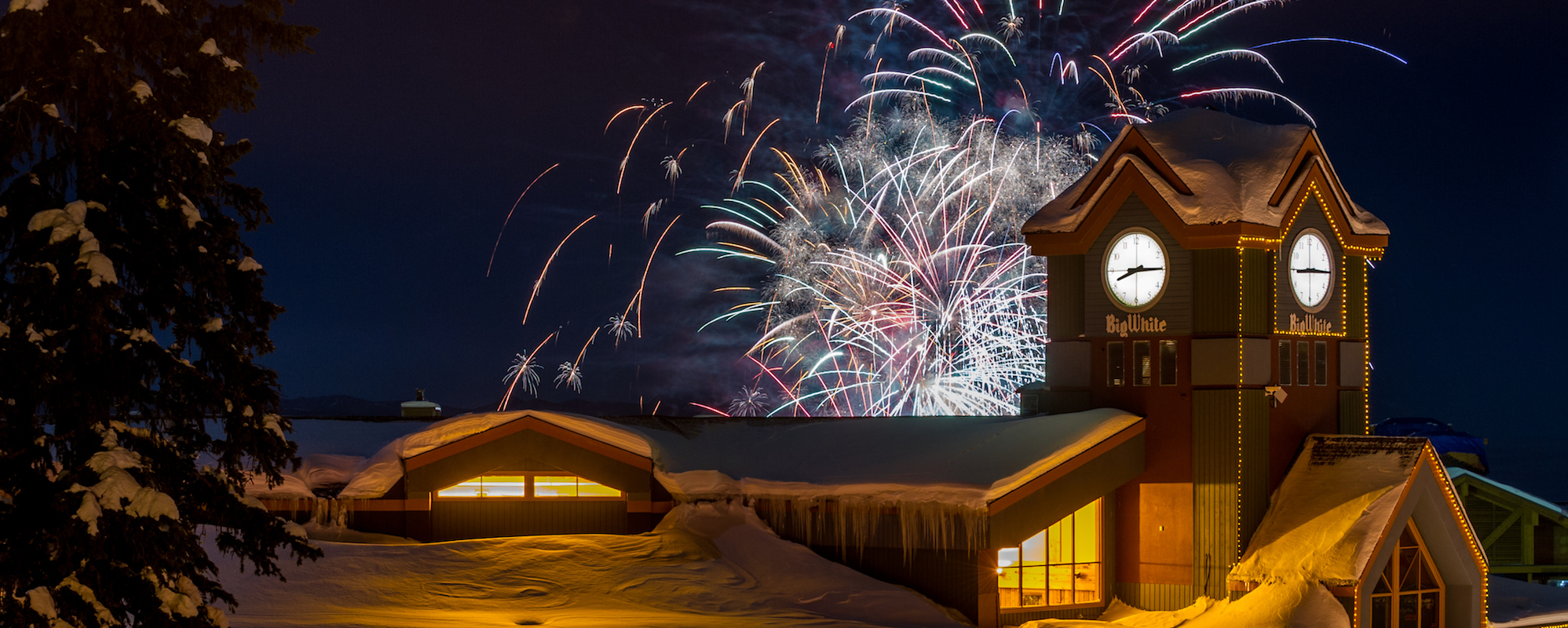 Can we go now please??
Can you tell we're excited?? It's been wayy too long since we wrapped up to cruise Big White's magical slopes at night time, bring on season 22/23!