So the shops have been gearing up with the latest ski and snowboard accessories for a month or so now and my letter to Santa seems to be getting longer and longer. A few mainstream fashion lines seem to be getting more involved this season as well which is pretty cool, especially for the piste- posers among us.
1.Topshop/Topman are probably not shops normally considered when looking for winter season must-haves but they've been loading up their websites recently with some nice stuff! Nobody said the mountain can't be a place for a fashion show anyway…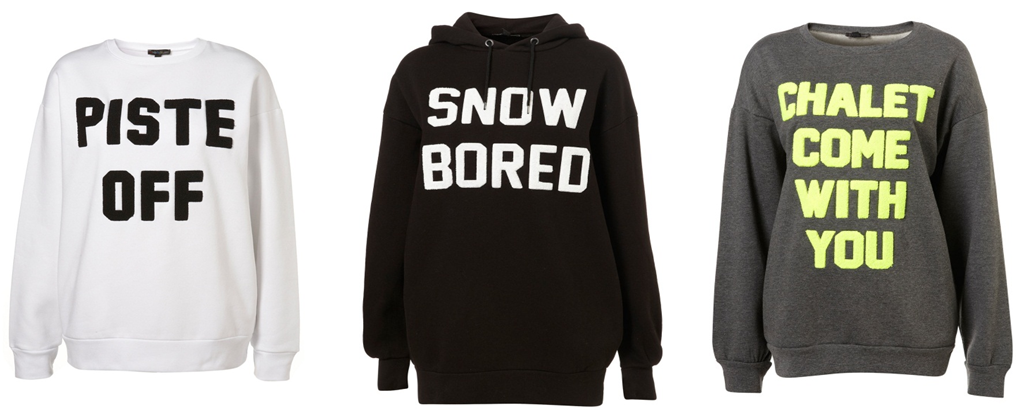 These girls hoodies are a few from the New 'Ashish' Collection at Topshop. They've only been in the shops about a week but seem to be selling pretty quickly. For those of us already enjoying this collection and wanting to step it up a bit...here's some more of what's on offer…
2. The life of the 'onesie' is an ever-changing one in the ski world. It was cool... It wasn't cool… It reaaaally wasn't cool. But finally, it's back and bigger than ever. It's making an appearance not just on the slopes but as an essential for après-ski wear as well. We can't really complain, they are probably the comfiest things in the world.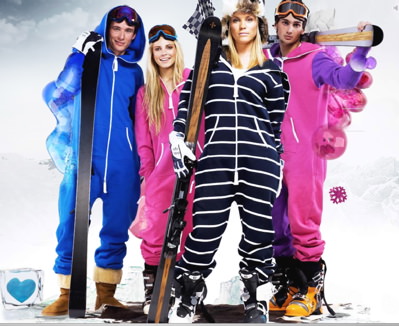 3. The 'eGlove' has been around a few seasons and is quickly becoming a necessity now with the huge increase of touch-screen smart phones out there. The gloves are an easy solution to answering your phone without having to take them off (which we know always ends up with you dropping them and having to manoeuvre your poles in a way that will successfully hook them back up).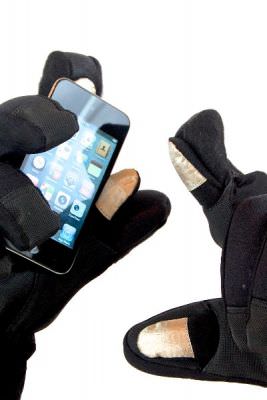 4. A classic rookie error for beginner snowboarders is the misconception that riding with sunglasses is acceptable? Lets start you off on the right foot, it all about the goggles people , once you have sorted out some exceptionally awesome eyewear, its downhill from their, (excuse the pun)