With white teeth sparkling, deep facial tan glowing and windswept hairstyle shining with lustre, the ski instructor comes gliding down the slopes as if on the wings of an angel...the epitomé of health, vigour and elegance. Who wouldn't want a piece of that (lifestyle)?! Aspiring Adonis-like alpinists looking at ski instructor courses in Canada will no doubt have considered a training season in Banff. If working as a ski instructor is the ultimate career choice then Banff is surely the go-to destination to make that fantasy lifestyle a reality!
SnowSkool offers seven reasons for you to do a ski instructor course in Banff...
1. THE SKIING IN BANFF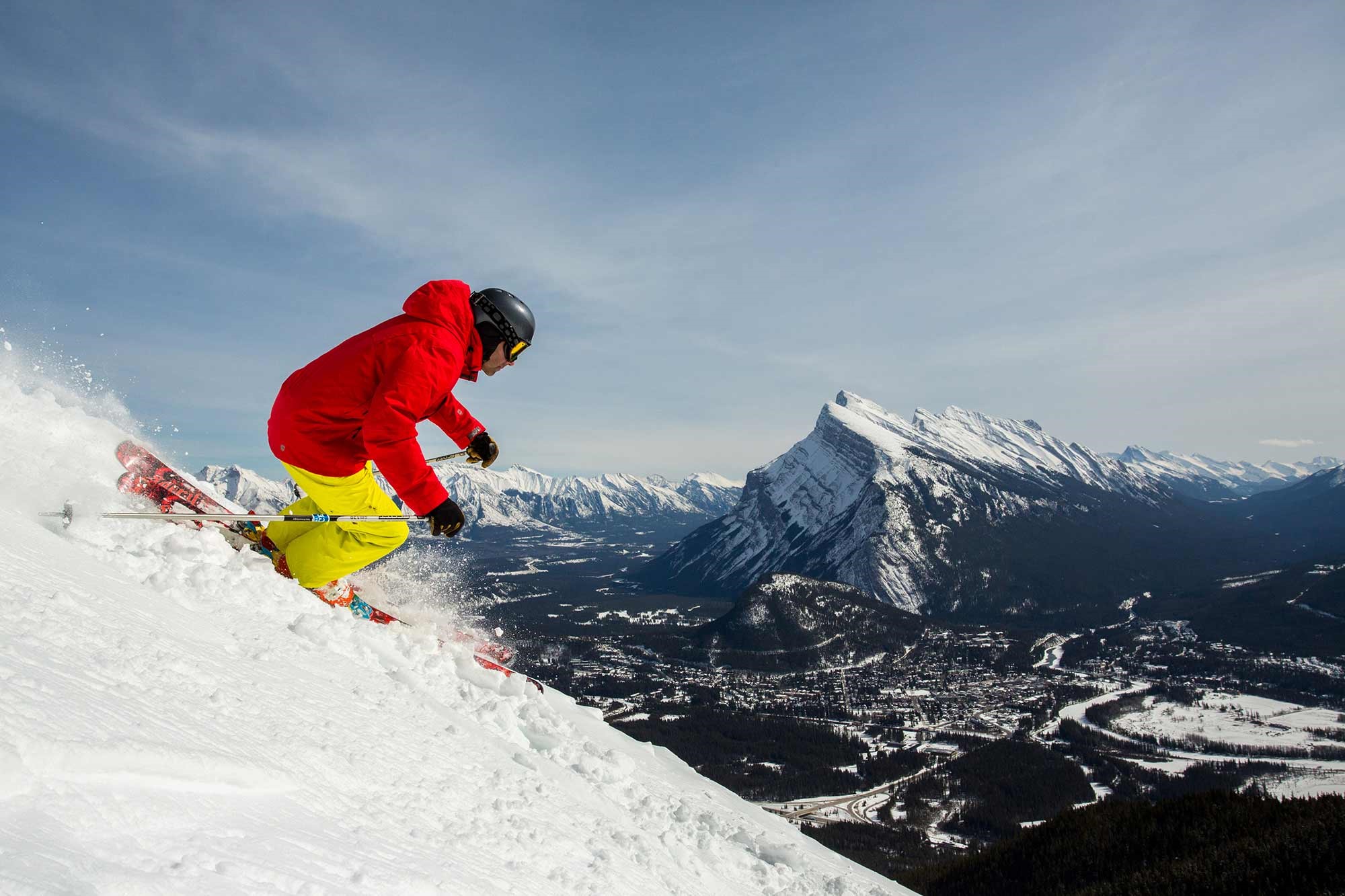 If you placed a double-decker bus on the grassy slopes of Sunshine Village at the start of the season, it would be covered-up by snow at the end of that season! Sunshine Village is Canada's most snow-sure resort and it has a season that runs from mid-November until mid-May. In short, it is fair to say it gets hammered by snow every winter!
The skiing is not too shabby either. 3500 acres of skiable terrain spread over three individual mountains offers you a massive amount of diversity including two world-class free-ride zones, access to some of the best backcountry skiing in the world and three snowparks. It is on the piste, however, that most of your ski instructor training takes place and >120 named runs spread evenly between beginner, intermediate and expert give you the perfect platform to hone the technique and practice the drills to become a ski instructor.
Oh and as the name suggests, this particular resort gets more than the average number of sunny days!
2. THE TOWN OF BANFF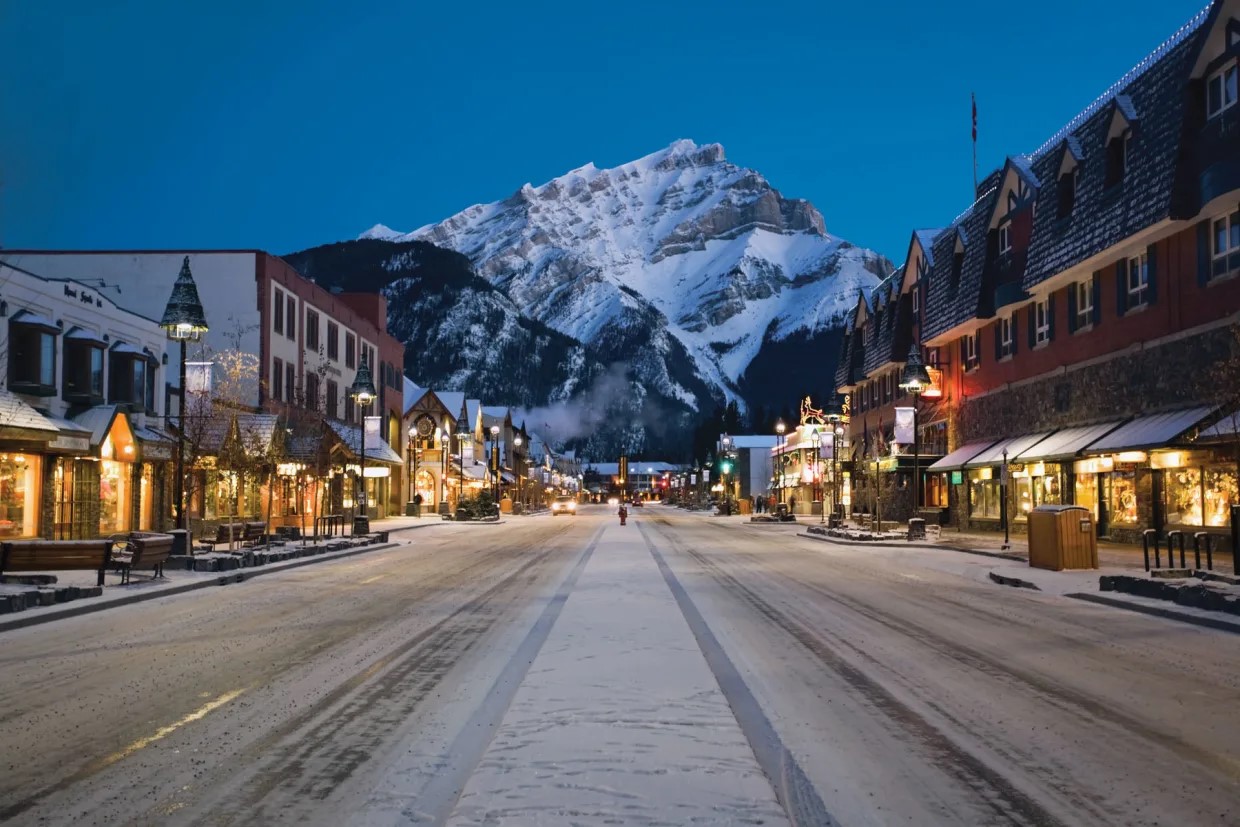 As the gateway to three world-renowned ski hills, Banff has a swagger and confidence that comes with being the ski town that other ski towns aspire to be. She's a looker for sure. Refusing to sell out to commercial (over-)developers in return for a quick buck, generations of town planners have ensured that the architecture remains sympathetic and blends well with nature whilst all around jagged, snow-capped peaks frame this jewel of the Canadian Rockies. Her people are pretty sweet too...super-friendly, content with their lot and keen to make the most of Mother Nature's playground on their doorstep.
Combine it all with an infrastructure of shops, restaurants and nightlife that give satisfaction to the most materialistic, hungry and energetic of visitors and it is fair to say that Banff is a magical place to spend some time...or a life!
3. THE SNOWSKOOL LODGE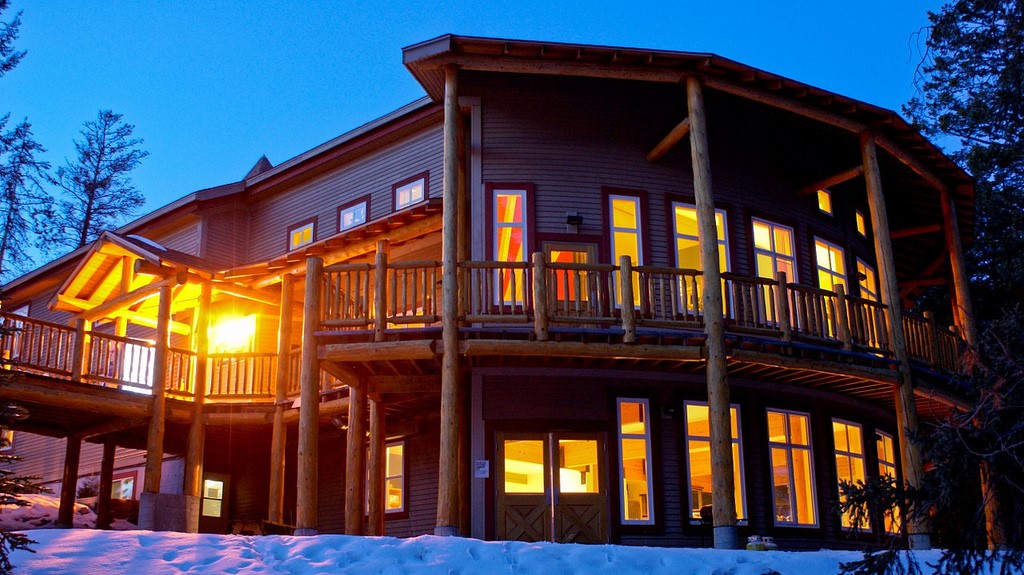 Since 2004 and, for sixteen consecutive seasons, the Banff Alpine Centre has been SnowSkool's base of operations and adventure for our gap year ski instructor courses. Close enough to the centre of Banff to walk in, it is also far enough out to give you a real feeling of being in the Canadian wilderness...it is not uncommon for a herd of Caribou to wander up during breakfast!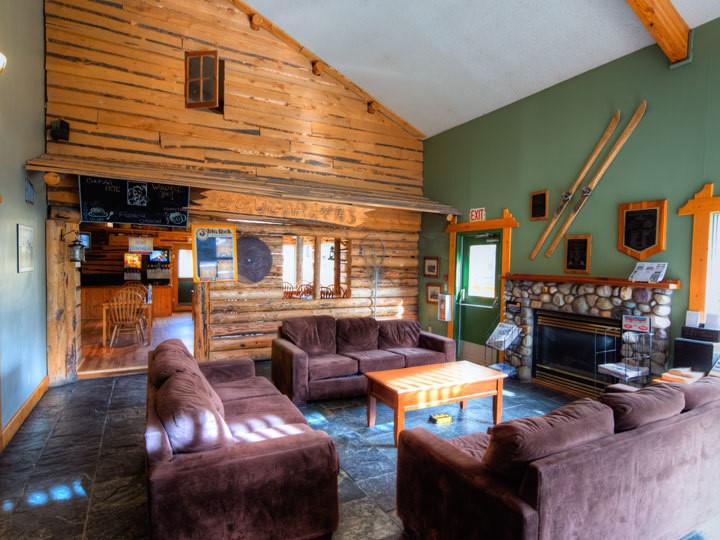 Whereas it does not ooze luxury from every corner, the Lodge consistently receives excellent feedback from our guests. It has a tangible sense of international community – SnowSkool is the largest single group but the Lodge has over 200 beds and those are filled by young people from all over the world. It is a busy, friendly and exciting place to be. The facilities help, of course...the restaurant (Cougar Pete's), the on-site pub (The Storm Cellar) and the ice-climbing wall (Icy McIce-Face)...but it is the communal lounge areas and kitchens that really foster that cool, traveller spirit.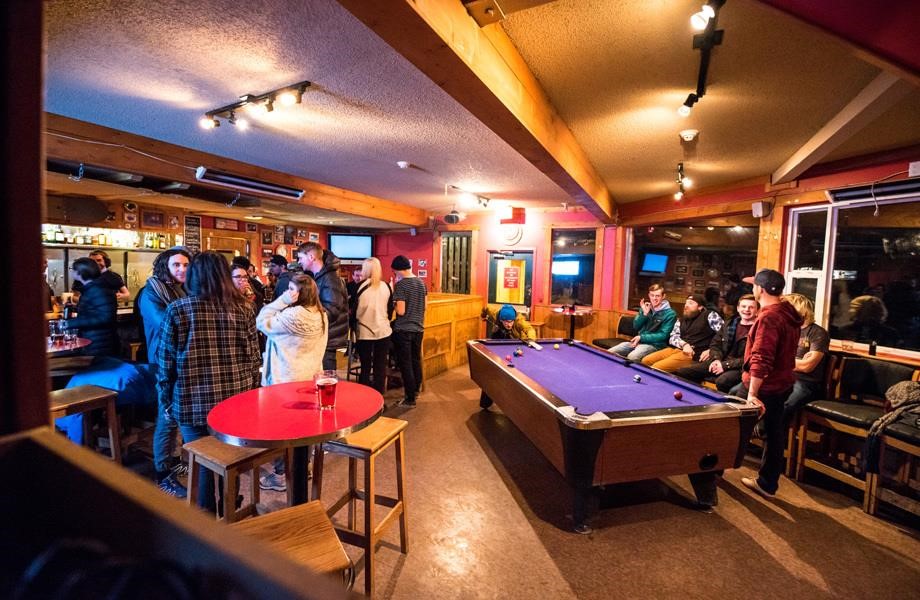 Dinners in the SnowSkool-exclusive meeting room tend to be happy times with sixty-some people eating together surrounded by laughter, banter and music! SnowSkool Ops Manager, Adam Sharps, has spent five seasons working for SnowSkool in Banff and so wrote a blog about what is it like to spend a winter in Banff Alpine Centre.
4. CSIA SKI INSTRUCTOR QUALIFICATIONS
On ski instructor courses in Canada, you will be trained in the way of the CSIA! CSIA is an acronym for Canadian Ski Instructors' Alliance – this is Canada's professional ski teaching body. Recognised federally as a teaching institution, the CSIA serves Ski Schools and the skiing public by training and certifying ski instructors. The CSIA is a member of ISIA (the International Ski Instructors' Association) which is the umbrella organisation that oversees the national ski teaching associations of (and promotes ongoing cooperation between) 38 alpine nations.
On the SnowSkool ski instructor course in Banff, you will be trained for, and have the opportunity to sit, the CSIA Level 1 ski instructor exam and the CSIA Level 2 ski instructor exam. Achievement of these certifications will allow you to work as a ski instructor throughout the world to an intermediate level.
As well as the ski instructor exams, you can be trained for, and have the opportunity to sit, the CSCF Entry Level Race Coach exam. This qualification allows you to teach ski race technique to beginner children.
5. BANFF NIGHTLIFE
Having served apres-ski drinks since the 1930s, old Banff still has a twinkle in her eye...and a diversity of nightlife to suit all tastes. From open-mic nights, comedy gigs and ling-dancing to world-famous DJs, touring bands and local acoustic singers, the Events Calendar in Banff is seldom boring! You are guaranteed to have a season to remember...even if the odd night is mostly forgotten!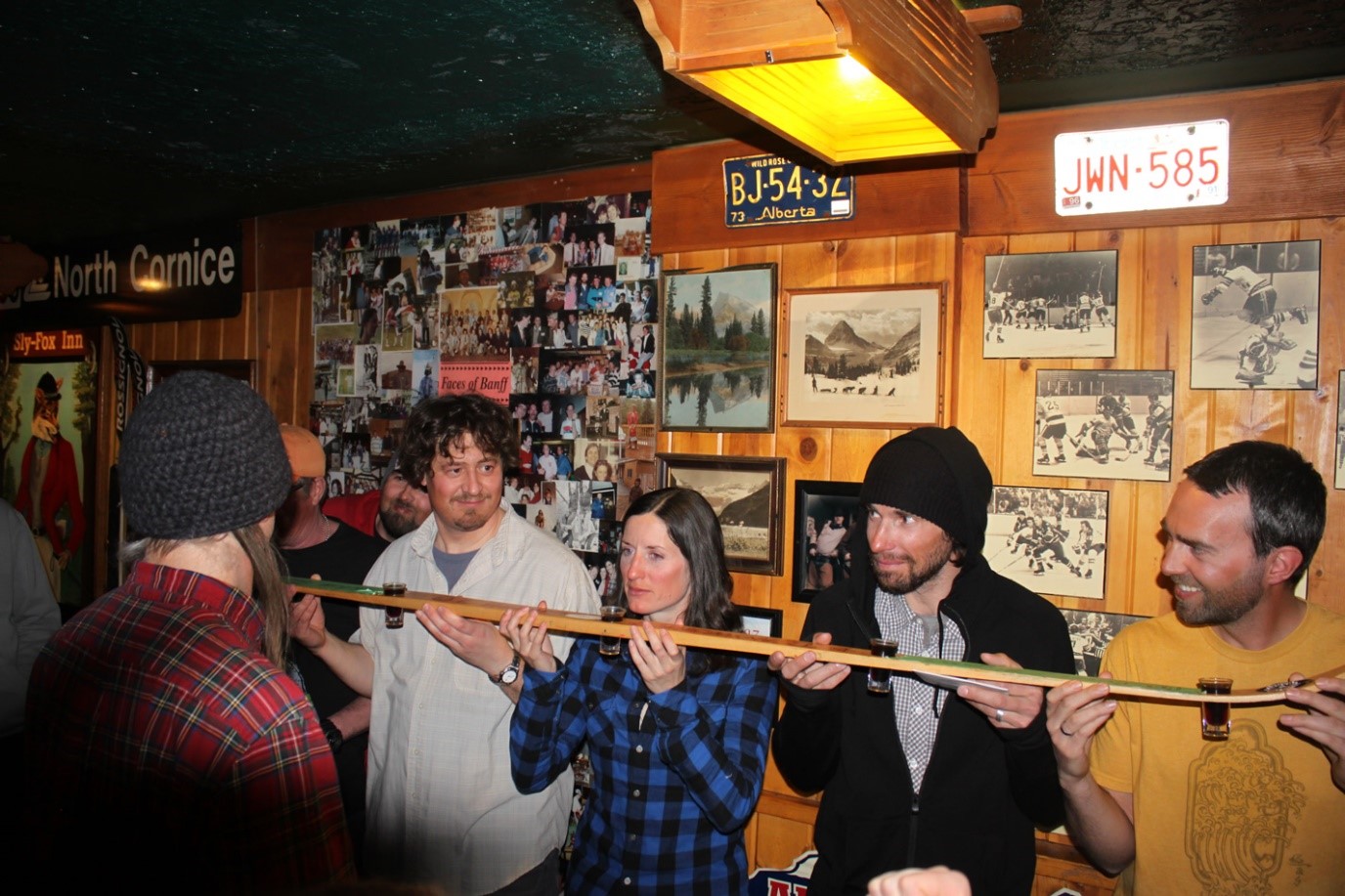 If you like a drink the town has a fair few bars, lounges, pubs and nightclubs and the range is vast. Happy Hour aficionados can find a venue most nights that stacks 'em high/ sells 'em cheap but for those with more refined tastes, the micro-brewery or micro-distillery (that serves home-made vodka, gin and rye (whisky)) may prove more appealing.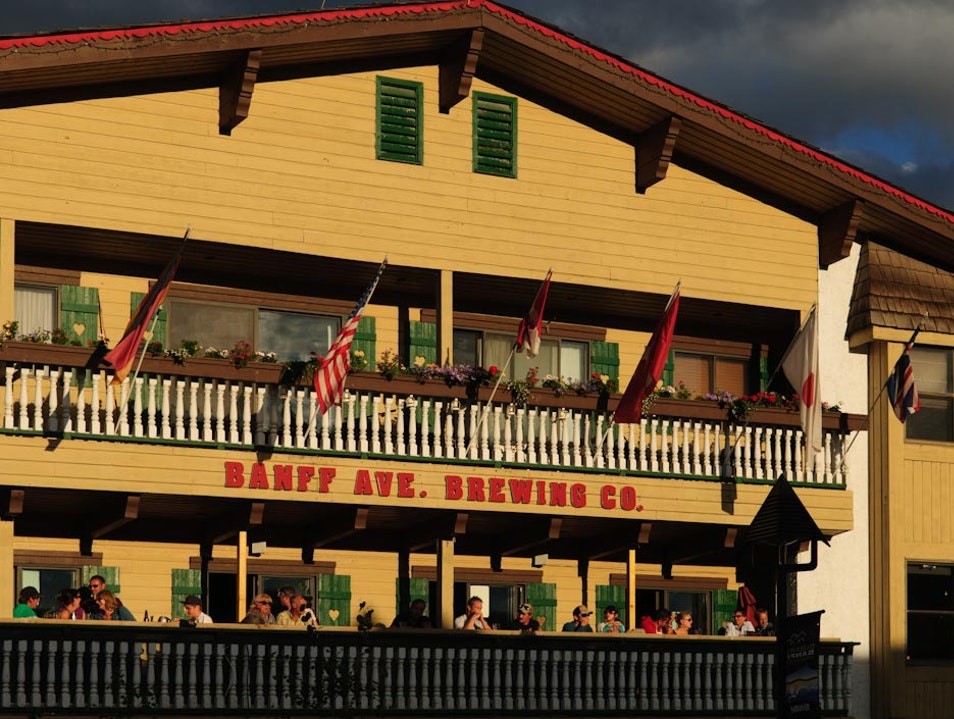 Foodies visiting Banff will also not be disappointed. There are more than 130 eateries in town ranging from purveyors of polystyrene boxes of toxic waste made edible by MSG to the magicians of the kitchen that will thrill with their gastronomic theatre...and everything in between!
6. OFF-SNOW ACTIVITIES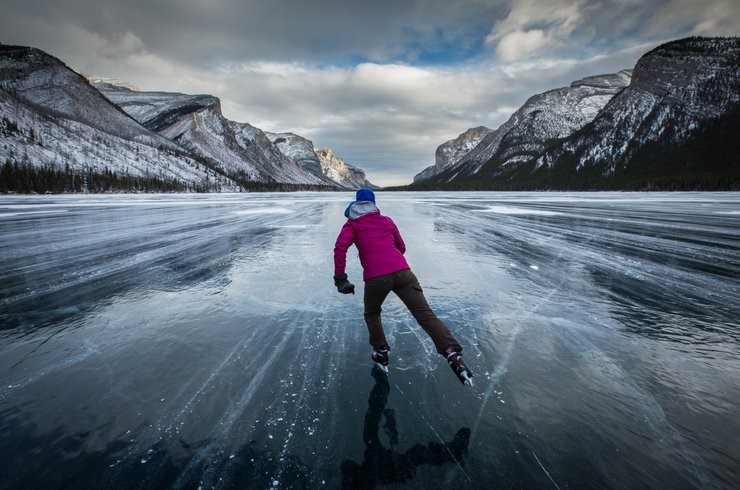 It's not all about the skiing! Banff has a wealth of extra-curricular activities to stave of the boredom that inevitably sets in when the chairlifts turn in for the night!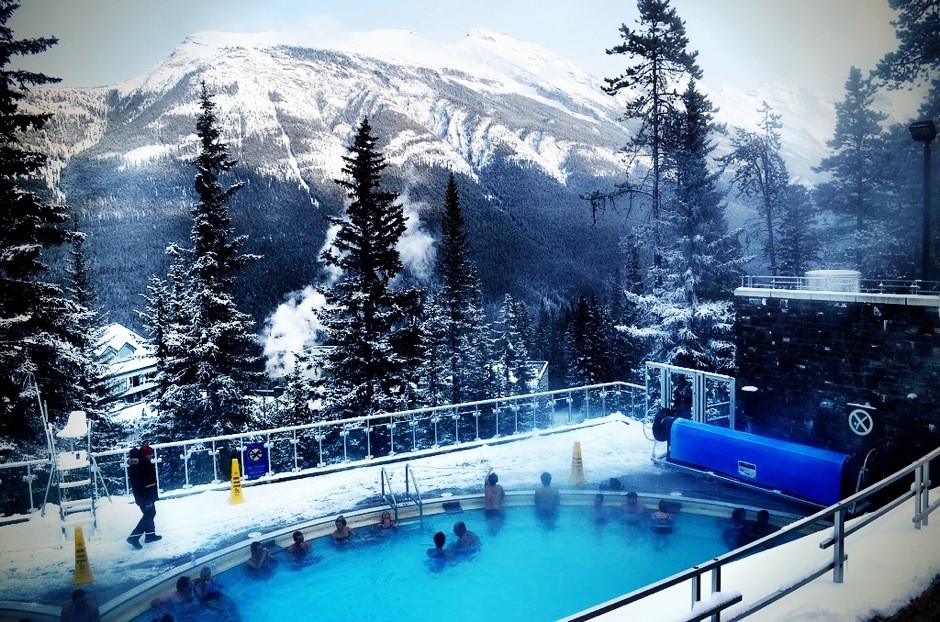 You can....deep breath...walk up a hill with a pair of snow-shoes on your feet, watch an ice hockey match in Calgary or more locally in Banff, go bowling, indulge in some retail therapy, slide 21km from Canmore to Banff on a cross-country skiing trail, skate on ice, ride down a groomed slope in a snow-tube, pamper yourself in a Spa, head out into the backcountry on the back of a sled being pulled by what looks like wolves...or on a ski-doo, hike up a glacier on the Wapta Icefield, climb up a sheer ice wall (in either a controlled or uncontrolled environment), play basketball/ soccer/ dodgeball in the Sports Hall at Sally Borden...or swim or work out there, float in the outdoor hot springs, catch a movie at the cinema, fly high in a helicopter or play some pool, darts and table football over a cold beer in the Storm Cellar!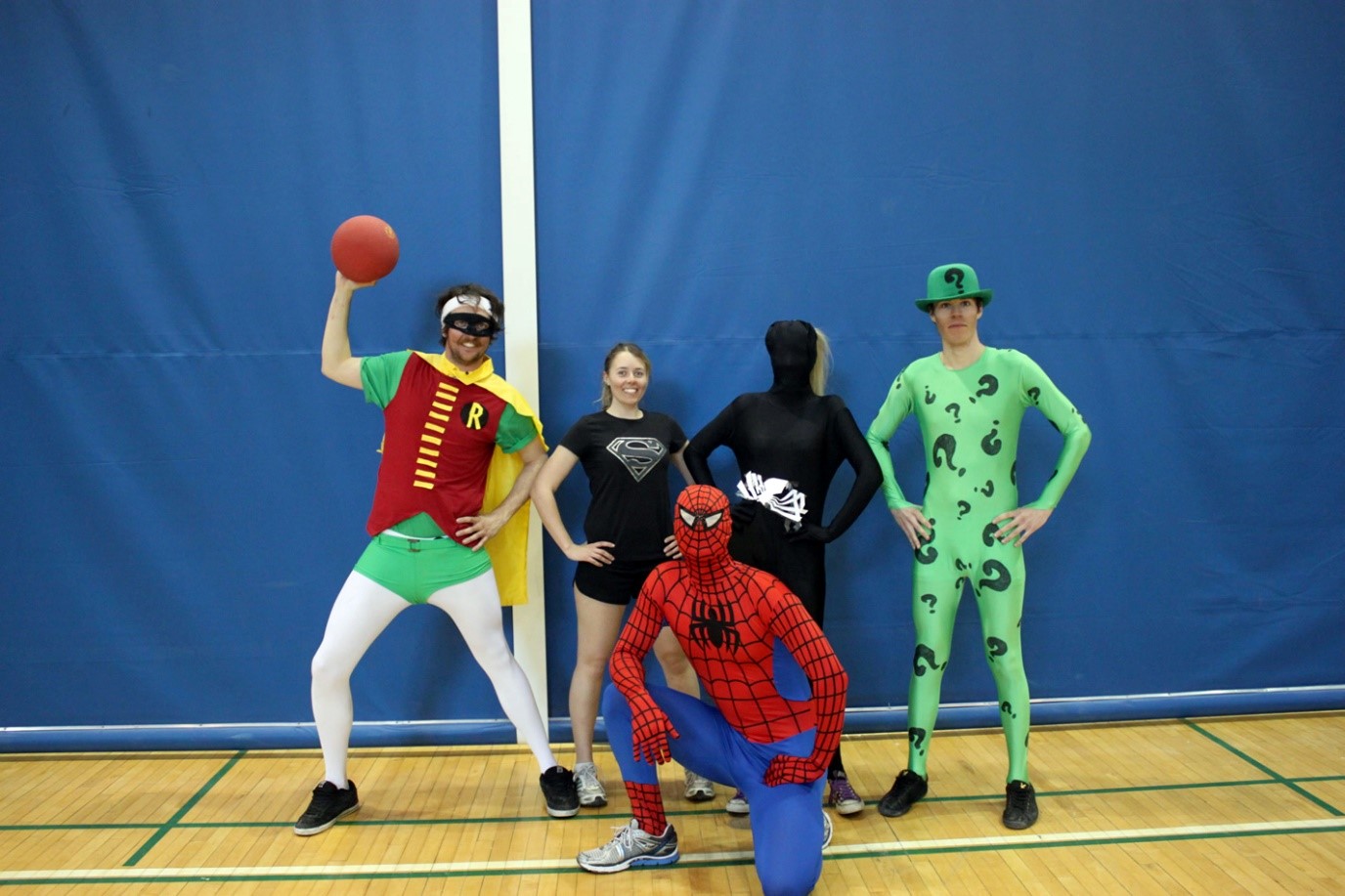 7. THE SNOWSKOOL EFFECT
Ok so by now, you are surely convinced that doing a ski instructor course in Canada is the right decision! And if you're going to Canada, the chances are that you will be going to Banff and if you're going to Banff then no doubt you will be booking with SnowSkool. That, my friend, is logic!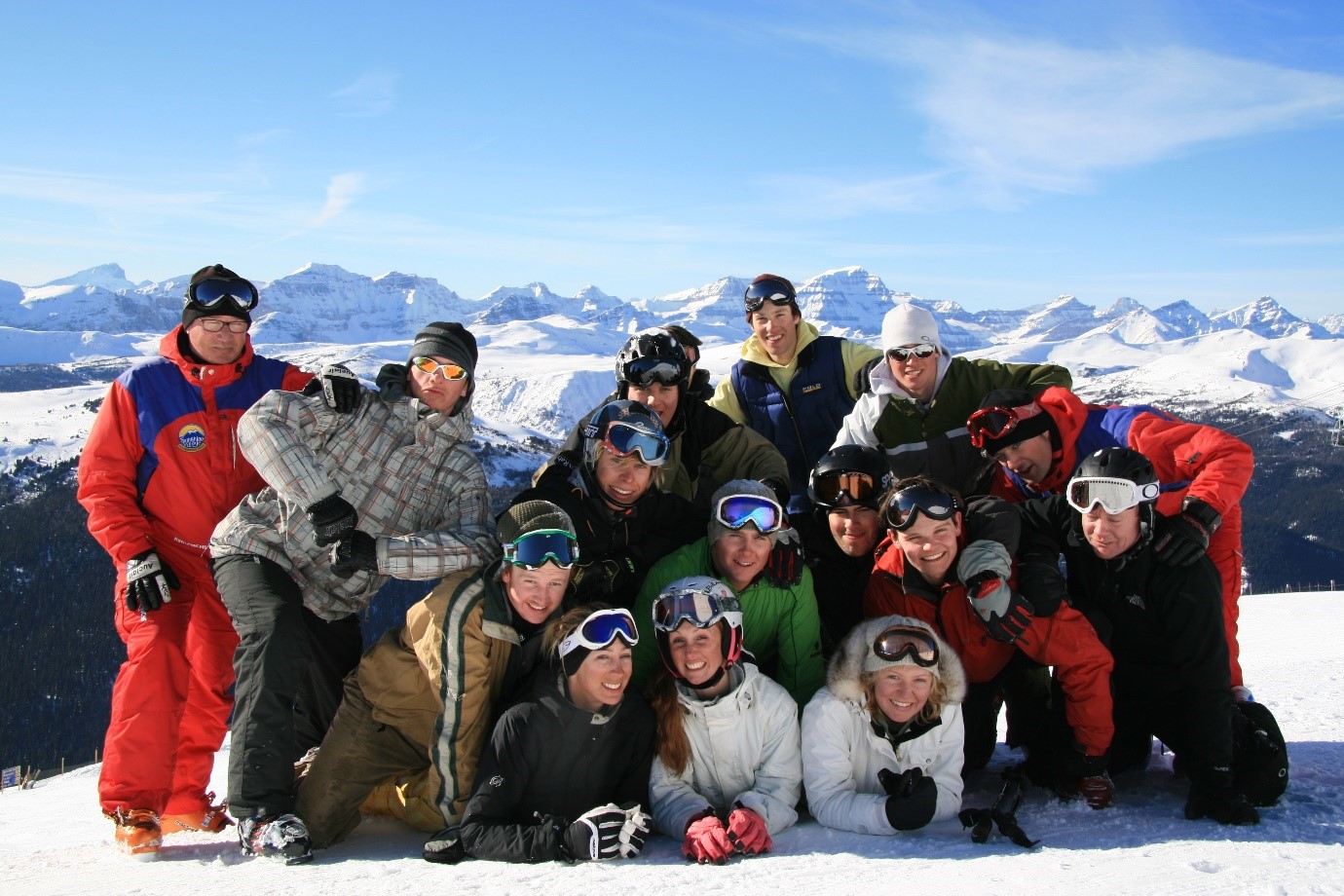 SnowSkool has been running ski instructor courses in Banff for the past sixteen years and we now run (by far) Banff's most popular course. Our relationship with the Ski & Board School at Sunshine Village is, consequently, extremely tight and so we have our pick of the School's most experienced and most highly qualified ski instructors to give you the highest possible chance of success.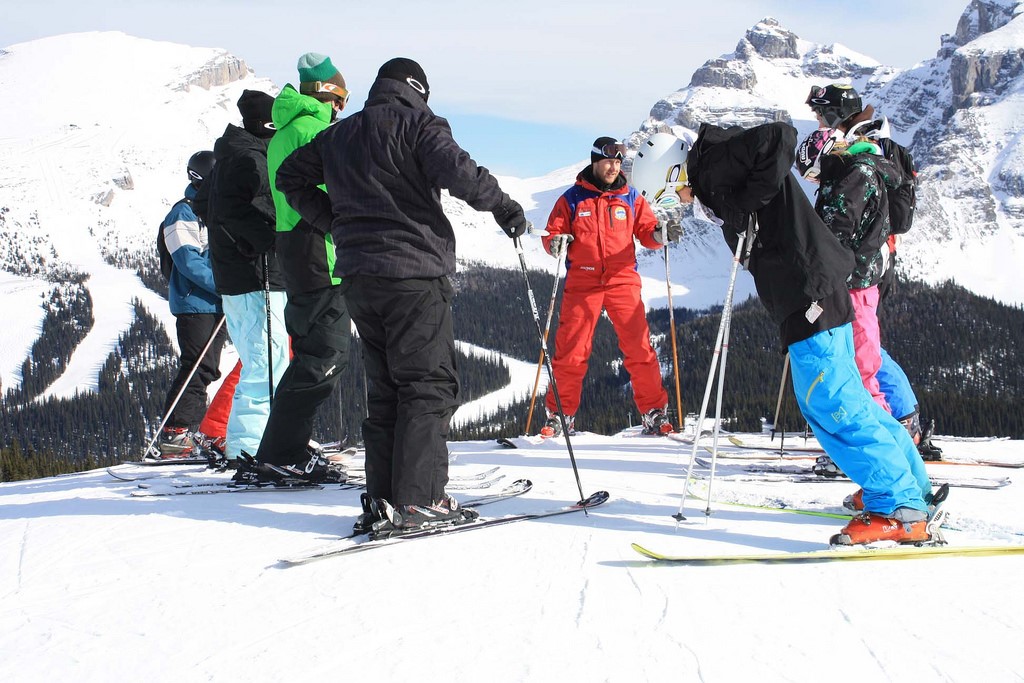 Our off-snow pastoral team plays a very important role too. Two full-time SnowSkool reps live on-site and combine with the management team at the Lodge and the Food & Beverage team from Cougar Pete's to ensure that you are well looked-after and well-fed.
SnowSkool's duty of care does not end when the course finishes. We operate a ski instructor recruitment service that you will be able to access for as long as you wish. This service – which includes an instructor recruitment database of 150 Ski Schools in fourteen different countries that have opted in to hear from SnowSkool graduates - is invaluable in helping you to find work as a ski instructor once you are qualified.
SnowSkool runs a 13-week Level 1 and Level 2 ski instructor course in Banff. The next course runs from 13th January to 10th April 2020. For more information go to www.snowskool.com