If you are thinking about taking some time off between School and Uni, or between Uni and the commencement of a career, and looking for some inspiration, it is likely that you'll have come across the option to do a ski instructor course as part of a gap year.
It sounds like a great option but let's try to find out if this is the right thing for you to do.
Ski or snowboard courses as part of a gap year:
A ski or snowboard instructor course is a program that will qualify you as a ski instructor over three months or so, while also teaching you to ski better. Now, in spite of the, ahem, massive range of excellent ski areas in the UK, most of these courses take place abroad - with Austria, Canada, and France being the most popular venues in the northern hemisphere and New Zealand in the southern hemisphere.
Most of these courses (like SnowSkool's) are packaged up to include flights, transfers, accommodation, meals, lift passes, training, exam fees and one or two reps who will ski every day and then tell you how hard they are working for you "behind the scenes"!
Once you've qualified you can work globally, from South America to Japan and plenty of places in between. Sounds good so far? You'll need to also consider the price but, before we get to that, here are five good reasons to do a gap year ski instructor course:
Note: all photos taken from SnowSkool NZ course...
1. Become a ski instructor
 and have a career abroad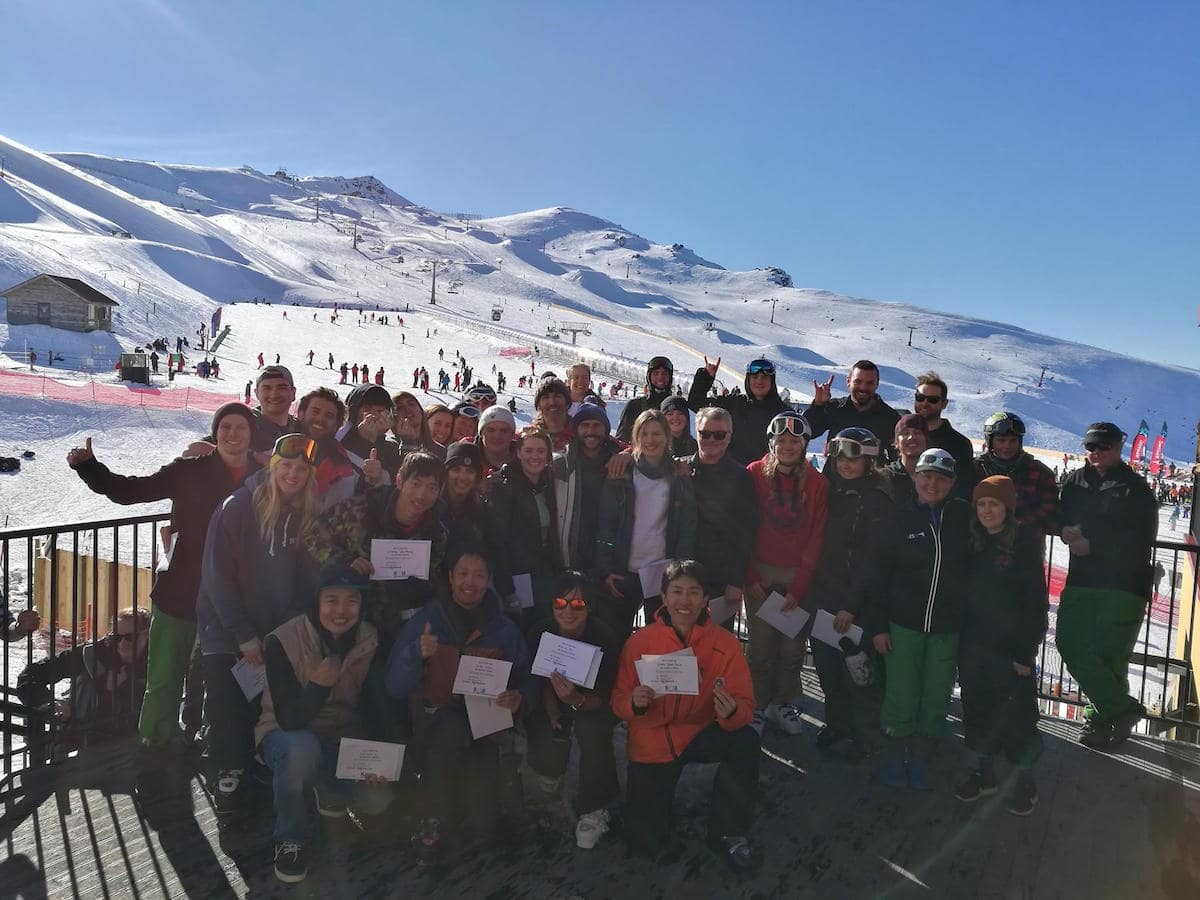 BOOM - pretty obvious this one! In fairness, back in the day the route to becoming a ski instructor was to spend a season working as a general dog's body in a Ski School in Scotland. Four months of fetching coffees, wiping kids' noses and commiserating with guests about the lack of snow as yet another deluge of rain drives in sideways. People from Yorkshire would no doubt argue that this is "real bloody life" or something like that but who wants that when nowadays you can jet out to Canada, France or even New Zealand and spend your time shredding the pow and getting your qualifications that way! 
Then, after qualifying, living and working abroad is an option too – the world can really open up career-wise.
2. You want to bolster your CV
Even if you don't plan to go onto work as an instructor a qualification can be a great CV boost. Picture the scene: you're sitting in an interview for Ernst & Jones, PWG or Deloitte & Touché and the interviewer asks, "describe a situation where you had to take charge of a group of people". And this is where you can lean back in your chair, smile and say, "well Iain, there was the time I was teaching a group to ski powder in the backcountry in Canada and suddenly the weather started to come in..." Slightly more interesting than training a team of new starters how to use the till!
3. Friendships 
(sometimes for life)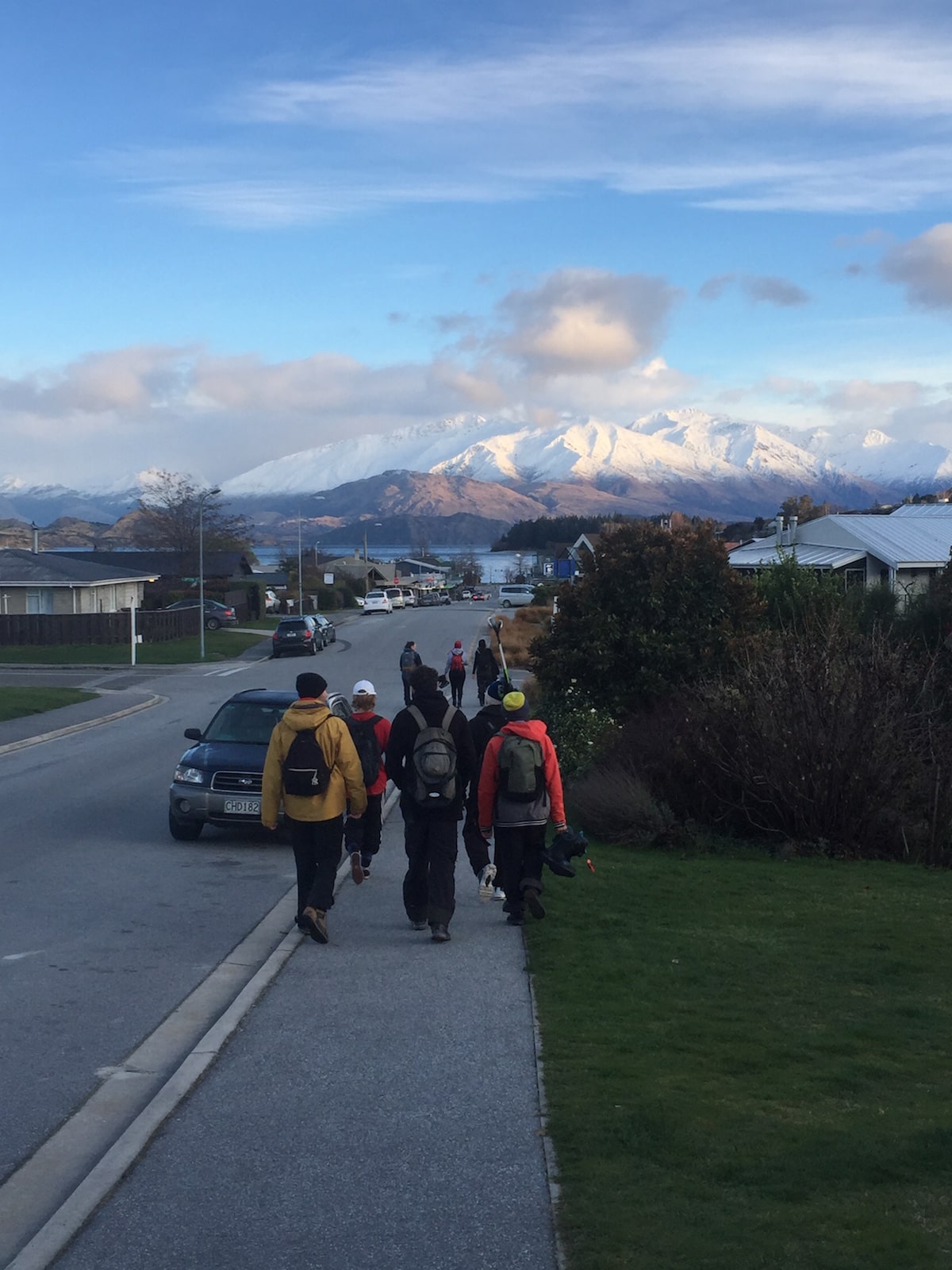 When was the last time you made a new friend? For a lot of adults and young adults these days there is a fair chance that many years have passed since new friendships were last formed. On the first night of a ski instructor course, you will find yourself stood in a room with 30, 40, 50 or even 60 other individuals who have all signed-up for the same course and who are all also wondering who they want to talk to and who wants to talk to them. Beers and other tipples help for the first night of course but you're going to be hanging out with these people for 11 weeks or more and so the truth will out. You're going to make some friends, share experiences, and form bonds that can last a lifetime.
4. Growing up
We get trainees of all ages on our courses, right up to retirement age! But for the younger trainees, who make up a fair proportion on courses, we get a lot of feedback from parents along the lines of "we sent him away a boy and he came back a man". Or a girl / woman but this could have some questionable connotations. Anyway, the point is that, on a gap year ski instructor course, you are going to have to do some fending for yourself. Yes, a lot of life is taken care of for you but you will have to behave responsibly and plan financially for three to four months; you will have to shop for and prepare some meals and you should have to do some laundry. It's like a fast-track to growing up, with a safety net.
5. Travel
ling experience
In your formative teenage years and early twenties, travel is often about drinking cheap, funnily-named beers in different countries and, strange as it may sound, this is an important part of the overall experience. But as you get older, the benefits of travel become more clear and the hope is that they start to filter into your everyday existence. Without wishing to be preachy, surely everyone can think of someone who could do with a little more exposure to other cultures and, from that, to learn a greater degree of tolerance for people from outside of their own tribe. Now, that said, ski resorts and instructor training courses are not super well-known for their extreme multiculturalism but training and working abroad is always going to be an experience that'll open minds, at least a little bit. Our courses feature people from all corners of the world, every year. And the best time to do something like this as part of a gap year experience is when you're still relatively young.
Fancy doing a gap year ski or snowboard instructor course?
As we were once told by a satisfied SnowSkool student: "when you really look into it, there are so many reasons not to do SnowSkool but forever and ever I will always be thankful that I did". But, don't just take our word for this, take a look at last season's Facebook reviews too. Some people say they had the best days of their lives!
And here are our ski and snowboard instructor courses for 2019: