SnowSkool's Jacob Harley-Beckett tells the story of his journey from Bristol, UK, to Wanaka, NZ, to launch SnowSkool's ski instructor courses in New Zealand for 2019.
After a long 32-hour flight from Heathrow I finally arrive in the skies over New Zealand and I'm greeted with this breathtaking view from my window on the plane.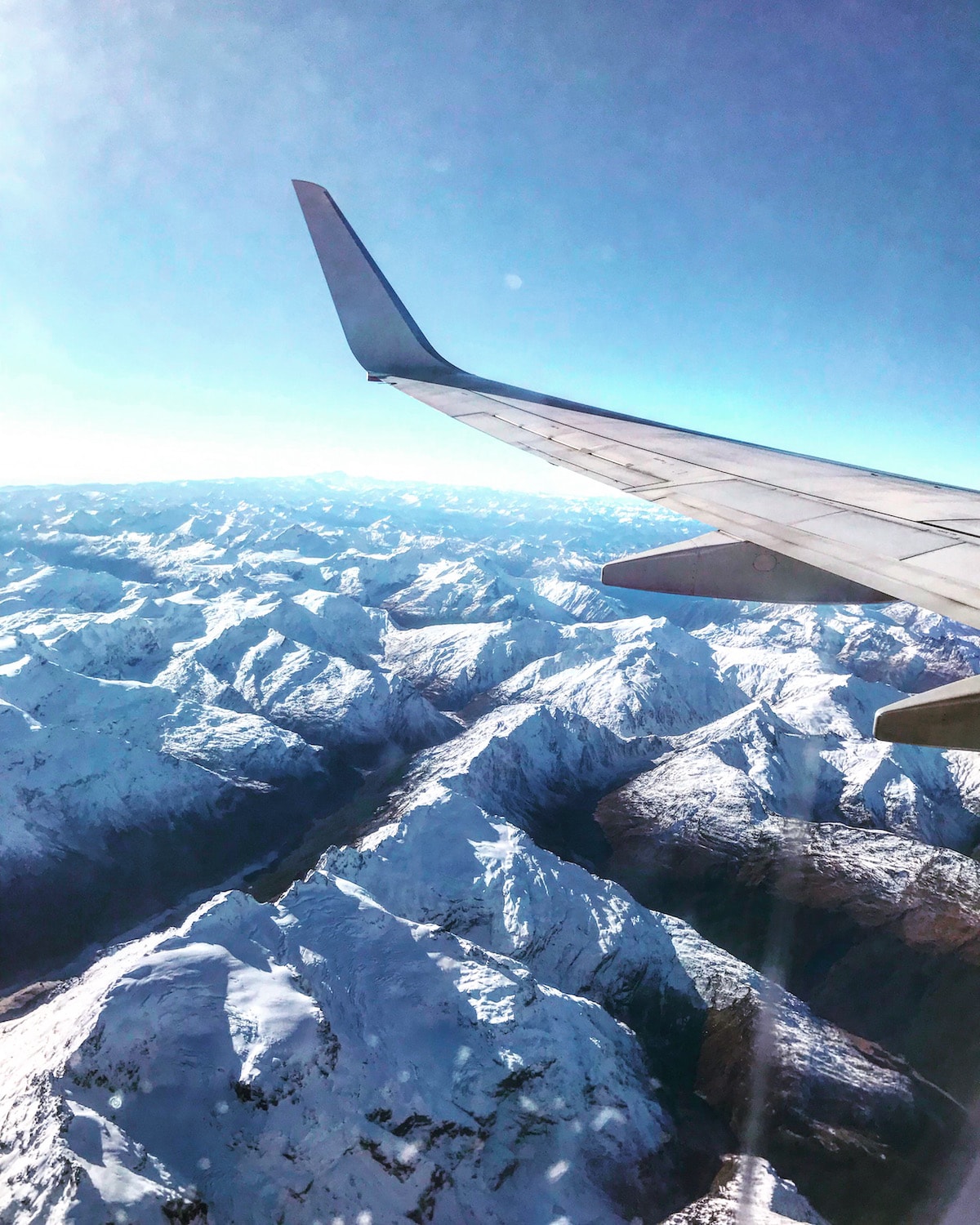 The lethargy has all but gone (despite all the airline food) and I'm full of excitement to start my 10-day exploration adventure in Wanaka/Cardrona, New Zealand.
After landing, I'll take a cheap $27 Ritchie's bus from Queenstown, which takes around an hour to get into the scenic town of Wanaka.
Waking up in Wanaka
I wake up in Wanaka nice and early - not out of choice, unfortunately, more to do with some serious jet lag! I look out of the window from The Mountain View lodge and see the most incredible sunrise - a beautiful way to start the first full day of my adventure.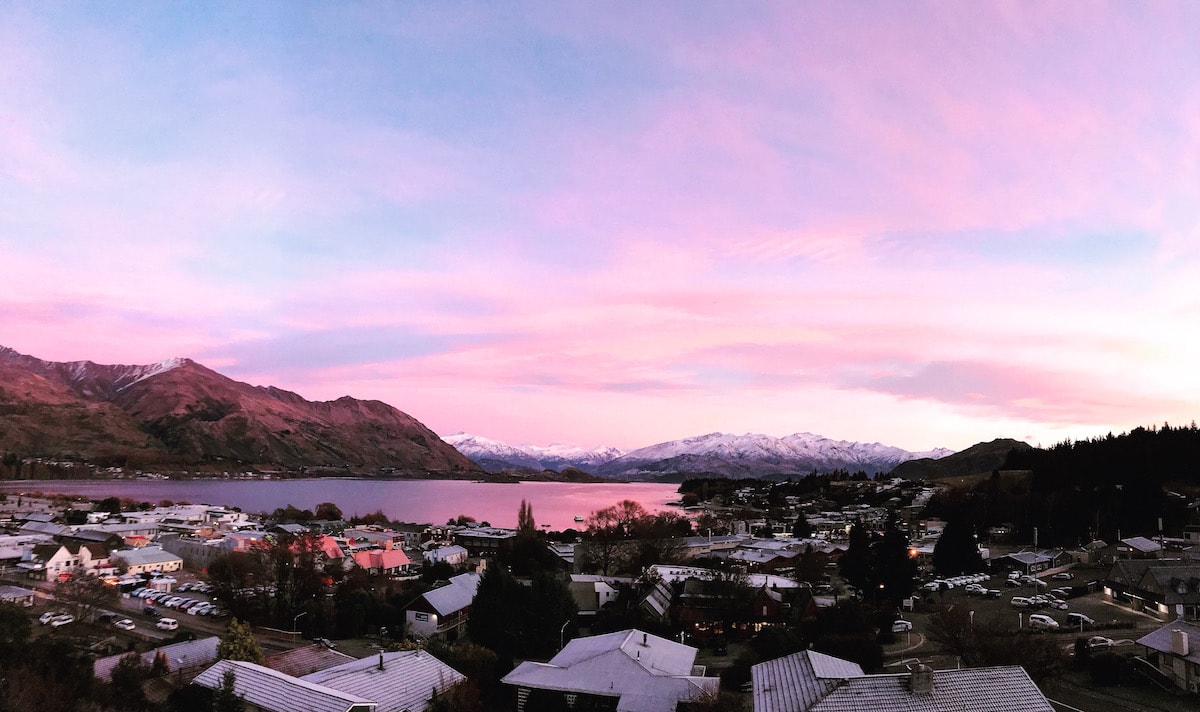 The lodge is situated in the town of Wanaka. It's a great location with everything you need and topped off with views like this! Lake Wanaka is also overlooked by snowy topped mountains that have some exciting hiking opportunities to explore, on days off from skiing or snowboarding!
The Mountain View Lodge
The Mountain View Lodge is exclusively occupied by SnowSkool students for the season! Private dorms with a communal kitchen and lounge area are ideal for the SnowSkool group to live in and socialize. Cooking together, eating together, chilling together and playing together is what really makes this place an ideal HQ for the SnowSkool programme.
The Lodge really creates a buzzing family atmosphere. Hanging out with new mates, laughing and joking about the day's adventure on the snow at Cardrona, having a few beers – it quickly starts to feel like home.
The Town, The Lake and The Tree
Exploring the town and taking in the fresh mountain air is a relief from the usual London underground air I am used to. Sitting at the end of the pier, inhaling and filling my lungs with the fresh air makes me want to stay here forever!
The small towns shops and attractions are spread across two main streets. It's teeming with pubs, cafes restaurants and equipment shops. I'm spoiled for choice when it comes to choosing where to get my morning coffee! That said, with over 40 different places to get my coffee fix, I've got my work cut out for me! Sitting outside at Kai's looking over the lake seems like a good place to start.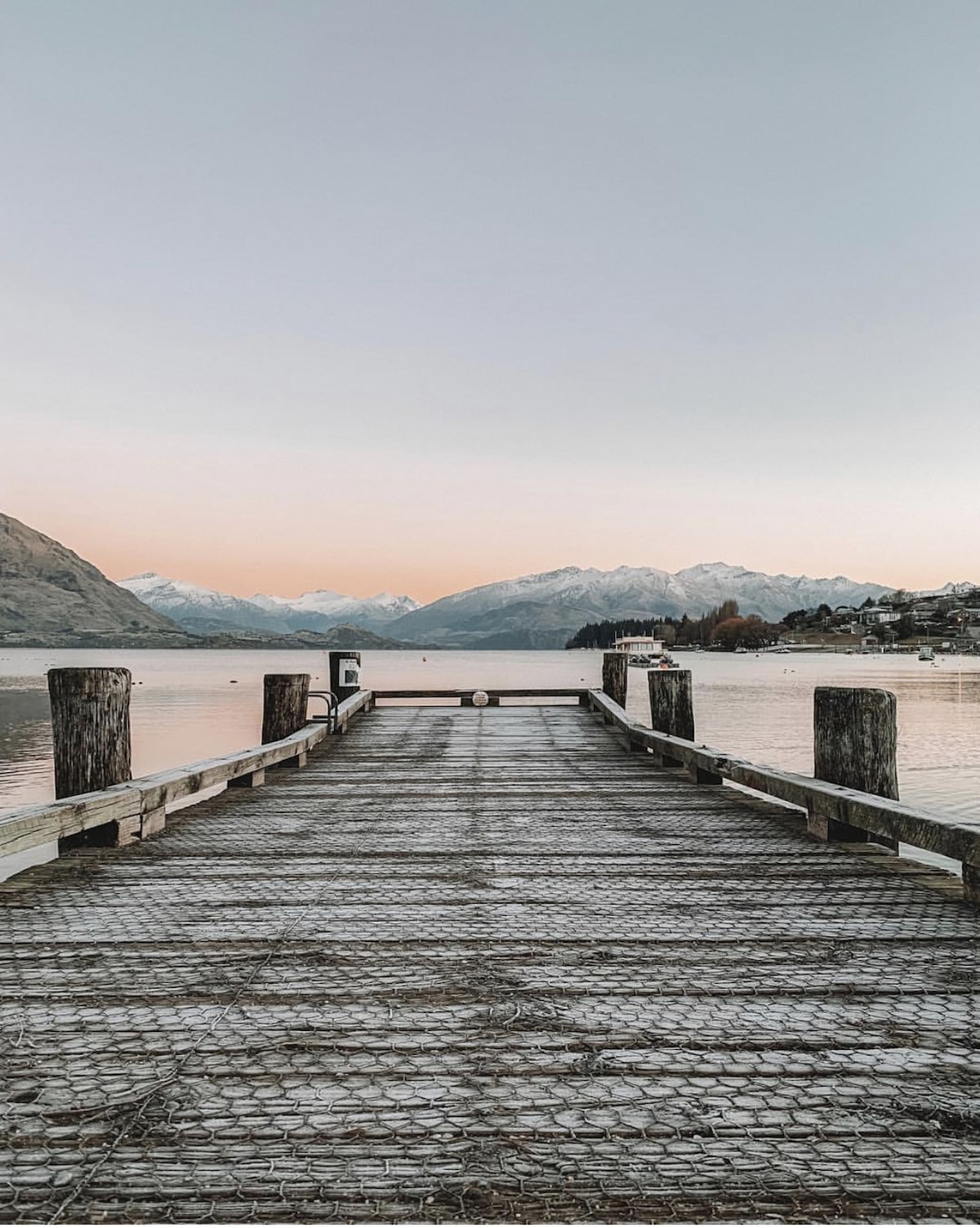 Then, a quick stop at Base NZ to pick up my equipment for the week. A 'quick stop' turns into an hour, though, as I get entwined in conversation with the knowledgeable staff. Heat-molding a pair of snowboard boots is a new idea to me but makes complete sense. Their massive range of skis and snowboard almost tempts me to buy a new board for the season - especially with an extra 20% off for being with SnowSkool team!
The iconic tree in the lake is a must see when in Wanaka (#thatwanakatree is another way to see the tree as it is the most photographed tree in the world!). It stands solitary in the lake and makes for an iconic photo with the mountains as the backdrop. The locals seem to feel slightly differently about the tourist attraction: "it's just a bloody tree!" one local tells me!
Meet and greet the Pros!
The ITC orientation day is a great opportunity for the SnowSkoolers to meet their ITC instructors for the season! Yoyo, the ITC director, leads the day and delivers a very informative presentation about the ITC, covering what to expect and other important information about the course. Free goodie bags get the team excited and also gets the ITC in our good books!
After a couple of team exercises in the garden to get everyone acquainted, we head to The Waxroom for a lesson from the one and only Chris Rodgers: the wax and tuning technician for the NZ freestyle park and pipe international team!
If anyone knows how to wax a board, its this guy! 20% off for the season is also a nice little perk.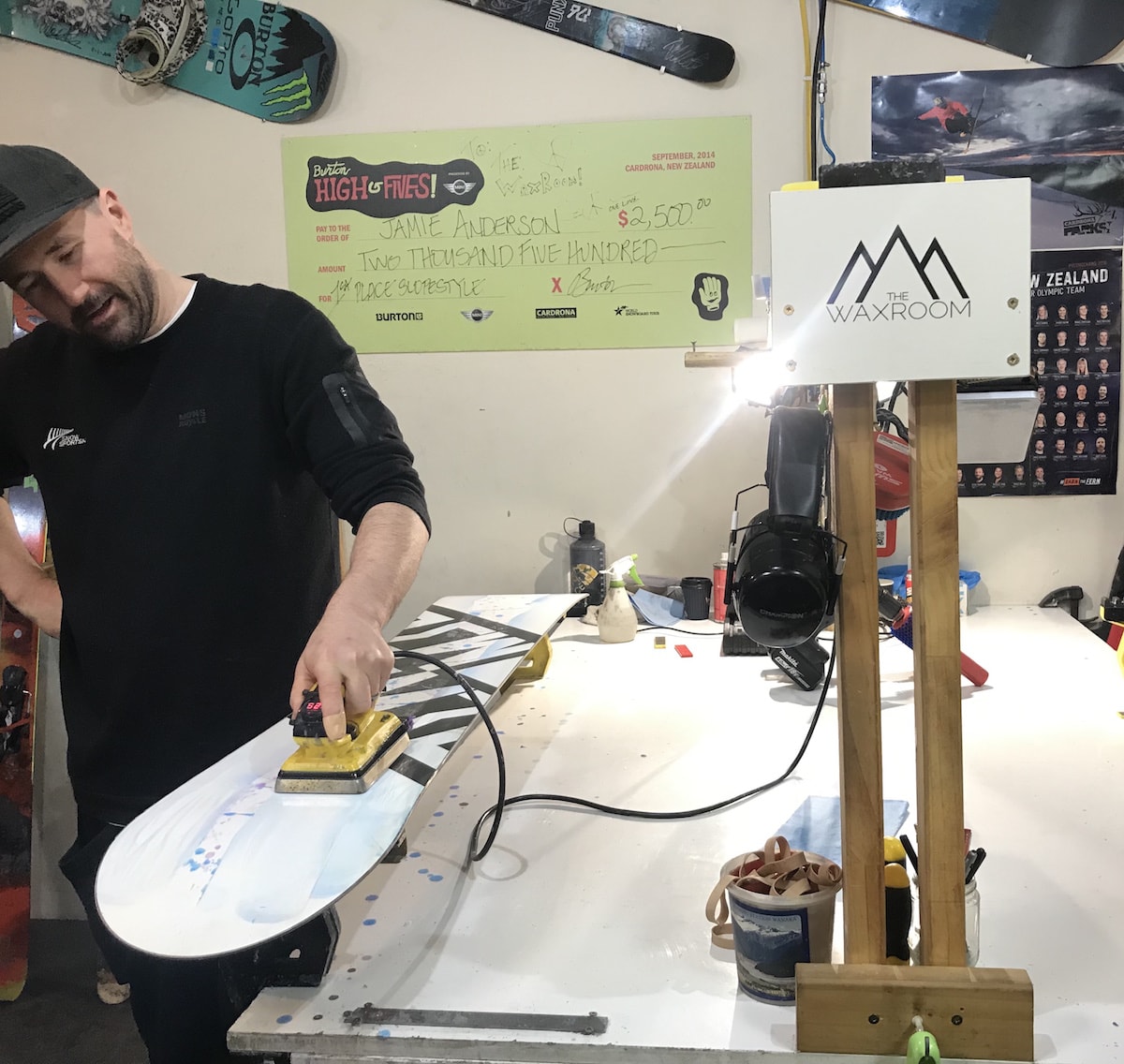 Killin' it at Cardrona
Finally, what we are all here for! It's the first day on the snow and it is EPIC! A day to blow off some steam and rip around the mountain before the serious learning begins.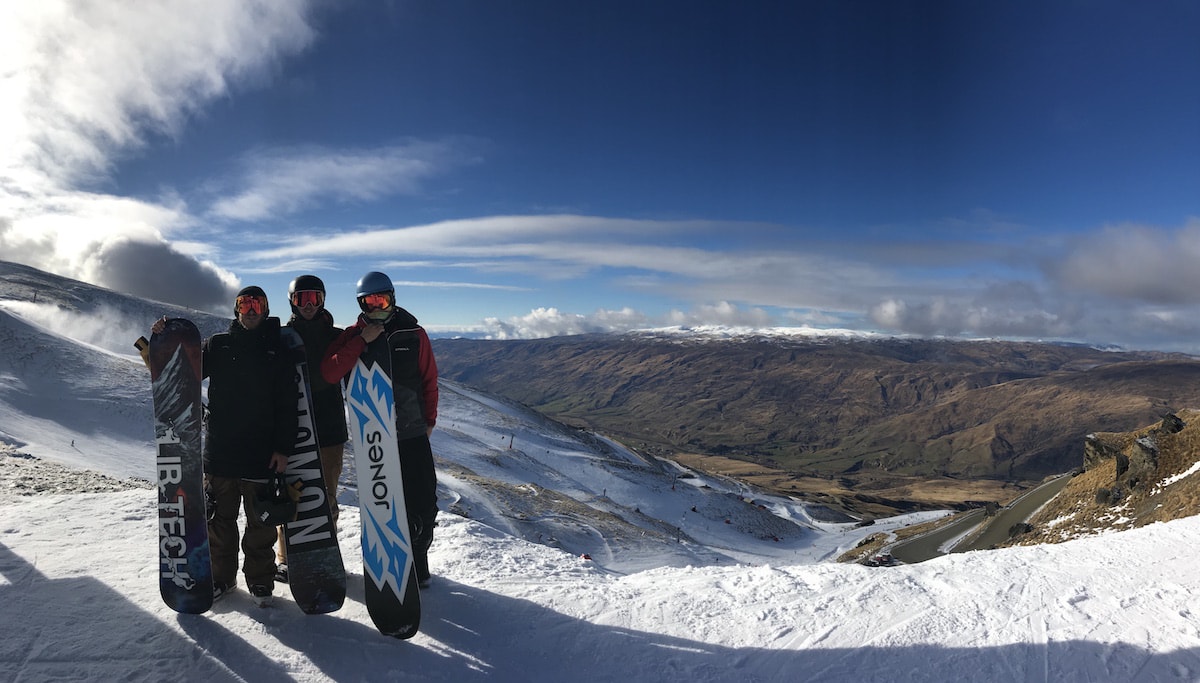 It's a beautiful day with no queues at the chairs so we've got ample opportunity to squeeze as many runs in as possible before a lunch time pit-stop in the Base Café. The food is surprisingly affordable at fewer than $10 NZD for pie and chips! There are of course healthier options; I do see a tasty looking Caesar salad but they are quickly snapped up in the lunchtime rush.
Once we've eaten our fill and caught up with everyone's morning of shreddin' at Cardrona we head out for an afternoon of fun. Cardrona is famous for its freestyle parks and that's where we head! With a massive variety of boxes, tubes, rails and jumps there really is a feature for everyone - from beginner to pro! The whole team are on board with whatever they feel comfortable with and we have a sick afternoon. The guys are super pumped to develop their park skills over the season!
…And Après!
After a full day of shredding, a tired SnowSkool bunch head home. Getting back to the lodge around 17:00 we'll have a quick changeover and then head to our local restaurant. Relishes are accommodating us four nights a week with a delicious 2-course spread each time! Tonight, we'll dine on a Sunday roast with a rhubarb crumble to finish.
The roast was delicious! And still full of excitement we head to the Water bar! The biggest and cheapest bar in town. At only $5 NZD a pint, free Wi-Fi, pool tables, film nights, quiz nights and tasty food this place will quickly become the local hangout for the SnowSkool team!
SnowSkool's Ski Instructor Course in New Zealand
If you'd like an adventure in Wanaka, New Zealand too then check out our ski and snowboard instructor courses for 2020 here...