Have you ever considered a career as a ski instructor? This is the dream job for many people but it's a tough gig: as well as stellar skiing skills, you'll need a range of soft skills to succeed.
Do you have what it takes but you're also curious the perks of being a ski instructor? Here's a look at the perks that make this a rewarding and valuable career choice.
1. Live Your Passion
First and foremost, ski instructors have the amazing opportunity to live their passion each and every day. They get to wake up on ski resorts and hone their skills for weeks at a time. It's a pretty special job.
Of course, that isn't to say that every single day is a breeze. As with any job there are a range of challenges and frustrations. But still, if you're passionate about skiing you'll have more amazing days than bad ones.
2. Financial Rewards & Discounts
Ski instructors get access to a range of financial perks. Looked at together, these perks can really make the job rewarding:
Free lift passes
Lift passes can be quite expensive (again, depending on the ski resort in question) but as a ski instructor, you don't have to worry about that. You'll receive a ski pass that you can use during and outside of your lessons, so you'll have privileged and free access to the slopes whenever you want it.
Discounts throughout town
You may find that as a ski instructor, you are given significant instructor discounts on a wide range of kit. Again, this depends on the resort but ski instructors can often expect to get decent reductions on skis, boots, poles, bags, clothing, gloves, and much more.
Also expect specials on food and beer / drinks throughout town, which helps keeps the cost of living (and partying) under control.
Solid pay and tips
Ski instructor salaries vary a great deal depending on the instructor's location and the level of experience that they have. But the pay is generally better than you'd think - and if you increase your level guaranteed to earn more. If you don't have lessons on you'll often still earn and, of course, some clients who enjoy private lessons will leave tips too!
For more on ski instructor pay see our post on ski instructor salaries across the globe.
Free lessons (and ski equipment)
Many ski instructors find that they can advance their (already impressive) skills with free lessons from further up in the ski school they're working for. Some are also provided with equipment that they need. This is a great way to try out some new equipment and gear before buying!
3. Networking
Having a job in the ski industry, especially as an instructor, opens a lot of doors if you want to make your career in snowsports long and prosperous. Every hill will have a huge amount of instructors already employed that will know all the ins and outs of the industry. Your employers within the ski school have usually seen it all in the industry too! Being polite, courteous, attentive, and, above all, good at your job can help you to reap the benefits of their industry experience.
Looking for a job in the southern hemisphere winter where ski jobs are a relatively few and far between? You'll bet your employer or fellow instructors have some great contacts that could develop that opportunity to work on snow all year round.
Looking to extend your stay past your two-year visa you in Canada? An excellent reference and good impression on the ski school director will only help your search for sponsorship!
Don't underestimate or overlook the power of networking in the ski industry. Although being a great skier or snowboarder will obviously be a huge leg-up, ski instructing is one of those jobs that holds true to the old saying "it's not what you know, it's who you know".
4. Relish the Joys of Teaching
Every ski instructor has their own personal set of reasons for pursuing this career path. Some of them are inspired by money, others by the prospect of skiing as much as possible. Many, however, are inspired just by the role of teaching another person.
There's something special about meeting someone, assessing their current level of ability, and seeing the improvements that they have made thanks to their time with you. If you love to develop other people's skills, becoming a ski instructor is the perfect way to blend your passions for skiing and teaching together.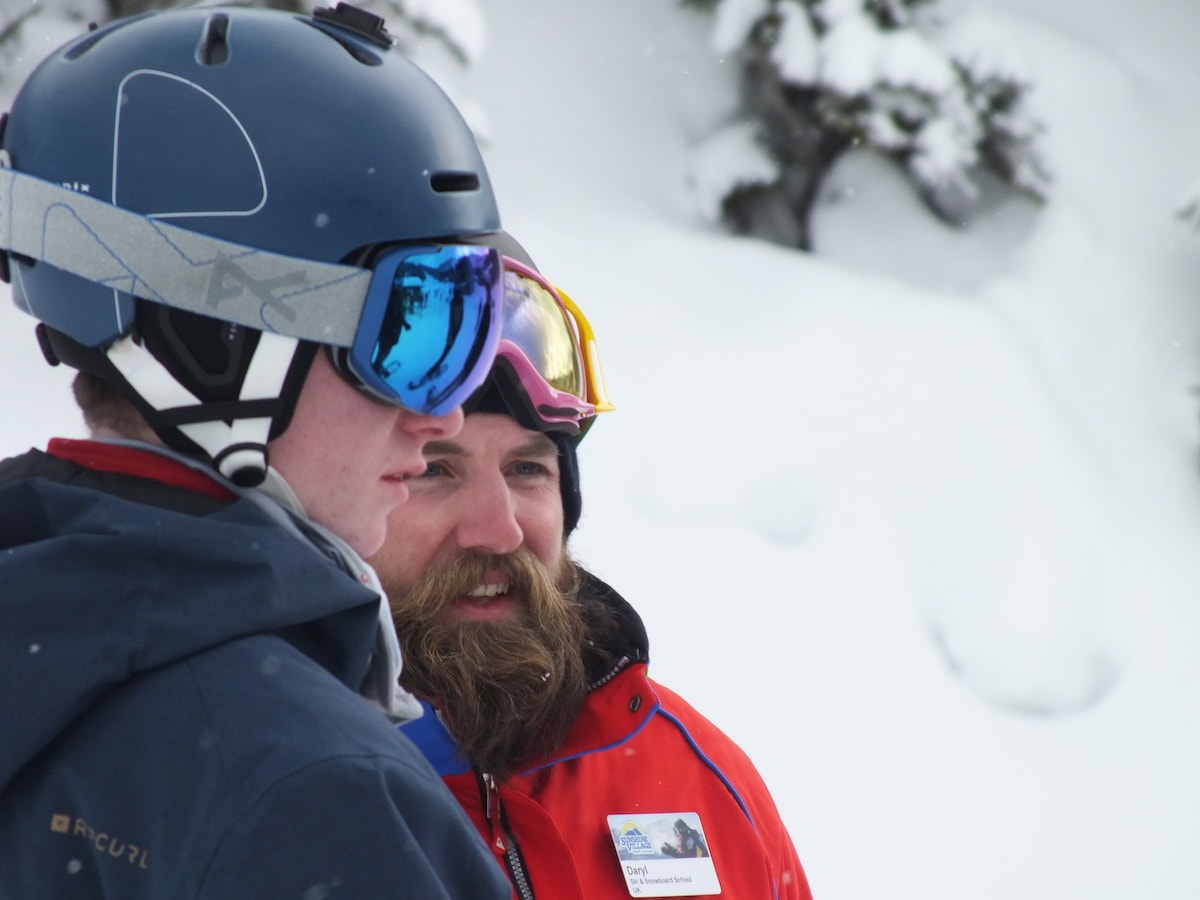 5. Earn Respect
The skiing community is a fun and vibrant one with lots of etiquette and unwritten rules. Both on piste and off piste, skiers and snowboarders treat one another with respect and enjoy a sense of comradery.
As an experienced ski instructor, you'll also enjoy an even deeper connection with other skiers. You'll be respected and looked up to, which isn't the case in a lot of jobs these days!
6. Travel the World
Many ski instructors relish the opportunity to travel around the world and move from winter to winter. They are always on the move and they get to live and work in some of the world's best resorts and countries.
The more qualifications the better but in many countries all it really takes to live and work abroad is to get qualified to Level 2 (as you can on SnowSkool's ski instructor courses). You could live and work the dream, in Canada, in New Zealand, in Europe, freed from the mundane stresses and strains that everyone off the mountain has to put up with!
Here's a bit more about how to live and work in five of the world's most popular countries to ski and instruct in:
Become the best ski instructor you can be with SnowSkool
That's a closer look at some of the perks of being a ski instructor - how do they sound to you?
If you would like to make your dream a reality, you can get in touch on the contact form below or even start a live chat if we're around.