19th May 2023
A ski or snowboard instructor course can give a life-changing lift to one's personal growth and career, whether it's a short two-week course or one of our 11-13 week long courses in Canada, France or New Zealand.
From your child's point of view these courses will always look like the best thing since sliced bread: on snow seven days a week with like-minded individuals, spending time abroad with access to an incredible social scene and extra off-snow excursions. As well as a recognised qualification at the end. What's not to love? However, it can be daunting from a parent's point of view:
yes, it's very exciting and I am sure they will have a lot of fun, but there are plenty of other ways to do that, why should I spend this amount of money for a ski or snowboard course?
That is the question we are here to answer:
First of all, here's some reassurance about booking with SnowSkool:
We're experts at this…
We've been doing this for a while now, since 2003 when we ran our first course in Banff.
This makes us one of the longest-running courses providers out there - and we've been around for long enough to know what makes an incredible course, from all perspectives.
Support & communication
With us, every participant is supported from the first enquiry – from paying the deposit and course fees through to the all-important guidance through the course. This happens through various channels and with comms delivered individually and as a group through platforms such as phone, email, WhatsApp and, most importantly, in-person through our Reps! We even offer post-course support with career advice and contacts.
Interest-free payment plans
Courses like these cost a lot of money; there is no way around that so, to help make the payment more manageable, we arrange a payment plan with no additional interest or fees. This means that you can book your course 12-18 months in advance to stretch the fees into smaller chunks and make the costs more manageable. If your son or daughter is saving up or working a part-time job, for example, to fund the course - this gradual payment plan is really useful to help teach them about budgeting and finances.
This is all managed by your own online account that we create for you, which you can access through our website. We don't want to make things difficult or demanding, so if your payment plan needs tweaking to work with what you can manage, then just let us know and we can get it all worked out.
For more about how paying for a ski or snowboard instructor course see this post on how to pay for a course more easily:
Safety with financial protection
All of our flight-inclusive packages are financially protected by the ATOL scheme. And when you pay the deposit for one of these courses you will be supplied with an ATOL Certificate for your records. For more information about the financial protection through the ATOL Certificate go to: www.atol.org.uk/ATOLCertificate
For those packages that do not include flights, your payments will be protected by our Financial Failure Insurance with International Passenger Protection: www.ipplondon.co.uk
Either way, you are safe with us.
The bigger question...
So, is doing a ski or snowboard instructor course a good idea?
We think so - and here are our top reasons why:
1. Pursue a passion as a career, or gap year
Pursuing a passion as a career is something that a lot of people aspire to but few can make happen. But there is a chance to pull it off with a ski or snowboard instructor course. Our Level 2 courses are globally recognised and experienced instructors can earn fairly well, doing something they enjoy (see our instructor salary graph below).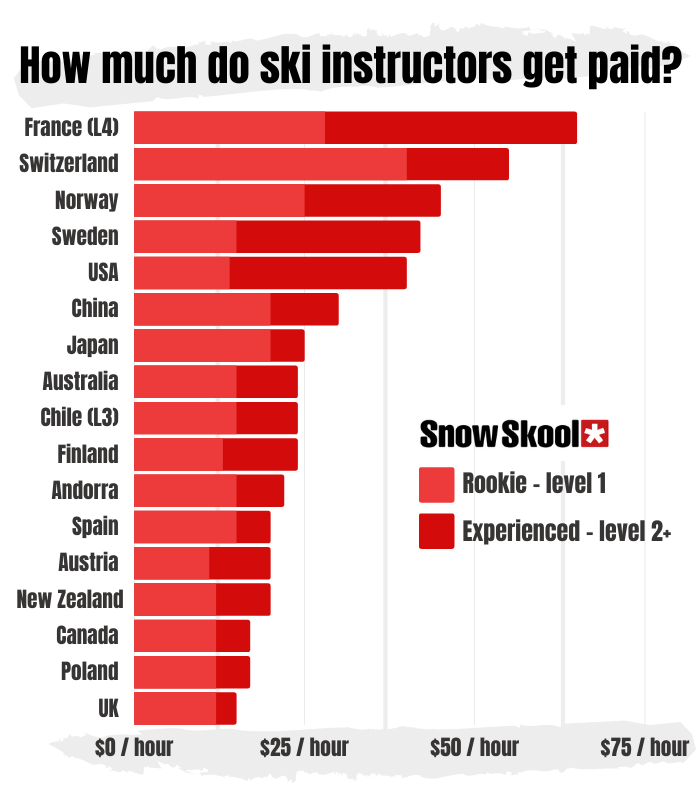 We feel a gap year is also best spent pursuing a passion. It's very easy for school to finish and then, without enough planning, the gap year is spent working in a bar or doing a job that provides no thrill or personal development.
2. Transferable life skills
This seems like an obvious one but becoming a ski or snowboard instructor builds so many important personal traits and skills:
Time management
Independence
Confidence
Group management
Maturity
Patience
Financial budgeting (hopefully)
3. CV-enhancement and future employability
As well as adding an array of skills and specific qualifications to your child's CV, a completed ski or snowboard instructor course can also show experience and adventurousness outside of a given career, which is something that employers increasingly want to see.
4. Personal growth
Whatever your child's background, having this time away gives them a chance to manage a new and exciting social network, make plans for the future and become more confident and independent in the process.
5. Time to evaluate further education/career options
We all know someone who went to university for a degree completely unrelated from their current career - or went back to university for a second degree in a different industry.
We find that an instructor course, and a break from higher education, gives our younger trainees a useful new perspective to think about what they want to aim at in life - whether that's a career as an instructor or otherwise.
6. Lifelong friendships and social skills
Spending every day for 11-13 weeks with like-minded people from all over the world, forming friendships that are often lifelong, is never going to be a bad thing! It's also a great opportunity to develop and widen social skills.
7. A chance to travel, while you can
For many people that we chat to from 30 to 50+, the biggest regret they had was never taking the opportunity earlier to join an instructor course/ do a ski season/ travel, especially when the passion was always there.
Taking a year to do something as productive and adventurous as an instructor course/ ski season is an amazing thing do do while still young. YOLO as the kids say! (Or perhaps they don't anymore, we just think we are in touch) but the sentiment remains - you only live once. And you are a only young once. What greater joy for a parent than to see our young adults making the most of it?
And more practically, you can be assured that your child will come away with an incredible experience, new friends and a fresh new look on life, ready for the next challenge – or a global career as an instructor.
Find out more about our industry-leading courses here...
Alteratively, give us a call or send an email to [email protected] to chat.