This is a tough one, but how can we ski (and ride) more sustainably?
The ski and snowboard industry relies on a stable and reliable climate. It's made up of outdoors-lovers and we couldn't do it without nature… So there is an irony that our industry also generates millions of hours of global air travel, relies on equipment made of synthetic materials and is generally quite impactful on the planet.
We don't like to blame the little guy - the issue of climate change will only be solved when government and big companies sort out their own s***. However, there are still things we can do - as individuals - to make a small contribution to caring for our Mother Earth.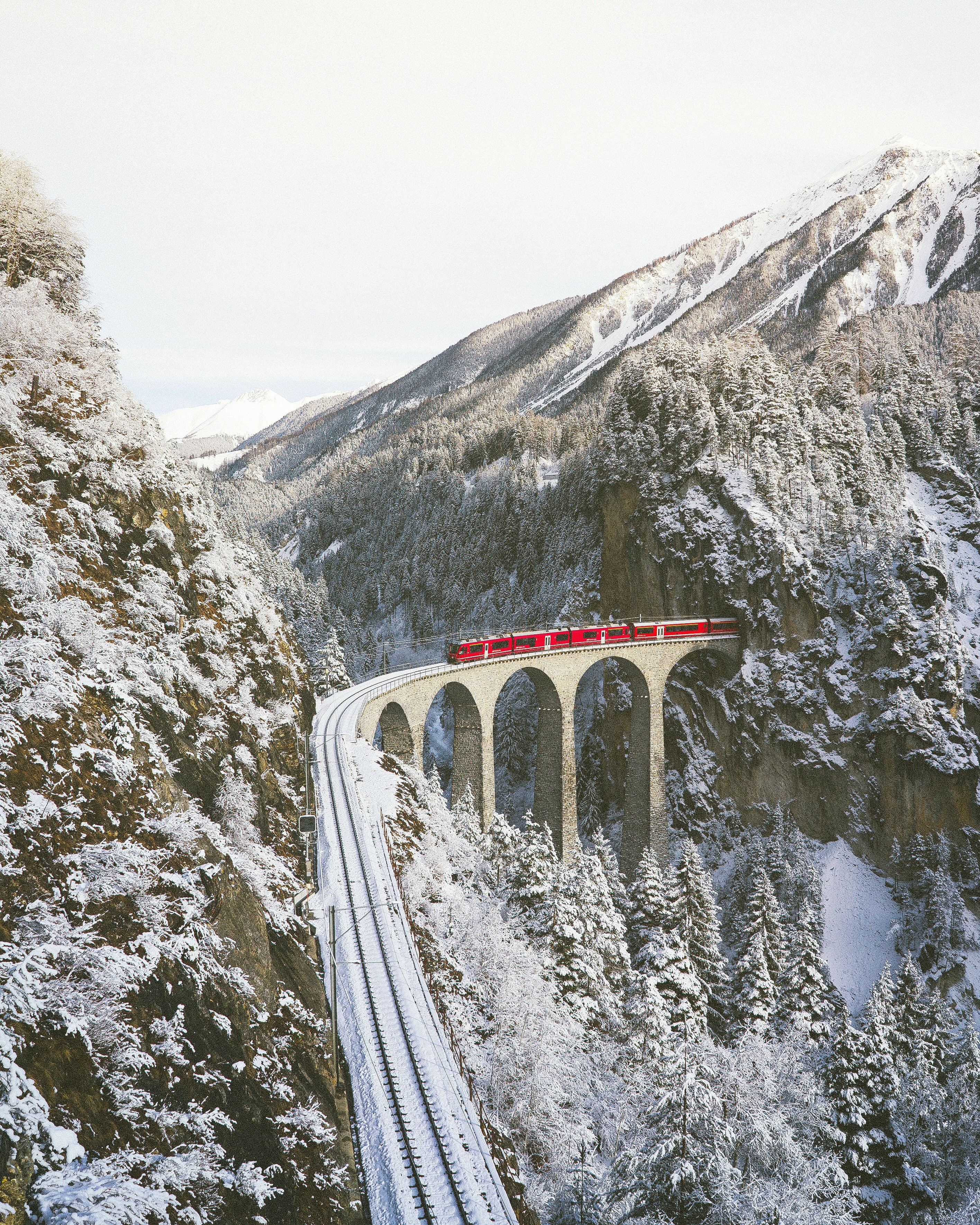 How you get there
Flying is going to be the biggest greenhouse gas contributor of your ski trip. Avoid it if you can! If you live near enough to the mountains to make a road trip of it - that's awesome - even more so if you can use shared or public transport. While the Eurostar ski train is no longer running, you can book a holiday with French tour operator TravelSki where you will take the 'TravelSki Express' out to resort.
Where you stay
If you have the option – choose a resort with less travel time that is accessible by train. If you're in the French Alps, the TravelSki Express will facilitate trips to La Plagne, Les Arcs, Les Menuires, Méribel, Tignes and Val d'Isère. For more options, including Italy, Austria and Switzerland, a combo of Eurostar and a TGV train can get you to within a taxi or shared transfer ride of your resort. St Anton, Alpe d'Huez, Avoriaz and Verbier are all accessible options. A top tip (because changing between trains via the metro across Paris can be a faff) …pre book a taxi and ease the stress.
Ski kit (soft goods)
So, what should you wear skiing or riding if you want to minimise your impact? The best thing you can do is borrow or rent kit. This actually makes perfect sense considering it's gear you potentially only wear once or twice a year. If you can't borrow from stylish friends, a couple of services exist like Ski Exchange and Eco Ski. If you do opt for buying ski wear – go for kit that is made from recycled materials and is produced in an ethic way – check out Picture Organic who have led the way in this area, Patagonia (if you have the budget), or OOSC. One thing to add here is that your goal should be to keep your kit for as long as possible – invest in quality stuff and repair/re-waterproof through the years.
Ski kit (hard goods)
When it comes to your actual plank or planks, the more sustainable thing you can do is to rent from the resort. Less weight on a plane or train will use less fuel, and you'll be sharing a set of skis or a board with several other people in a season – require less in manufacturing. If you do want to purchase your own, there are some brands who value sustainability especially highly in their manufacturing process such as Salomon, Mervin, Grown and Nix. If you can, buy as locally as possible, because shipping will add a lot of carbon to your footprint.
What you eat
Indulgent food is synonymous with holidays and ski resorts, but can often have a higher carbon cost attached. Standard sustainable-eating rules may be slightly nuanced in an Alpine ski resort for example; eating a local cheese or meat might actually be better than a salad full of avocados and shrimp (neither are bountiful in the Alps you might be shocked to learn!). But do follow the other rules that you would at home – buy things fresh and loose, in tins or glass rather than plastic and recycle all packaging when you can. It's a good idea to take plastic cutlery and water bottles up the hill for lunch stops; busy restaurants will often give you 'disposable' stuff.
How to help
If you really want to feel like you've done all you can, it's a great idea to check out local environment groups or charities that work in the resort you're going to. Donating to these organisations can help their summer 'clean up' and restoration of the local ecosystem. If you haven't heard of them already, Protect Our Winters is an amazing organisation that involves the ski industry, businesses, governments, pro athletes and punters like you and me! It was set up by Jeremy Jones (over-achiever much?!) and they've made real progress. You can donate or join as a member. Finally, do a bit of a calculation of your trip's impact. You can calculate the carbon cost of your flight with a service like Atmosfair (there are lots out there) and then offset the total through carbon-removal technology or nature-based solutions.
The most important thing we need to take on climate change is collective action. We hope these tips have helped you feel you can take action and still enjoy a stint in the mountains. It's ok to feel a bit of eco-guilt when it comes to ski holidays, so do your best, spread the word and tread lightly!