29th April 2023
THIS is the course you need to be on for a couple of key reasons:
Get trained by the tippest toppest instructors in NZ and qualify to start work in Europe, Japan or North America from November 2023
Experience the wonders of New Zealand's stunning South Island – enough said!
Well not quite. We need to expand on these wonders a little more. As well as the top calibre training and qualifications … and the furiously fantastic times that await you … you will spend a blissful 11 weeks on every level in 'probably the coolest place on earth' as we assert in our e-brochure.
To back this up? A few endorsements from a few 'cool' folk:
Bear Grylls "There is only one word for New Zealand – epic!" (well, he's an outdoor pursuits type whose word we might want to heed …)
John Travolta "Whenever I get stressed I just want to hop on a plane to Queenstown" (Does John Travolta even get stressed – surely far too cool a cucumber? Well, Queenstown is his happy place when he does – and it's just down the road from Cardrona …)
The late Queen Elizabeth II "I myself prefer my New Zealand eggs for breakfast" (well, there's an accolade … I think you need to sample those eggs in situ)
Basically, New Zealand is one of those dreamy destinations we all need to experience if we can. The beauty, beauty, beauty, the culture, the sport, the outdoor life, the friendly, fun people, the zen … So … read on to find out more about how SnowSkool could be the key to your NZ odyssey.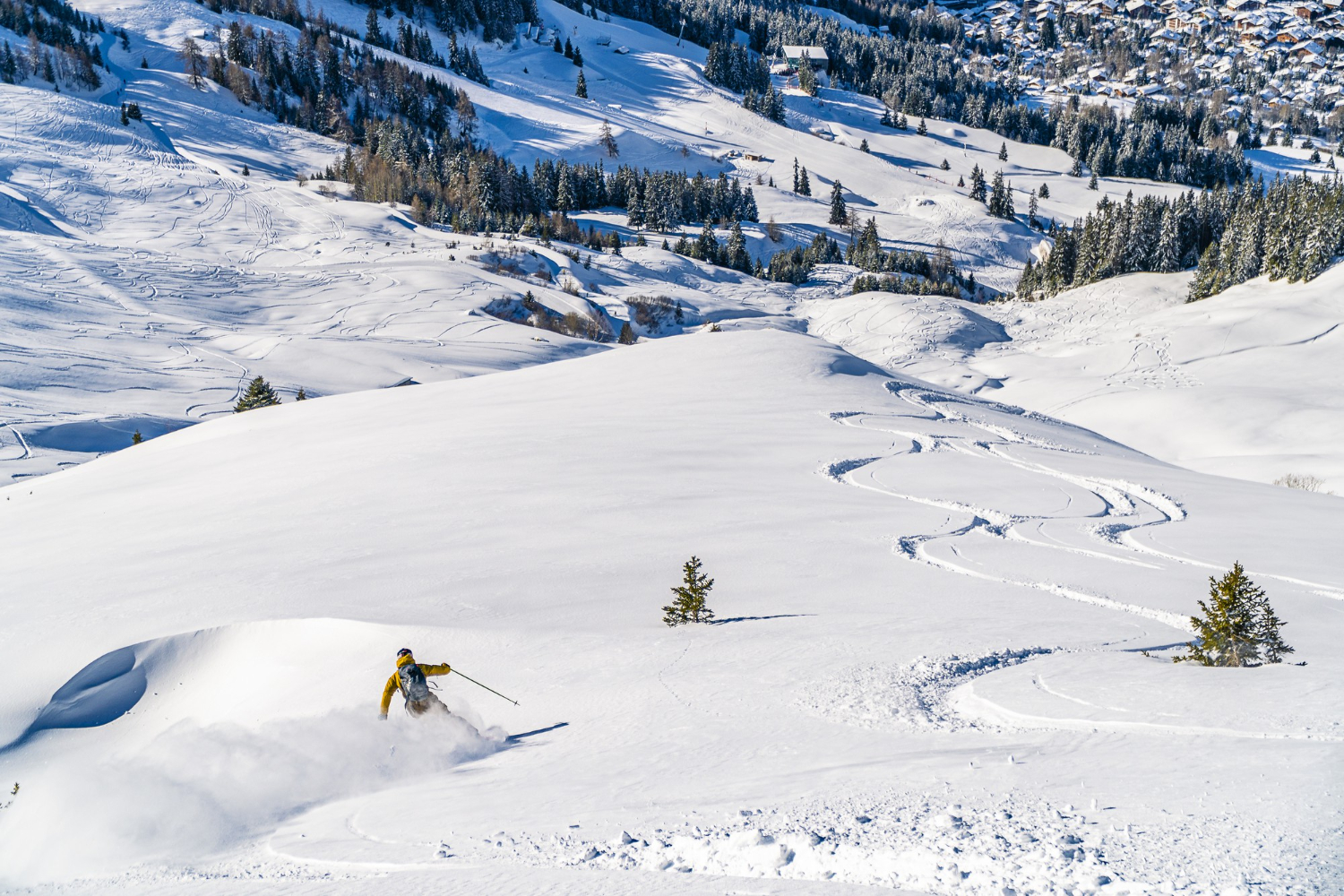 The Course and the Resort
You will be trained by the best of the best. 50% of all NZSIA/ SBINZ trainers in New Zealand, and 50% of the NZSIA interski demo team are based at Cardrona. That's basically an elixir ski and snowboard instructors at your disposal for 11 beautiful weeks.
Not only that but the extensive ski terrain of Cardrona and Treble Cone (for which you will have a dual pass) are home of the New Zealand Freeride team as well as the country's premier training facility. As our e-brochure relays ...
"Playgrounds of open powder faces and natural half pipes await advanced riders in Treble Cone and the Motatapu Chutes offer steep and challenging terrain" and there are "insane freestyle opportunities thanks to four snowparks"
During your 11 week course, your accommodation will be in central Wanaka Town which overlooks a breathtaking lake. Sharing with others on the SnowSkool course who will, in all likelihood, become life long friends, enjoying the local, independent vibe of the town as well as the great nightlife and welcoming friendly locals, you will find it hard not to make these ingredients add up to a rather wonderful, life affirming - perhaps life changing experience … See what graduate Holly Murphy has to say on this further down.
"Wanaka is a really cool little town. There's plenty going on – you can't not have a good time!"
What else can you do apart from skiing and boarding?
Bunjee jumping (visit AJ Hackett – home of)
Kayaking
Watch the All Blacks
Sky diving
Heli skiing
Queenstown visits
Flying lessons
Mountain bking
Paragliding
Cat skiing
Parasailing
Hiking
For further tantalising details of the course and resort have a look at our e-brochure which give you essential stats, course breakdown and qualification info, maps and lots more.
And graduates from NZ SnowSkool? What do they typically get up to?
Clark Doran went to work in Italy after completing his course. He then came back to Cardrona to work as a SnowSkool resort manager during the southern hemisphere winter and set up a coffee shop in Scotland during our northern hemisphere winters. But … he's recommitted 100% to his instructing career now training as a trainer & examiner with a view to realising his dream life in the mountains.
Holly Murphy got both her ski and board qualifications from NZ SnowSkool. Went on to work in Japan and New Zealand for a time. Having now completed her level 3 qualification she's achieved her dream goal of going to work in the US – California and Utah. She says "SnowSkool properly changed my life forever". Well, there you go. That could be you.
Read more about our SnowSkool graduates in the e-brochure. Check out our webpages on Cardrona too for more words and importantly, pictures - depicting the dream. This video provides a pretty good flavour of the action!
For many people, a SnowSkool course in New Zealand is a way to tick that popular bucket list destination, and is the first stage on wider travels through Australia, the south pacific region and SE Asia.
There's one space left for this year's course! Will you be the one to fill it?
Don't hesitate to contact us to discuss things further.
Writer Kate Swainson Price