When people are choosing between instructor courses, and deciding which resort is the best one for them, we often get asked the question: what are the very best things about each course?
Well, here are the headlines... the showstoppers... and the top three features of the SnowSkool instructor courses in Canada's Big White! We can't guarantee that this info will help making that decision any easier (they all sound so good, dammit) - but hopefully it will give you a better feel of the vibe of the Big White course itself.
Ski-in/ ski-out
It's hard to put a finger on just how amazing it is living in a ski-in/ski-out apartment whilst you are on the SnowSkool course in Big White. From being able to staying bed for an extra 45 minutes, whilst others are clambering aboard a bus in -25C, to saving a ton of money by popping home for lunch every day rather than eating on the mountain… it is all good! But not only are SnowSkool digs ideal for skiing, they are also located close to the centre of Big White so offer super-easy access to all the shops, bars and restaurants.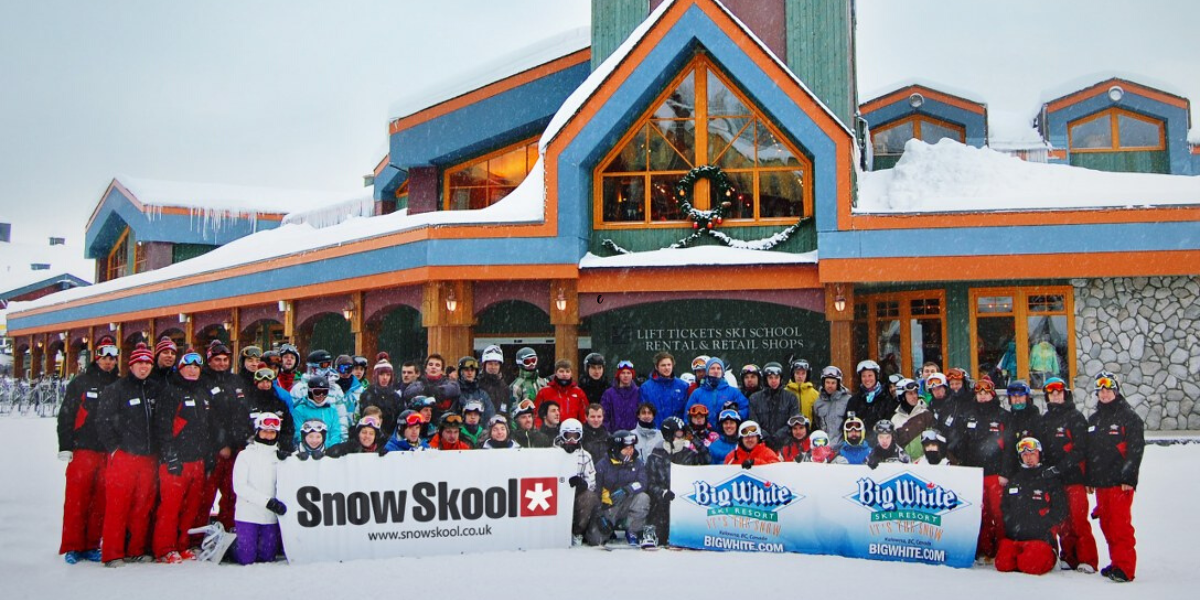 Powder
It is fair to say that Big White gets a lot of snow… in many resorts, waking up to 20cm of fresh snow makes people leap out of bed, forget breakfast and run to the slopes dragging their skis or board. But, as much as we completely love and embrace every powder day, things are a little more relaxed in Big White as there will probably be more snow later on or there's always tomorrow or the next day when, chances are, there will be another dump! And it's not just the quantity of the white stuff, it's the quality too… because of its location in the middle of British Columbia, the water sucked up from the Pacific by the clouds has time to dry out as it makes its way eastwards ensuring the loveliest, fattest snowflakes and champagne powder on the slopes.

Community
Difficult pitch to make, this one… but Big White is a village - it is the exact opposite of an over-priced commercialised Disneyland like Whistler. The village is based around the VCM (Village Centre Mall) which has a small number of shops, some cafés and restaurants and a good few bars. The whole centre is about 250m long and 100m wide (and do be careful as you walk down the main street as it is a pisted ski run!). As well as the 35-ish people on the SnowSkool course, you will get to know a lot of people who live and work in Big White. Whether working or training, the seasonnaires in Big White will tend towards the same places and a great sense of community will begin to form.