When people are choosing between instructor courses, and deciding which resort is the best one for them, we often get asked the question: what are the very best things about each course?
Well, here are the headlines... the showstoppers... and the top three features of the SnowSkool instructor courses in Canada's Banff! We can't guarantee that this info will help making that decision any easier (they all sound so good, dammit) - but hopefully it will give you a better feel of the vibe of the Banff course itself.
The nightlife
As a ski town, Banff is close to perfect… it has extremely beautiful scenery; it offers access to some of the world's best riding and it has a nightlife that is second-to-none. Your average gap year student obviously loves the epic ski terrain around Banff but, to be frank, is none too concerned about the scenery. The nightlife, however, is pretty important! There are activities aplenty in Banff; ice-skating, cinema, gym, swimming, indoor football/ basketball/ dodgeball, ice-hockey, bowling and snow-shoeing. There are also more pubs, bars and nightclubs than you can shake a stick at and your SnowSkool reps are on-hand to make sure you are making the most of your time on the slopes during the day and downtown in the evenings!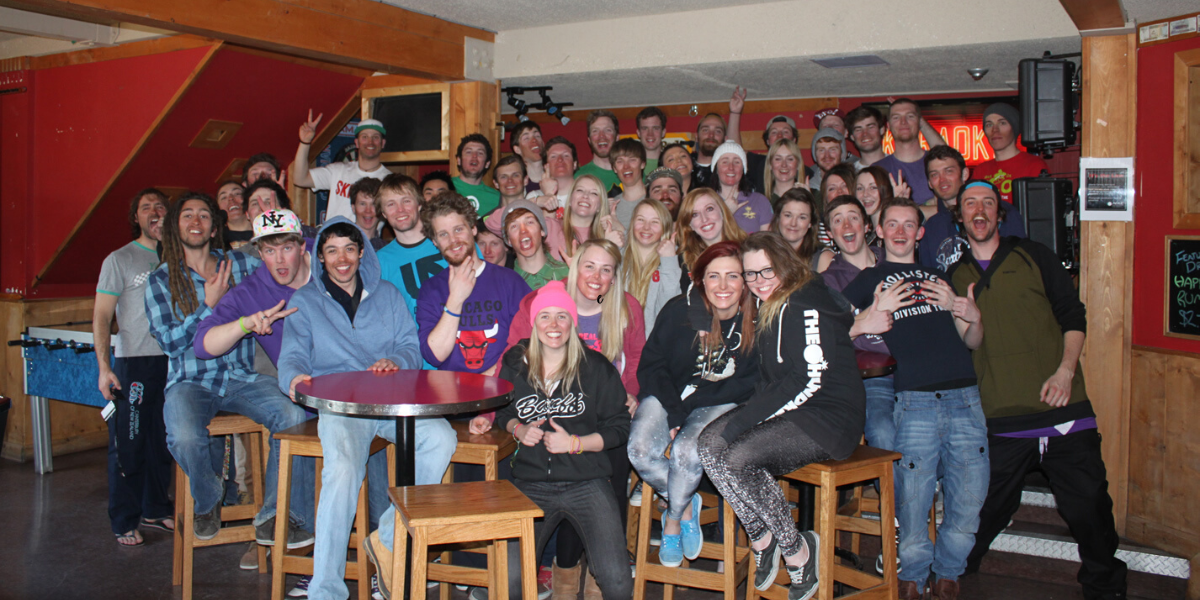 The atmosphere
Funny one this but the atmosphere and camaraderie that form on every SnowSkool course in Banff is regularly cited as one of the Best Bits about the course. It's fair to say that the ambience on most instructor courses is going to be pretty positive but SnowSkool in Banff is definitely a cut above. Two main reasons for this:
- Everyone (that's 60-70 people with an average age of 20 years old) lives together in a Lodge that has a total of 220 beds. There are huge communal lounges so everyone can chill together and breakfast & evening meals are taken in the SnowSkool Meeting Room where chat, music, banter, laughter & announcements are served alongside the food!
- SnowSkool Reps live on-site and are always on-hand. They will make your breakfast in the morning, ski & ride with you during the day, join you for dinner and then organise & partake in social activities in the evening. They bring everyone together and make whole all the individual parts of the course.

The Lodge
SnowSkool has stayed in The Lodge every year since 2004 (apart from in 2021 of course!) and, even though it is the least luxurious of all the accommodations we offer (four-share rooms and 10- to 12-minute walk from centre of town), it gets positive mentions in the vast majority of feedback forms. It's not for you if you need privacy or peace & quiet and it's not for you if you need to be wee-hours-stumbling-distance from the nightclubs. However, it is for you if you like to be surrounded by mates all the time and if you're happy to chill in the evening (you are there for 13 weeks!) or have a pint or two in Storm Cellar – the Lodge's very own pub. Save $100 nights out for the weekend!