Wondering what's the best ski jacket for you? How to choose between an insulated jacket or a shell? And aren't 'hard shells' for crabs??
You might be about to start a SnowSkool instructor course, gearing up for your next holiday, or about to commence your season… Maybe you've just completed a snowboard or ski instructor course and are embarking on a new adventure – wanting to upgrade your kit…
No matter the situation, you're going to need the right jacket! And whether you're a ski instructor or a recreational shredder, knowing what you're after is 90% of the battle. But, with so many options, where do you even begin?
The main types of ski jacket:
Ski jackets kind of sit on a spectrum from insulated jackets, to lined shells, to hard shells. Sound confusing?! We'll help you work out which is the best one for you.
1) Insulated jackets (aka a waterproof jacket with padded insulation inside) are probably the simplest option. Often, insulated jackets allow you to forgo a midlayer, meaning life is just a little easier. However, it's simplicity at the cost of versatility!
2) 'Hard' or 'technical' shells are the other end of the spectrum. They're a strictly waterproof layer that goes over the top of your choice of midlayer (like a fleece, or puffer jacket), offering maximum customisation. However, this does mean getting dressed in the morning is a mental process, as well as a physical one!
3) The third option, and new kid on the block, is a lined shell. The best of both worlds in some senses, lined shells offer most of the versatility of technical shells, while giving a little more warmth (thanks to some cool, new-fangled tech) like an insulated jacket might.
10 essential ski jacket features:
Taped seams – Stitching in ski jackets is unavoidable, but a strip of flat, waterproof tape over the seams allows water to run over them, rather than gathering in them or finding its way through stitching. You'll see this on all good ski instructor uniforms.
Waterproofing – Measured in millimeters confusingly! (Imagine a 1-inch square tube over the fabric and measuring how high (in mm) a column of water could be poured in, before it starts to leak) If you can, go for a ski jacket with 20,000mm+ waterproofing.
Breathability – Also measured in mm. Take it with a pinch of salt (there's no standardised test and fabrics perform differently in different conditions). Generally, the more waterproof something is, the less breathable it will be, but aim for something 20,000mm+ also.
Insulation – Will be down (goose or duck feathers), synthetic or a blend. The heavier the insulation, the warmer the jacket; synthetic insulated jackets will range from around 40 – 120 grams.
Wrist gaiters – Or 'thumb loops'. These keep your jacket sleeves pulled down and prevent an air gap between your gloves and cuffs.
Underarm vents – These allow you to cool down without having to take off layers/undo your jacket.
External pockets – For things that you need to access quickly and easily. Also a lift-pass pocket, often on the arm.
Inner phone pocket – Phones loose battery in the cold. An internal pocket, closer to your body, will help it stay warmer and keep charge.
Powder skirt – Stops deep powder from flying up your back if you're having an epic ride in the backcountry; stops snow from getting shoved up your back if you're having a 'mare and a crash!
Helmet-compatible hood – in bad weather you'll want to be able to cover your helmet.
So, which is the best ski or snowboard jacket for you?
Insulated ski jackets
Most insulated jackets offer up a triple-layered construction of the shell (waterproof barrier), insulation (warmth), and lining (comfort and convenience). The outer shell on these jackets provides you with snow, rain, and wind protection, while the insulation locks heat in.
The basic principle of jacket insulation is to gather and store your body heat. Polyester (the most common) insulation often comes in the form of fibres, which, when interwoven into a 'fluff' of sorts, creates lots of little air pockets that trap heat and prevent its easy movement. You can get fancier ski jackets with down filling. These are very warm and come with a price tag that reflects their efficiency. You should also check the down has been ethically sourced.
The ability to trap heat inside makes insulated jackets great for cold weather conditions or for those days of standing around for hours on end. If you're a ski or snowboard instructor teaching lower-level clients, this might be applicable to you. Similarly, instructors working in Canada (or anywhere where the temperature frequently drops below -15C). Having that extra warmth is going to be a welcome addition to your day on the slopes! But when the weather warms up and the mercury climbs above freezing, these jackets might get too warm. And at that point, there's not much you can do except ski or ride with it open — which is not ideal… unless you're into the superhero cape thing.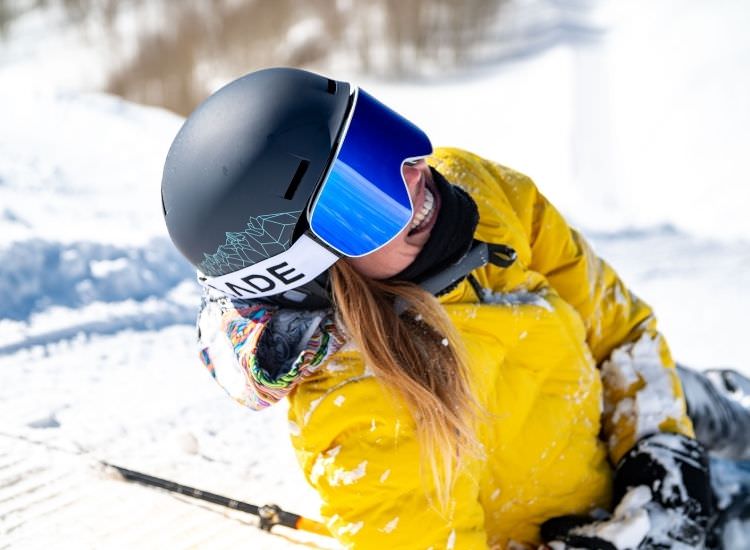 Is an insulated jacket right for a snowboard or ski instructor course?
If you're doing a SnowSkool instructor course in chilly Big White / Banff, or you feel the cold easily, an insulated jacket is a good choice.
Technical/hard shell ski jackets
When it comes to technical or hard shell jackets, they're often geared more towards the hardcore or backcountry crowd, but ski and snowboard instructors have been picking them up. This is generally because they offer the maximum amount of versatility. A lot of skiers who ski tour, or boarders who splitboard, will look for technical shells because they are the coolest jackets. Temperature-wise, that is. And if you intend to dip your toe into becoming a off-piste/backcountry snowboard or ski instructor, you might find these best suited to your needs.
These jackets offer superior versatility, and allow you to endure the most temperature changes, because you can always take off or add layers depending on how warm you feel. This makes them ideal for long days and changeable weather. On a snowboard or ski instructor course, you're training will involve demos, drills, analysis etc. – so your body temperature may change a lot in a day. The hard shell jacket's major drawback is that you will always have to layer up. Either with a t-shirt, midlayer and shell, or a thermal, midlayer and shell. Or a thermal, midlayer, insulating midlayer and then a shell… You get the idea!
Offering no warmth, and no comfort on the skin, they feel more like a rain-mac than a classic ski jacket. And often they lack the convenience of internal pockets. These technical jackets are designed to be lightweight and packable (fold up small into a bag) and put the power of body-heat regulation firmly in your hands.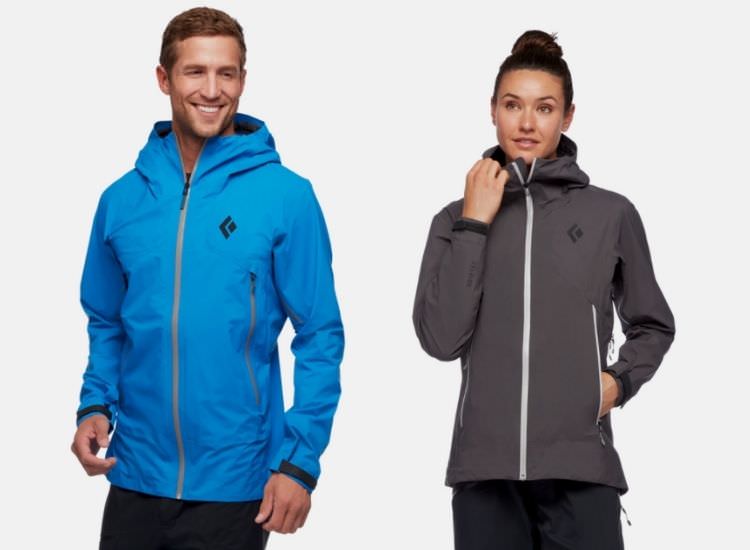 Pictured above: Black Diamond Helio Active technical shell jacket
Is a hard shell jacket right for a snowboard or ski instructor course?
If you're doing your SnowSkool instructor course in balmy Cardrona and you're happy to invest in some technical layers too – a hard shell is all good. (Make sure you've got pockets in other layers/your pants though)
Lined shell ski jackets
A lined shell is more closely related to an insulated jacket than a shell. They don't actually have any insulation to speak of but, with two layers: an outer shell and an inner lining, they can do a good job of trapping heat.
The lining in a lined shell is the most important factor here, and how that's made, and what it's made of, are two crucial things. For example, a lot of jackets will have a quilted polyester lining or a taffeta lining. In the case of some high-end techy brands, they might use a fancy compact foam or other light-weight material doing the work of insulation.
Linings provide nice on-skin comfort, as well as better heat-management, versus technical shells. It means that these jackets also have lots of internal storage. Beyond that, it's their all-around versatility that makes them so appealing. You can use them in warm weather with just a t-shirt underneath, and in cold weather by adding some layers.
This makes them great for riders who'll be out in all weathers, all season long. So, if you've just done a ski or snowboard instructor course, bagged an instructor job and you're stocking your wardrobe for your first pro season… you can't go far wrong with a lined shell.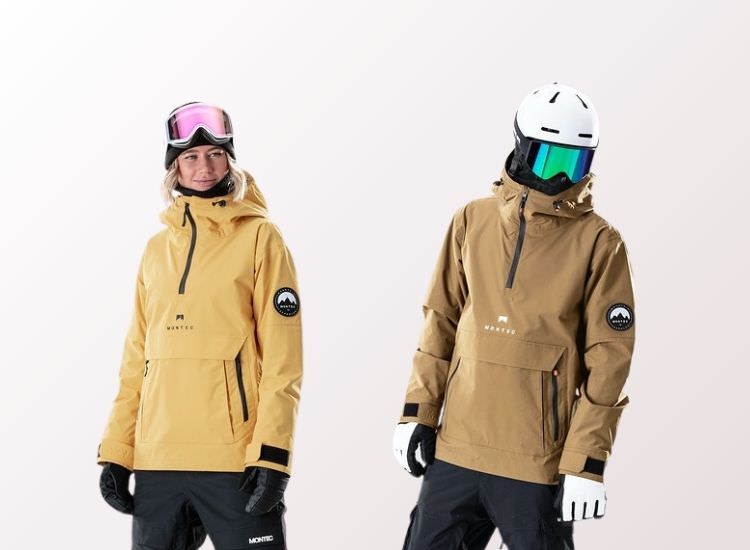 Pictured above: Montec Typhoon lined shell
Visit Ridestore if you're in the UK/EU and Montecwear if you're in N.America
Is a lined shell jacket right for a snowboard or ski instructor course?
A lined shell is a really good choice for any snowboard or ski instructor course. It will take you from the freezing depths of winter (if you get your layers right), to spring skiing and even in town. We're really pleased these jackets are become way more common and available, and snowboard/ski instructors everywhere are wearing them.
Ready to buy a new jacket yet?!
In colder climates, or for those spending long days standing around without much movement (like ski or snowboard instructors teaching beginners, or those in Canada) an insulated jacket may be the best choice. If warmth is what you need, then ultimate insulation is essential!
If the weather is changeable, and so are your daily activities (aka life on an instructor course) – and you find yourself going from blizzards to bluebirds, from park laps to splitboarding expeditions – then the sheer light weight and versatility of a technical shell is a great fit.
However, the new-kid-in-town is bringing you the best of both worlds. Doing an instructor course, you need a jacket that works everywhere, offers a good balance of comfort and warmth, without skimping on convenience. A lined shell is a good one-size-fits-all choice.
New jacket new course?
If you haven't already booked somewhere to show off your new gear why not get yourself on to a SnowSkool ski or snowboard course get in touch to discuss your options!

If you still need jackst inspiration - for an instructor course or otherwise - check out Montec's Instagram.