The Punter/Gaper gap:
The punter gap goes by many names: the gimp gap, the gaper gap, the gorby gap, call it what you will but this is one style error that must be avoided at all costs. The punter gap occurs when goggles and hat/helmet are not properly aligned leaving a large expanse of forehead between goggles and aforementioned headwear. See below for an example:
Don't be that guy...
Wacky waving inflatable arm man:
Also known as "GARM – gorilla/gay arm" or "The Punter Wave", this regularly occurs when one is learning to snowboard… don't do it.
Unless you're trying to look like this:
The rental board stance: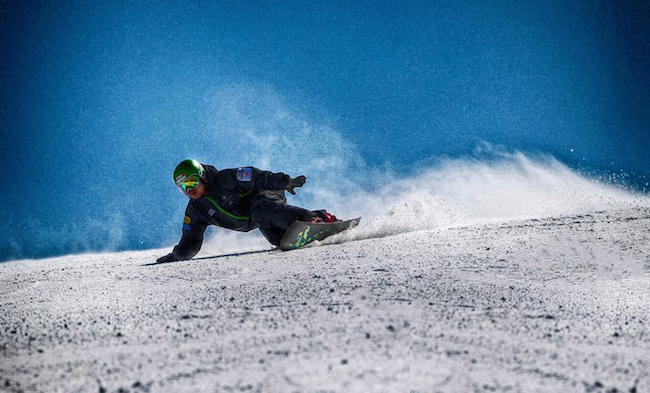 "As narrow as it goes with my front foot at +15 and my back foot at 0 or pointing the same way you say? Well I guess it looks a bit strange but this guy setting up my rental board must know his stuff."
No. No. No!
We're not alpine snowboarding here…
Make sure you head to a decent snowboard shop that provides hire rather than a generic rental store. If you do have to visit a run of the mill rental place, have them set your bindings evenly and at a wider width, keeping your feet slightly "ducked out". Trust us… it'll make things a whole lot more comfortable.
The one piece:
So bad it's good… there's nothing more fun than donning a bona fide piece of ski clothing history and heading out to shred the gnar… and if anyone questions your attire? Just say you're being ironic. Students of our snowboard instructor courses this year found this an excellent way to spend their free days and we agree there's nothing better than getting RAD in neon.
Take it back to the glory days and touch some sky!
Jeans instead of snowboard pants:
Ok so the jib kids and street rail rats can just about get away with riding in skinny jeans… however… if you don't have the style and rail skills to match please just stick to normal pants. Oh and nobody can get away with jeans tucked into snowboard boots. Just like this guy, who is admittedly skiing, but the look's just as bad on a snowboard, maybe worse:
No!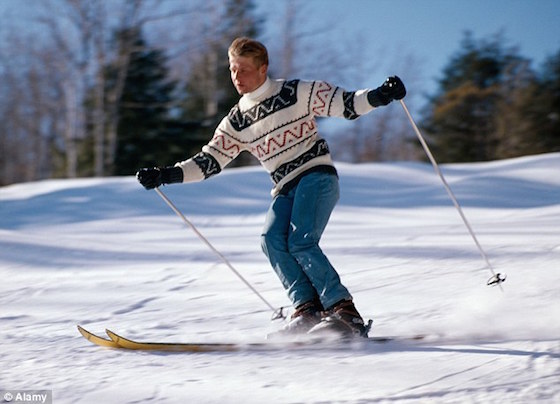 Maybe.
Sitting on the landing of a kicker:
Ok so not really a style error… more of a life error. Please do not sit on the landings in the park. You're likely to cause yourself and someone else some major damage.
Dick.