A beginner should not expect to be laughed at for asking Jean-Baptiste, the tanned demi-God ski instructor, if there is a right ski and a left ski before setting off downhill.
However, should he ask which way the skis should point – or indeed clip into skis with the tips at the tail and the tails at the tip – then he should absolutely expect to be laughed off the slopes and taken in a taxi to the nearest airport. For a PUNTER he most certainly is…
For all our snowboarders we have also put together a list of the 6 worst snowboard style errors - just in case you want to check you're not falling into that category either!
Here's SnowSkool's guide on to how not to be one this season…
1. DO NOT TUCK PANTS INTO SKI BOOTS
This should not be mistaken with snowboarders that get the bottom of their pants stuck between the back of their boot and the inside of their hi-back. This is not great but it is forgivable.
No, we're talking about the type that consciously decides to tuck the ski pants into the ski boots. This is nonsensical – not only from the point of view that it gives snow the chance to slide into your boot, guaranteeing an uncomfortable day - but it also looks ridiculous. You may as well have PUNTER tattooed on your forehead - in 72pt Comic Sans, bold and underlined.
2. MIND THE PUNTER GAP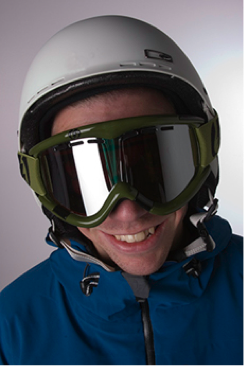 The Punter Gap is also known as the Euro Gap (or Gorby Gap). This unfortunate situation arises when the helmet (or God forbid, the jester hat) slips back and the goggles slip down to expose a large expanse of naked forehead.
It looks stoopid, your head can get cold and people can whole-hand slap your forehead. So guard against this faux pas or risk an unhealthy dose of PUNTER-itis.
3. AVOID THE STAR JUMP
You're in the Park and you're feeling pretty cool, you're standing on the first downward casing the features and working out which line you are going to absolutely… demolish.
The Trespass logo on your jacket says "I ain't no punk". You start rolling, the speed picks up, the up-kick comes into sight and you know what you're going to do: you're going to hit it and then… oh. Oh no. You're not are you? Oh you are - you're going to spread your arms and legs into a star jump. As you land, you hear the moans, groans and tuts of the rats who know now that you, Sir, are a PUNTER.
4. HOLD YOUR TONGUE
What is it about the sport of skiing that makes people think they are just a little bit craaaaaa-zy!!? When someone whips out the camera and tells you to "scootch-in", the best bet for even the most photogenically challenged (and downright ugly) skier is a simple smile, maybe show a little tooth and definitely make sure your eyes are smiling too. What is with sticking out the tongue?!
You're thinking: "Yeah…people are going to think I am pretty cool, maybe even a little mental".
We're thinking: "You're not cool, you're not mental - you're an accountant and 100% PUNTER".
5. SKI, DON'T BLADE
Ah snowbladers…the Kings & Queens of Punterdom! You see them sneaking, yes sneaking, about the pistes with their tiny wee feet. They're normally the punks wearing jester hats (gap down to goggles), with their ski pants (or jeans!!) tucked into their boots. You can often see them in the Park doing star jumps off the XS kickers while sticking out their tongues for any passing paparazzi.
Yes, snowbladers are the ultimate in uncool. It may be easy, but when was satisfaction ever gleaned from simplicity?
6. DO, TAKE A SKI INSTRUCTOR COURSE
The ultimate way to move on from your punter days, or ideally avoid them completely, is to try a ski instructor course. At SnowSkool we run ski instructor courses and snowboard instructor courses in Canada, New Zealand and France. If skiing is a love of yours why not learn to instruct and spend 11 weeks out in the mountains, on what is effectively a fully catered skiing holiday! Completing an instructor course can be one of the best ways to improve your technique and confidence when skiing or boarding, plus it's an amazing experience to meet like-minded people who'll become friends for life! If you like the sound of it then get in touch and have a chat with us about which of our ski instructor courses or snowboard instructor courses will suit you the best.
Need more advice?
Want some more help on how not to be a punter on the slopes? Then take a look at our ski improver courses - and we offer snowboard improver camps too!