A lot of people enjoy ski seasons scrubbing pots, shovelling snow, wiping toddler's noses or folding towels... we all know the Gods and Goddesses of a ski resort are the instructors! (And the ski patrol deserve demi-God status too)
But what is life actually like as a ski or snowboard instructor? Is it all glamour, sun tans, buns of steel and cute customers?! SnowSkool know all about life as a ski instructor, and what it's really like.
Life as a ski instructor, in summary:
Ski instructor salary is pretty good, but it varies widely between country
You will generally work by the hour but, again, this varies by country and resort
Expect to teach beginners as a newly qualified (rookie) instructor
You can work globally with a Level 2 qualification, try not to be picky initially
Give your customers a good experience and do well as an instructor
1. How much do ski instructors get paid?
It's not about the money, of course, but you can get a good salaryworking as a ski instructor! In Europe, pay is quite variable, but rookie instructors should expect to start on €20 (£18) per hour; whereas over the pond in Canada and the USA, wages are a little lower and US $15 (£10) per hour is a good starting wage. Rookie instructors on the SnowSkool internships in Villars, Switzerland earn CHF 40 per hour - this is the equivalent of €37 (£34) per hour. Down in the southern hemisphere, Aussie & Kiwi resorts will be likely to pay an hourly rate of around AU $20 (£14).
There are ways to earn more money – if you impress in a lesson and are personally requested for further lessons, you may be paid a bonus. In Canada and (in particular) the USA, tipping is very common and there are stories of instructors being handsomely rewarded with incredible tips of over US $1000 (£650) and gifts of luxury watches and, in one case, a car!
Note: We've just put together a more detailed post on ski instructor salaries, so you can head over there if you want more detail on money, we'll try to update this if the 2022 ski season is a normal one! The figures are also shown below (in $ per hour).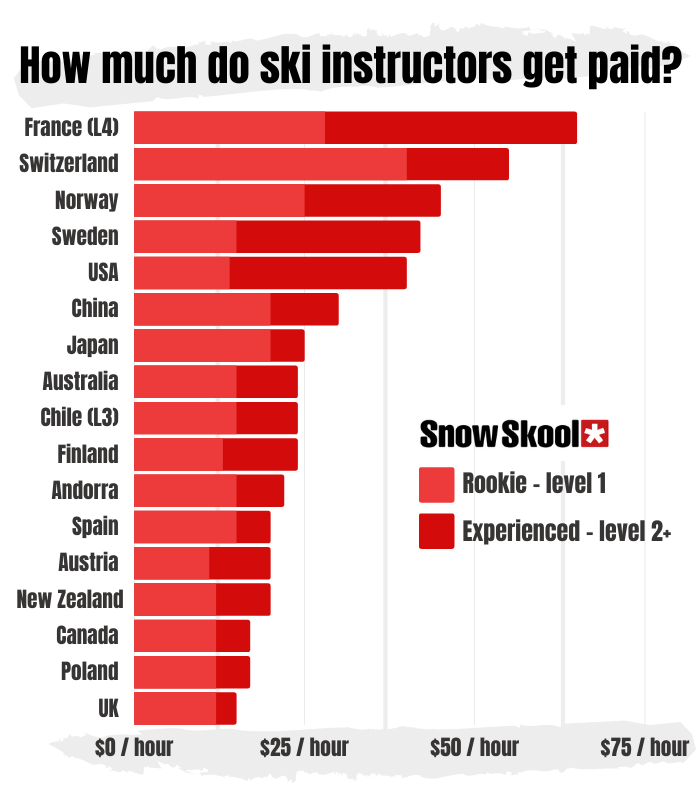 SNOWSKOOL TIP: put yourself forward for any odd jobs around the ski school: need snow shovelled off the Ski & board school roof - where's the shovel?! Need someone to put on a beaver outfit for carnival; can you zip me up?! You'll be paid by the hour and you'll endear yourself to the School Director.
2. Ski instructor hours
As a rookie (first year) instructor you're not going to be top of the pecking order when it comes to allocating customers. What will make you more employable is to build up a number of years' experience (ideally within one Ski & board school) and to progress through the instructor levels. Generally, however, you should be guaranteed a minimum of 20 hours work per week. On average, 25-30 hours per week is more common and 40+ hours is the norm over the busier periods (Christmas, New Year, half-term and Easter).
SNOWSKOOL TIP: Why not identify the person responsible for managing line-up (when instructors are assigned to customers – this is normally the Assistant Director of the Ski & board school) and make sure he or she knows who you are, say good morning with a big smile on your face at the start of the day and then buy him/her a beer at the end of the day!
3. Who do ski instructors teach?
With SnowSkool, every ski instructor course and snowboard instructor course will train to teach all manner of lessons but, as a rookie instructor, it is more than likely that you will spend a fair part of your first season teaching beginners and kids. For many, there is a bit of a stigma about teaching kids with the fear that you will spend more time wiping noses rather than teaching skiing or snowboarding! But it can be super-rewarding and kids' lessons can be great-fun, especially if you get adventurous ones that want to hit the jumps in the park! One thing to remember: happy kids = happy parents and happy parents = big tips!
SNOWSKOOL TIP: The more qualifications you have the more work you will get… being qualified to teach both skiing & snowboarding is very sought-after. Freestyle and race qualifications also expand your repertoire and will get you more (and more varied) work.
4. Where can you work as a ski instructor?
The general rule of thumb is that you should qualify in the regulatory body of the country in which you want to work - so skiers hoping to work the slopes of Banff or Big White in Canada, should go for the exams of the CSIA (Canadian Ski Instructors' Alliance), whereas snowboarders looking to work at Treble Cone would do best to go for the qualifications of the SBINZ (Snowboard Instruction of New Zealand).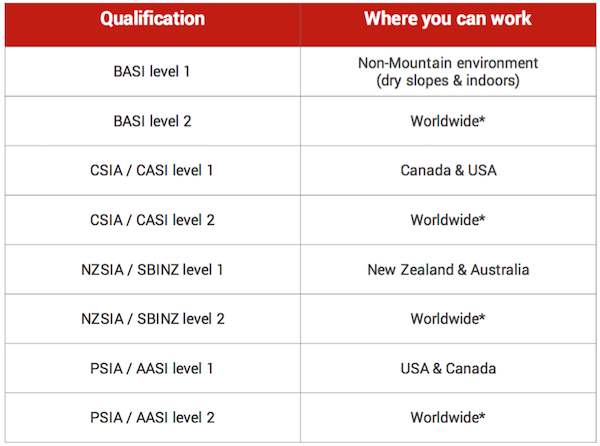 *To work in France, you will need additional qualifications. Some level 1 qualifications will let you work elsewhere in the world, like Japan, dependant on working visas.
SNOWSKOOL TIP: If you want to work in Europe (where the pay is best), you are advised to get into the BASI system (for example, via SnowSkool's Three Valleys course).
5. Choosing ski resorts
You can work in some of the most amazing places and best ski resorts in the world as a ski instructor. That said, as a newly qualified instructor it will be hard to land the most sought-after jobs in these resorts.
For example, a lot of SnowSkool graduates want to work in Canada – it's a fantastic country, there is no language barrier and it is relatively easy to get a job (work visa permitting). However, don't limit your applications to resorts such as Whistler, Banff and Big White - these resorts are inundated with enquiries from job seekers and so you are going to struggle to stand-out. SnowSkool has built relationships with lots of small, less well-known Canadian resorts. A lot of these resorts are short-staffed which works in your favour in terms of amassing hours worked and you'll often be drafted in to help out in the rental shop before and after work. It is not uncommon to be working 50+ hours per week. Skiing on your day off at Whistler, rather than Hidden Valley, may be more fun - think about your job and earnings too.
The golden rule as a rookie is to not be too picky at first - spread your applications far and wide. Our top tip is to apply to resorts where there are lots of green/blue runs, lots of beginners, lots of ski schools and therefore lots of instructing jobs!
SNOWSKOOL TIP: Here's another guide from SnowSkool on choosing a ski resort and country to work in.
6. Give your customer a good experience!
A wise old Ski School Director once told me that the most sought-after (and therefore financially successful) instructors are not those that have the highest qualifications and know the most drills to improve someone's skiing. It is the instructor that can offer an experience which enables the customer to detach themself from life back home. It is their holiday after all! Yes, paying punters want to tighten up their turns by the end of the week, but more than that - they want to be charmed, they want to laugh and they want to forget about deadlines/bosses/stress. So-be-it if they fancy spending more time drinking hot chocolate and chatting about their children/garden/dog... (delete as appropriate!) SnowSkool's advice is to drink along with them, laugh/gasp/cry when expected, and hang onto their every word! Here's a guide on how to be a great instructor.
And what's life training as a ski instructor like?
SnowSkool trainees have the best days of their lives on our training courses and go on to achieve rewarding, global careers. Here's more information on what a ski instructor course is like day to day. You can also check out some reviews from previous students.
Feel free to browse everything SnowSkool have to offer on Ski Instructor Courses and Snowboard Instructor Courses in France, Canada and New Zealand, if you'd like to do the same!