To become a ski instructor, you will need a Level 1 ski instructor qualification as a minimum. You will want this qualification (and your further ski instructor qualifications) to be recognised by the International Ski Instructor's Association (ISIA). A Level 1 qualification allows you to teach in a limited range of areas, but is the first stepping stone to becoming an internationally-recognised snowsports instructor. The instructor course and exam (usually about 4-5 days) provides you with the skills to teach beginner skiers a basic level of skiing on dry slopes and indoor snow domes.
Level 2 ski instructor qualification is a big step up from Level 1. The exam, for example, is around 10 days long. This is because Level 2 qualification allows you to teach nearly anywhere in the world, and at any level. The Level 2 ski instructor's course develops your ability to analyse and improve others' skiing, and give feedback, but it is also focused on improving your skiing as well as your teaching.
You may want to take your teaching to an advanced level with the Level 3 ski instructor qualification. Instructors tend to tackle Level 3 after a few years of teaching and riding experience, so it's not usually included in season-long ski instructor courses. If you achieve a Level 3 qualification, you're considered an expert ski instrustor and are able to command a slightly higher salary or hourly rate; ski instructor pay is closely linked to qualification level.
Finally, there is a Level 4 ski instructor qualification. This is also known as the trainers (examiners) certification. It takes years for even the most experienced ski instructors to qualify with Level 4 as it is very challenging. By this point, you will probably have an established career as a ski instructor and - with a Level 4 qualification - will be regarded as the best in the business!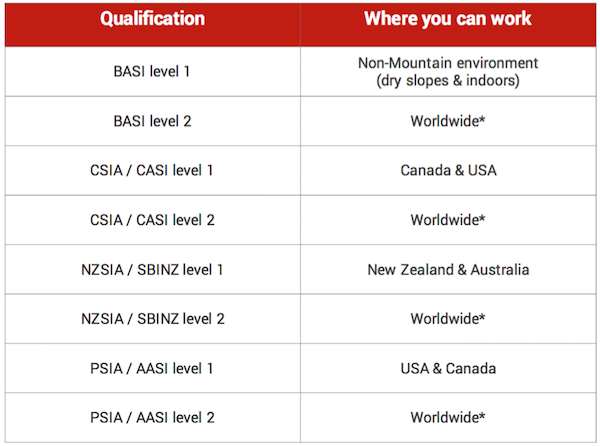 *To work in France, you will need additional qualifications to Level 1 and Level 2. Some Level 1 qualifications will let you work elsewhere in the world, like Japan, dependant on working visas.
Do I need academic qualifications to do a ski instructor course?
The best ski instructor courses attract people from all around the world, from all walks of life. Some people have just finished school, some people are heading for retirement! Academic qualifications aren't necessary to do a course to become a ski instructor, however, there is usually a minimum age. Most often, you'll have to be at least 16 years old, to do a Level 1 ski instructor qualification.
Do I need to be able to speak a second language to become a ski instructor?
All SnowSkool courses are taught in English. You definitely don't need to speak a second language to pass a SnowSkool course and get your instructor's qualification. However, it can be useful for day-to-day life on a ski instructor course in Europe, and potential employers will look favourably on instructors who can speak a second (or third) language. If you want to achieve the elite level of BASI Level 4 qualification, you will need to learn to speak good French.
'Do I need to be able to speak a second language?' features in our FAQs! (Click to see more frequently asked questions)
How good at skiing do I have to be to become a ski instructor?
The initial skill requirement to do a ski instructor course is probably not as advanced as you'd think. This is because developing your own skiing level is one of the aims of an instructor course. In general, you should be able to control speed and maintain parallel turns on blue runs for courses in Canada and New Zeland. For the BASI course, you'll get off to a better start if you are already confident linking turns on red slopes.
Who provides the qualifications?
Some of the most widely-recognised ski instructor qualifications are BASI (British Association of Snow Sports Instructors), CSIA (Canadian Ski Instructors' Alliance) and NZSIA (New Zealand Snow Sports Instructors' Alliance).
These governing bodies oversee the training and qualifying of instructors. They make sure candidates meet the requisite skill level to qualify as an instructor. Each governing body has a slightly different style, but all are constantly researching new techniques and skills, with the aim of being known as the best in the business! All are technically equal but, within Europe, BASI has a particularly strong reputation. As per the table above, these qualifications are internationally recognised which means you can train and qualify in one country, but be able to teach in another.
These organisations all enter an annual event called Interksi, where the best instructors from around the world can show off their skills, techniques, and training tips - in an effort to share teaching methods and obviously show off a little!
How do I get the qualifications to be a ski instructor?
The Level 1 and 2 ski instructor qualifications can usually be obtained within a season. One of the best ways to become a ski instructor is through an organised instructor course, because all the admin is done for you! This involves being at a resort for 11-13 weeks, with a group of like-minded people, all working towards the same goal. You'll qualify for your Level 1 first, then move on to tackle Level 2 on the same course. An organised ski instructor course from a company such as SnowSkool typically includes:
Flights
Airport transfers
Accommodation
Season lift pass
Evening meals
Hill transfers
Tuition from Level 3+ instructors
Exam organisation and fees
Repping service
Recruitment service
It's an inclusive package designed to give you the best chance possible of obtaining your ski instructor qualification.
How do I get a job after I've got my qualification?
Most mountain resorts are looking for instructors each season. It's all about being proactive and getting as many applications out as possible. We recommend you start at the smaller ski hills/resorts to gain some teaching experience, build your confidence and develop your CV. Aim to approach resorts with lots of beginner slopes - these resorts naturally need more instructors. Rookie instructors may find it harder to get more hours of work at the most famous ski resorts, as the more experienced and established instructors tend to be based there.
Once you've proved you can successfully teach for a season, you can turn your gaze to the bigger and busier ski hills! Let's face it, waking up and skiing every day is already better than sitting in an office Monday-Friday, 9-5... any ski resort is better than no ski resort!
Here's a bit more from SnowSkool on finding work as a ski instructor.
'Can I teach after the course?' features in our FAQs! (Click here to see more frequently asked questions)
How do I get started with a course?
SnowSkool can help with that! Here are links to our Level 2 ski and snowboard instructor courses in Canada, France, and New Zealand:
​> Snowboard Instructor Courses
> Paid Ski Instructor Internships are also available in Austria and Switzerland.
> And if you'd like a bit more info you can get in touch on the form below, or start a live chat if we're around, we're happy to chat through your options.