For SnowSkool, Canada is host our two longest running ski (and snowboard) instructor courses in Banff and Big White.
Banff was our maiden course, starting in 2005, and Big White closely following in 2006. With almost 15 years of experience in Canada, we'd like to think we've got it dialled.
The final stop for skiers on both courses is the CSIA Level 2. Our trainees have an extremely consistent 90%+ pass rate when they go on to tackle Level 2, however that doesn't mean that you shouldn't be prepared to stand the best chance of passing:
So, what do you need to know before you head into your Level 2 exam?
CSIA Level 2 Exam - summary:
Get your CSIA Level 1 first!
Acquire 10 CSIA education credits
Complete CSIA Level 2 Training
Complete CSIA Level 2 Assessed Training
Prerequisites:
First-things first, prerequisites. And this has a rather straightforward answer, you'll need the:
CSIA Level 1 Qualification
Our long ski/snowboard instructor courses will qualify you for Level 1 first, as part of the course. However, we also run shorter 5-week courses in Big White that will get you your CSIA Level 1 only - and you can come back to the Level 2 later.
With that rather simple prerequisite, you're ready to charge headfirst into the Level 2.
Note: for a bit more on CSIA Level 1 see this post on qualifications, which also covers some options you'll have if coming from another system.
Ski/Snowboard Instructor Course Structure: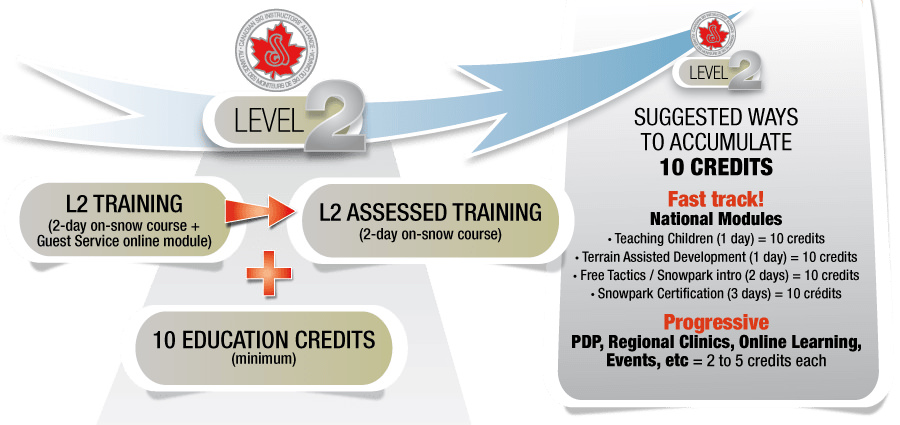 Now the less straightforward bit. The CSIA Level 2 requires you to complete 3 components to validate the qualification. These are as follows:
1) Acquire 10 CSIA education credits
2) Complete CSIA Level 2 Training
3) Complete CSIA Assessed Training
1) Acquire 10 CSIA education credits:
To gain your 10 education credits, there are several courses you can complete – and the best way to gain these credits is to complete a 'fast track' module. The module that SnowSkool recommends is the Teaching Children module. This is a one-day module that helps you to understand in more detail how to teach children, while also giving you more tools to tackle this sometimes-challenging task.
This module, we feel, looks best on your CV when you are applying to Ski Schools. However, other modules you can complete are:
Terrain Assisted Development
Free Tactics/Snowpark Intro
CSIA Level 1 Snowpark Certification.
Once you have your 10 credits in your back pocket, it's onwards to your Level 2 exam. This exam is split into two section. The training and the assessed training.
2) Complete CSIA Level 2 Training:
The Level 2 Training is a 2 day, on-snow course and an online module which will be completed in your own time. During this section, your instructor will talk and ski you through everything you need to know to pass the exam.
This is also a great time to get the necessary feedback you need on what to improve and work on before you attempt your Level 2 Assessed Training.
3) Complete CSIA Level 2 Assessed Training:
Once you have completed your Level 2 training and you feel comfortable with everything your instructor has talked to you about, it's time for the the Level 2 Assessed Training. This section of the course is another 2-day, on-snow course which will test both your skiing and teaching ability.
Building on what you've learned for Level 1, the Level 2 assessed training focuses on your ability to
Teach guests the fast-track to parallel skiing;
Adapt the terrain you teach on to suit the ability of the guest
Improve on your class safety and management
Analyse, breakdown and improve faults in your guests.
Once you've completed and passed these three components you are now a fully fledged CSIA Level 2 instructor!
This qualification is recognised globally and is an exceptional way to propel yourself into the instructor world.
SnowSkool's next CSIA courses in Canada
Here are our latest ski instructor courses in Banff and Big White.