There are many reasons why you would want to do a ski instructor course or snowboard instructor course:
Take your skiing or snowboarding ability the next level
Start your journey towards becoming a ski or snowboard instructor
Do a ski season, with purpose and come out with qualifications
Live, work and play in the mountains for a few months
One of the bonus reasons for doing an instructor course is how good it looks on your CV. Future employers will look positively on a SnowSkool course, even if they're outside of the snowsports industry. Here's why:
1. Shows you chose a productive gap year
When you've decided to take a gap year, you'll be blessed with many work-free months. It's up to you to choose how to fill them and your decision says a lot about you! Future employers will notice if you've spent a gap year training and gaining skills, or on the sofa playing playstation… (we don't recommend you add that to your CV by the way!)
2. Demonstrates budgeting and financial planning skills
Ski and snowboard instructor courses, with exams, accommodation, training, food and sometimes travel, are expensive. If you've worked hard to save up, or made a plan to repay someone for the course, you're building valuable budgeting skills. Furthermore, you'll be away for 11+ weeks without income, so planning and controlling your spending around the course will add to your money skills.
3. Develops organisational & logistics skills
Of course, courses like SnowSkool do A LOT of the admin for you, that's our main aim! However, there are many plates you'll need to spin when it comes to organising a life-changing trip like this. International travel can require a lot of logistics and things like visas and other documents – your organisational and logistical skills will be put to the test.
4. Adds an internationally recognised qualification to files
It might seem obvious, but achieving a world-renowned qualification will look fantastic on your CV! The qualifications you can achieve on a SnowSkool course come from BASI, CASI/CSIA, NZSIA/SBINZ and now IAISI with our new Internship in Switzerland. These organisations are arguably the most respected snowsports instructor organisations in the world.
5. Proves you can apply yourself to weeks of intense training and exams
It's no secret that ski instructor training courses are tough. You'll be put through your paces in terms of fitness, skiing or riding skills, and your teaching ability. To get up every morning and head out into whatever weather is thrown at you demonstrates resilience.
6. Builds invaluable personal skills living, working, training with new people
On a ski or snowboard instructor course in Canada, France, New Zealand or Switzerland, you'll meet people from all around the world. Of course, everyone will have a common interest, but your personal and social skills will be put to the test living and training with a brand-new group of people from different backgrounds and cultures.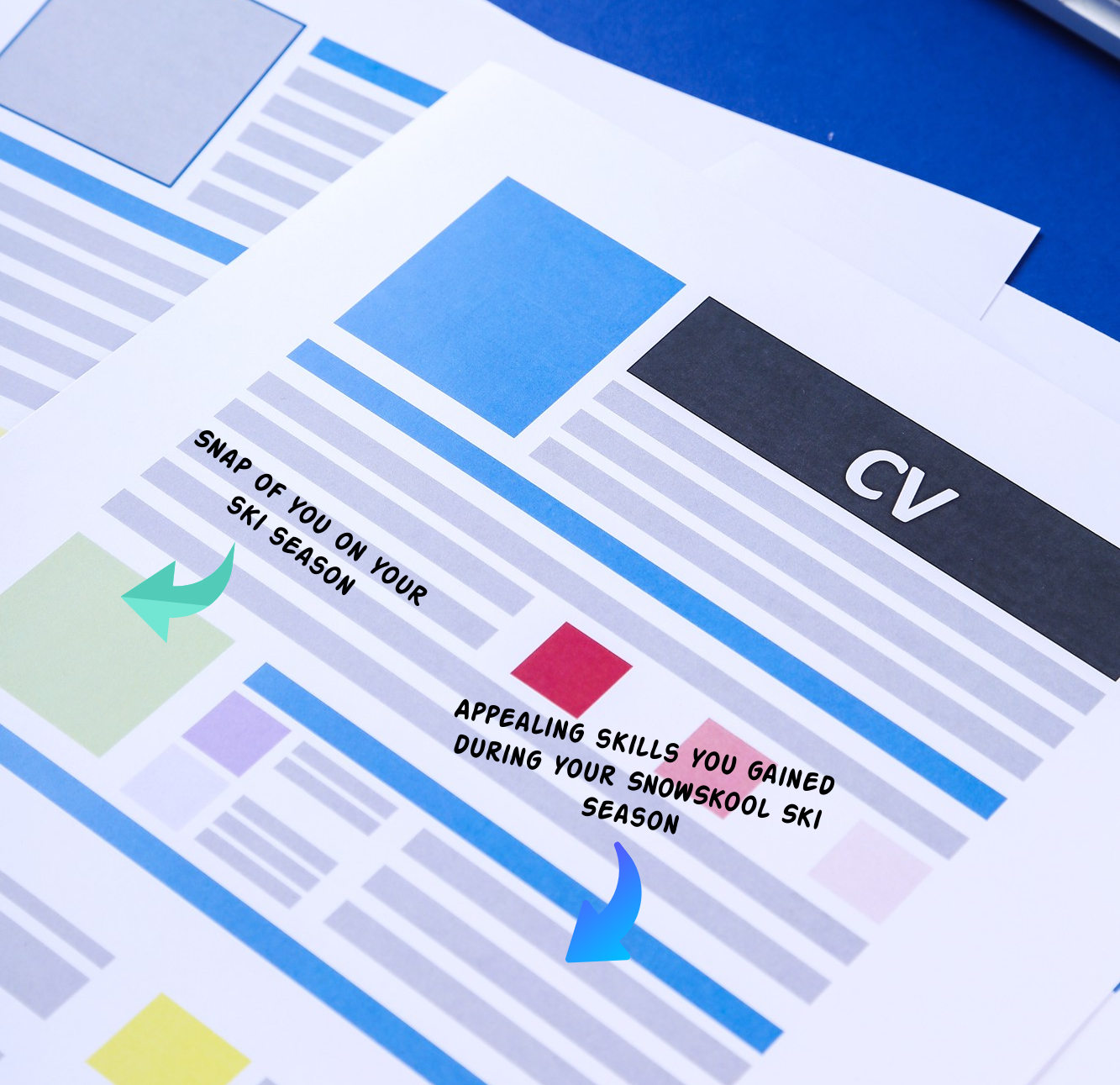 It's different to other gap years
There are a lot of common gap year itineraries: the south Asia tour, inter-railing in Europe, staying home and working in a pub, well-paid but boring office jobs… A ski season is also on the list,. However, when your ski season is backed up by weeks of hard work, a qualification and work experience – it becomes something special!
There's a lot to think about when planning a year out. We think a ski instructor course or snowboard instructor course is the perfect mix of fun and productivity. It also leaves you with the summer free to enjoy holidays and festivals, or knuckle down to a 'real world' job!
If you need advice or haven't been away from home for an extended period of time before, get in touch with the team at SnowSkool to chat about it.