18th August 2023
Skiing is massively popular. The term 'skiing' is searched 40,600 times per month in the UK alone!
It's not surprising then, that skiing every day of the week is the dream for lots of us. So how do you take the leap and turn this pipe dream into a reality? Well, one answer is working at ski resorts.
Working at a ski resort is unlike any other job. Spending your days atop a beautiful, alpine slope and using your breaks to work on your mad skiing skills are unbelievable perks worth the seasonal commitment and enduring the cold.
So, is working at a ski resort all that it's cracked up to be? Yes, yes and yes! Now, let me tell you why…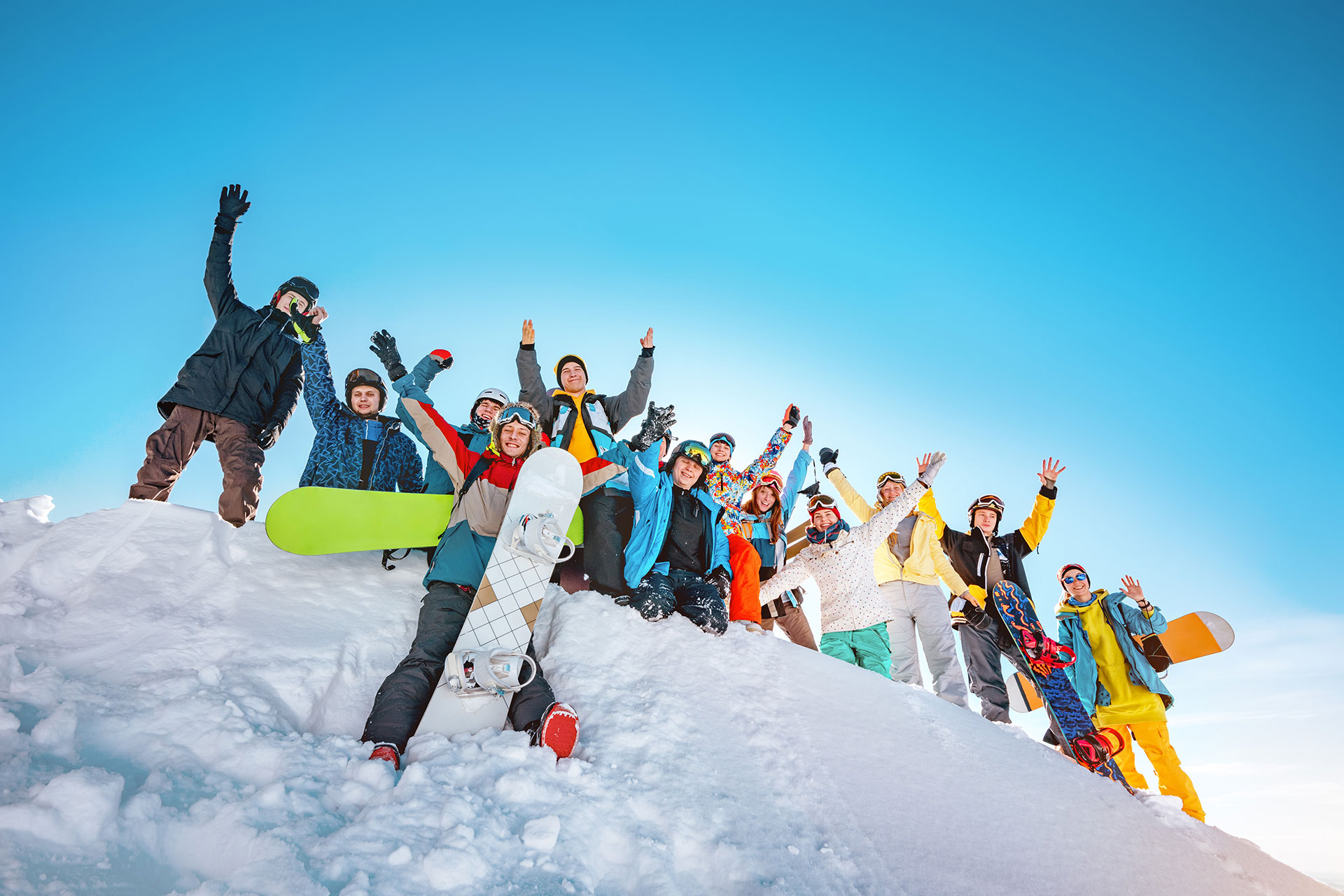 Amazing perks of working at ski resorts
While each of the roles just mentioned has its own particular perks, as a whole working at a ski resort can be uber rewarding. From the people to the landscape to the discounts, there's something to tempt everyone.
1. Mix with likeminded people
Working at ski resorts, you'll meet a plethora of new people from all over the world. This is a brilliant opportunity to connect over shared interests and expand your worldview. Here's a little insight into the kinds of people you might cross paths with, showing that the slopes are where attitude and altitude collide.
2. Gain Lifelong friends
Jumping off from number 1, working alongside people who share the same passions makes it easy to find your tribe. So many of our SnowSkoolers arrive fresh out of school or university looking for people to add to their inner circles, and the way skiing resorts function like massive social clubs allows you to do just that. Make friends from every corner of the earth!
3. Earn and learn
If you decide to work a season at a ski resort, you'll learn so, so much. From picking up useful language skills, to polishing your communication, to perfecting your snowboarding tricks, there's an endless list of skills you could add to your repertoire.
4. The most beautiful workplace in the world
Ski resorts are so picturesque, aren't they? If you're looking for an idyllic, Christmas card town to spend the winter months, nothing beats working at ski resorts.
5. Enjoy the great outdoors
Most of the kinds of jobs offered at ski resorts are perfect for adventurous types who love the open air. If that's you, working at a ski resort on the slopes could prove to be the restorative break you were looking for.
6. Stay active at work
With all the exhilaration and activity of skiing comes great health benefits. Working as a ski instructor, ski patrol member or even in retail is a great way to stay in shape!
7. Delicious discounts
Many resorts provide their staff with a great package of discounts such as a free season lift ticket, shop discounts on gear and souvenirs and (if you're extra lucky) on staff accommodation.
8. Ski to your heart's content
One of the best ski instructor perks or general benefits of working at a ski resort is that you'll receive free lift passes, lessons and equipment, making it all the more enticing to spend your hours off advancing your impressive skills.
9. Perfect for a gap year/career break
Due to the seasonal nature of snowsports, working at ski resorts is well-suited to gap years and career breaks. Indulge in your favourite hobby, whilst living with mates and make these the best years of your life!
10. Turn your skiing skills into hard-earned cash
If you're well-trained and experienced, there's plenty of opportunity to earn a decent salary sharing your snowsport skills. You can earn up to $75 per hour at the right resort as a ski instructor and $65 per hour as a snowboarding instructor.
11. Keep your weekdays
As a ski resort employee, your shifts will most likely revolve around the weekend as this is when resorts are at their busiest. On weekdays, enjoy the peace and quiet of the slopes – perfect if you want to get in the zone to practice your turns and tricks for upcoming exams.
12. An unforgettable experience
And the piste de resistance… The experience of working at a ski resort is absolutely unforgettable from the cultural experience to the chalets and hills. There's nothing better than working on your passion every day, having the opportunity to mingle with friends and earn whilst doing so. See what our SnowSkoolers had to say about their experience.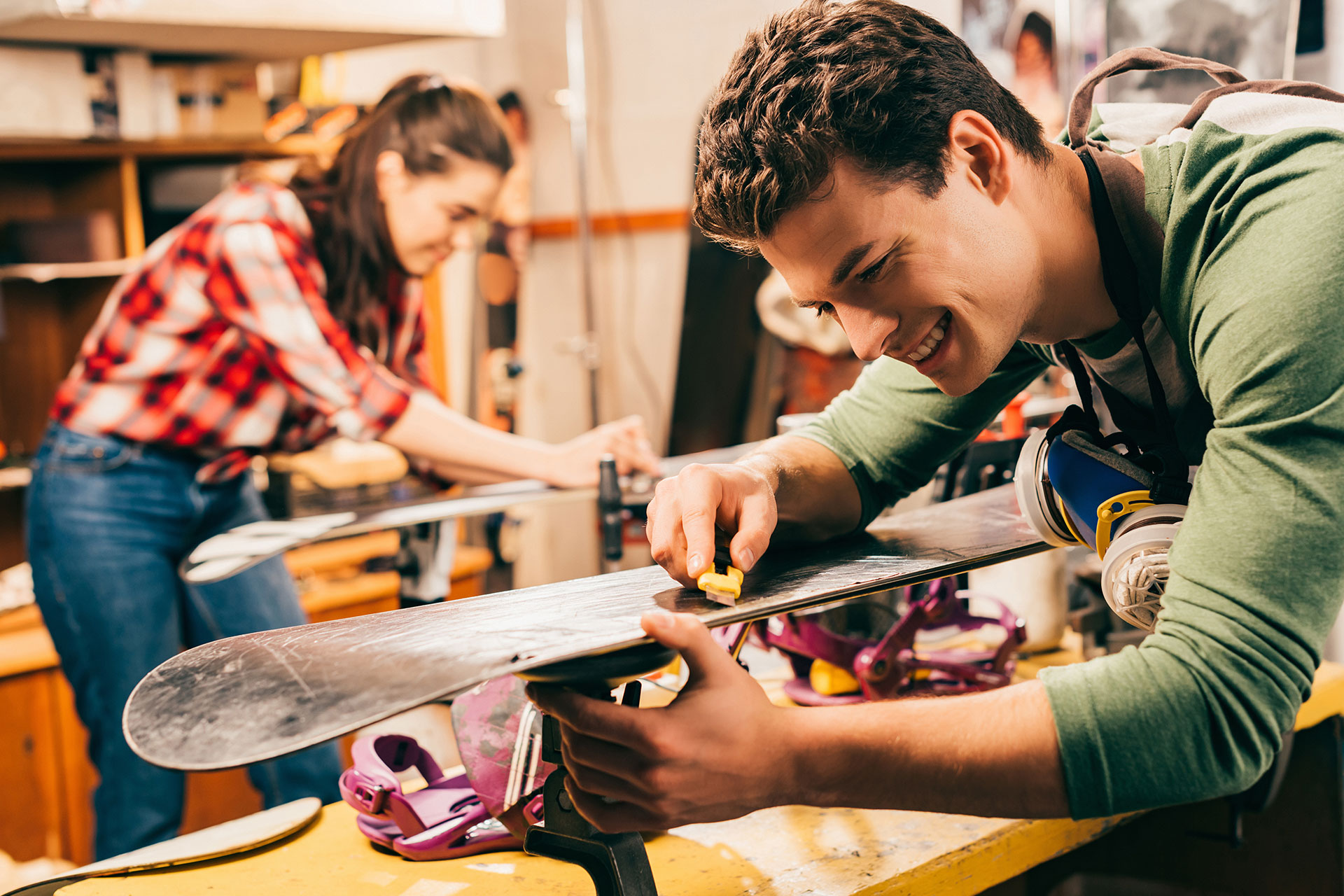 What roles can you get working at a ski resort?
There are so many roles up for grabs if you want to work a ski season at resorts around the globe. That means you don't have to be a snow sports pro to get involved.
From more obvious examples such as ski instructing to more obscure roles like working on the ski lifts, there's something for everyone who wants to work hard, play hard and grab themselves a free season pass along with their ski resort staff credentials.
Retail
Let's start with retail. If standing outside in the cold for too long gives you the shivers working in various shops across the ski resort is an attractive option. Think gift shops, rental shops and snowsport gear retailers. This is perfect for extroverted folk who're less invested in the skiing side of things.
Hospitality
Just like retail staff, working at ski resorts in hospitality is a great choice if you love a natter. This could involve working in bars and restaurants or providing guest services and ticket checking. These roles are very sought after as you can nab yourself a decent amount of tips. The evening shift patterns also free up some valuable time for skiing.
Repairs
If you're good with your hands – and your brain – working in the repairs shop is ideal. Here you'll work throughout the day to help fix and optimize customers' kit. This could mean repairing damaged skis and snowboards, completing base waxing and tuning equipment so it looks and feels shiny and new. In some resorts, you might even bag yourself the impressive title of ski technician!
Lifts
Working at a ski resort as a lift operator could really *lift* your spirits. It's an essential job that involves maintaining the loading and unloading ramps so they're spick and span, ensuring that they're safe for riders to use.
You'll be outside all the time, monitoring the lifts, which is perfect for those who crave the outdoor air. Plus, there'll be ample opportunity to get to know the crew and interact with the lift riders.
Transportation
Are you a good driver? Then maybe you see yourself as a driver of the resort bus and/or shuttle. While less suited to folk after a chatty work environment, you'll be able to hide from the cold.
Night cleaner
This role has hidden benefits – working through the night, you'll have every day to ride. So if you're not the teaching type and still want to get onto the slopes this is a fab option.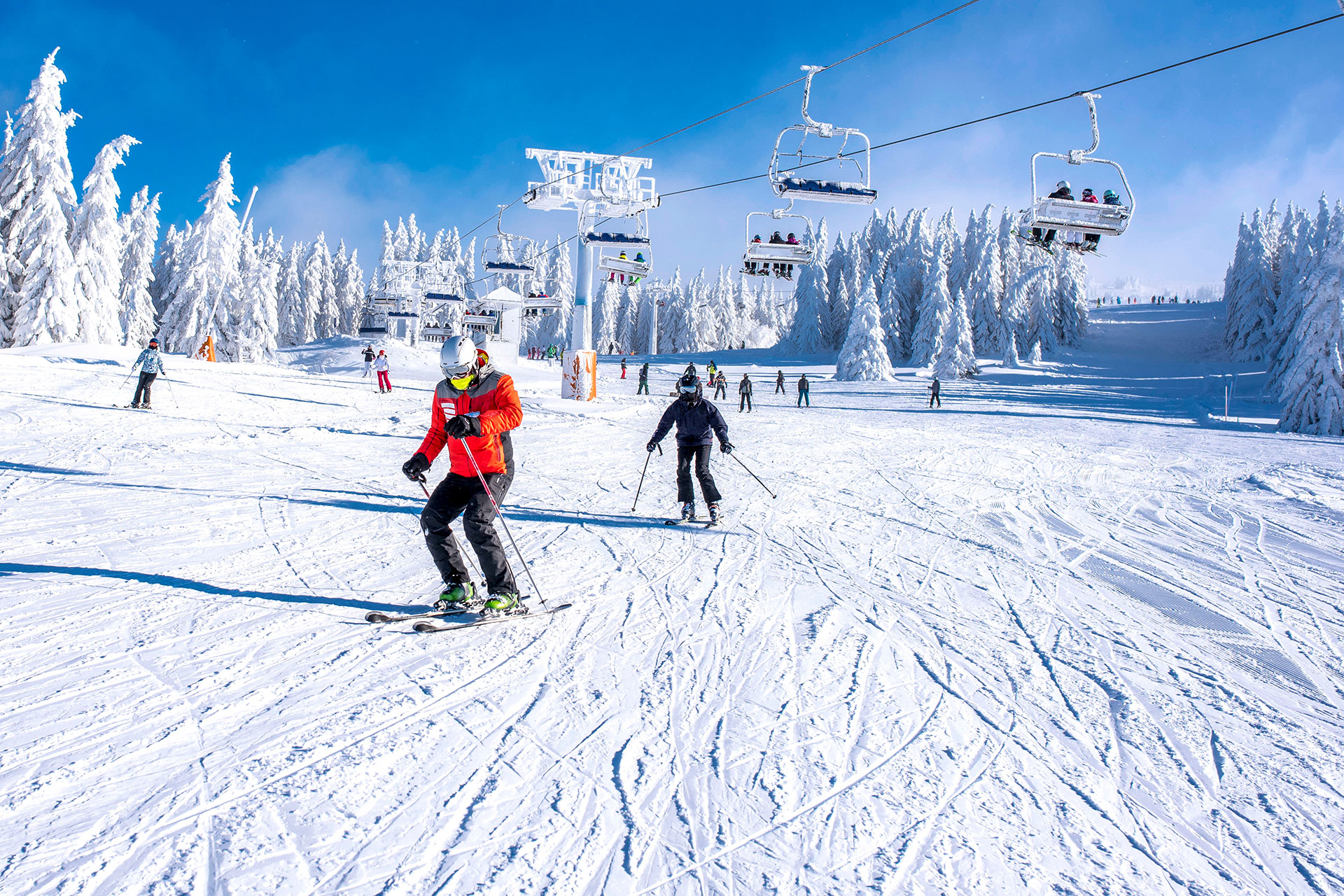 Using your qualifications to work a ski season
Ski and snowboard school
Depending on your qualifications, resort of choice and experience, you could earn a good wage working at a ski resort as an instructor. This is also the perfect opportunity to network with other snowsport enthusiasts and train on the job. There are so many ski instructor courses available to make this a reality, so don't leave your passion to the wayside.
Ski Patrol
Again, you'll need skiing qualifications for this one. If you want to work a ski season as a member of the ski patrol, you'll need to be an adept skier in order to get to the injured. Usually, the ski patrol team are full-time, so if you want to make skiing a career this is a good option.
Park crew
This role is envied far and wide. As a member of the park crew you work at the ski resort to test, maintain, and sometimes, design the terrain. This is perfect for anyone who loves to be on the go at all times – but, as you might expect, it's quite demanding.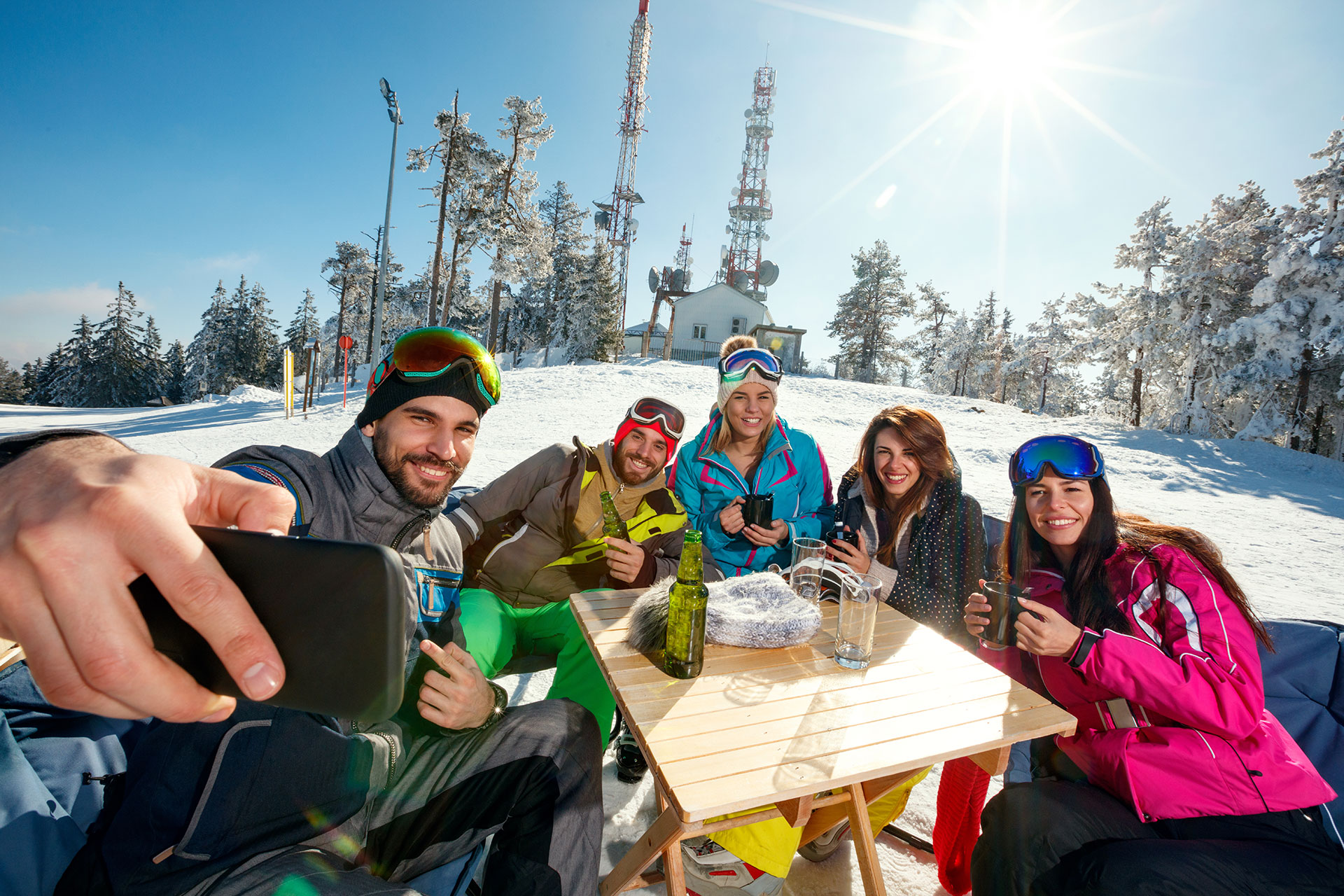 Have we peaked your interest?
If you're convinced that working ski resorts is right up your street, we have a range of comprehensive training courses that will help you leave your old life behind for a thrilling new job, amazing new friends and breath-taking (not to mention Instagrammable) scenery. You'll be heading up those slopes in no time!