8 min read
There's something very appealing (almost seductive…) about working a ski season in Canada, learning as you earn and ultimately becoming a snowsports baddie. Whether you're in it for the sweet qualifications and the bragging rights that come with them, or for the full apres-ski experience, there's no better way to spend the winter months than taking to Canada's pristine slopes at full force.
From charging down epic peaks like Mount Standish to trying your hand (or feet!) at skiing in Canada's abundant freestyle parks in your time off, it's easy to see why this is the dream for many young adventurers. And to help them out, we've put together this comprehensive guide on how to do a ski season in Canada – the fun way!
How to do a ski season in Canada in 8 easy steps
1. Work out the logistics
Every successful trip starts with solid planning that gets you off on the right foot. So make sure to plan in the way that works best for you. Nerdy and love a spreadsheet? Go for it. Old school and would rather write it down? Do it. As long as you have all the details in one place, you can't go wrong – we promise you!
When?
One of the tricky parts is deciding when you go. You want to find out how long the ski season will be and when it starts and work out your plans around these key dates.
In Canada, the season runs from mid-November to late April – and if you're very lucky and there's unexpected snowfall, there might even be some wiggle room as the opening time is extended.
Where?
Your ski resort destination can have a massive impact on the overall vibe of your trip, so pick wisely. Do you want something more chill and low-key? Or are you dying to hit the bars and establish yourself as SnowSkool's resident party animal? Either way, there'll be a resort perfectly suited to your needs.
Obvs we're going to use this as an opportunity to big up our Canadian ski courses, Banff and Big White, which are honestly some of the best in the world – SnowSkoolers can't get enough of them!
Ah…Banff. It's a real gem. With world-famous slopes and the gnarliest terrain, this stunner of a location offers mind-blowing mountain riding and the smoothest pistes, ideal for both the seasoned skier and rookies. Working a ski season in Banff, Canada doesn't really feel like working when your backdoor is this goddamn beautiful and when you can pop off to the ski town for drinks after your shifts.
Another beauty, Big White, is one of Canada's most popular destinations down to its alpine pistes, 3000 acres of skiable terrain, buzzing après scene and hot tubs… yes, hot tubs. Again, it's another one ideal for working, training and riding for fun due to its diverse terrain and vibrant town. Whether you're heading there as a bartender or to become a ski instructor, we guarantee you'll have the time of your life.
What?
We've kinda hinted at it: there are so many things to do in the Great White North when the winter rolls in. So, if you're unsure how you want to do a ski season in Canada – don't worry, you'll find something that suits you to a T.
Generally speaking, there's a couple of paths you can take:
Get a job at a Canadian resort
If you love to work in the great outdoors or simply love panoramic views from your window, working a ski season in Canada as a waiter, shop assistant, ski patroller, park crew or one of the many other jobs you can nab at the resort can work out very nicely.
Ideal for those who label themselves as a "people person", these jobs are a great opportunity to nurture your confidence, get to know fellow skiers and make money while you're away.
Train to get qualified as a ski instructor
When you decide to go for a ski instructor course in Canada, you can train to become a leader, improve your shredding skills and earn as you teach others the ways of the skis. If you ask us, it's one of the best ways to find yourself and build up your confidence. After all, if you can pummel down Canada's steepest slopes and stand up in front of groups of students, you can do anything.
How much?
Now you're sorted with the destination, how exactly you'll be working your ski season in Canada and when you're jetting off, you can start saving. It's true, ski seasons can get spenny, but if you're working during your stay it doesn't have to be.
The best place to start is setting a budget: how much will you need for the course and accommodation? Do you already have the gear, or will you have to buy new stuff? What about travel? Make sure you're putting away money every month and you'll be sorted by the time the season comes round – ready for the best of times.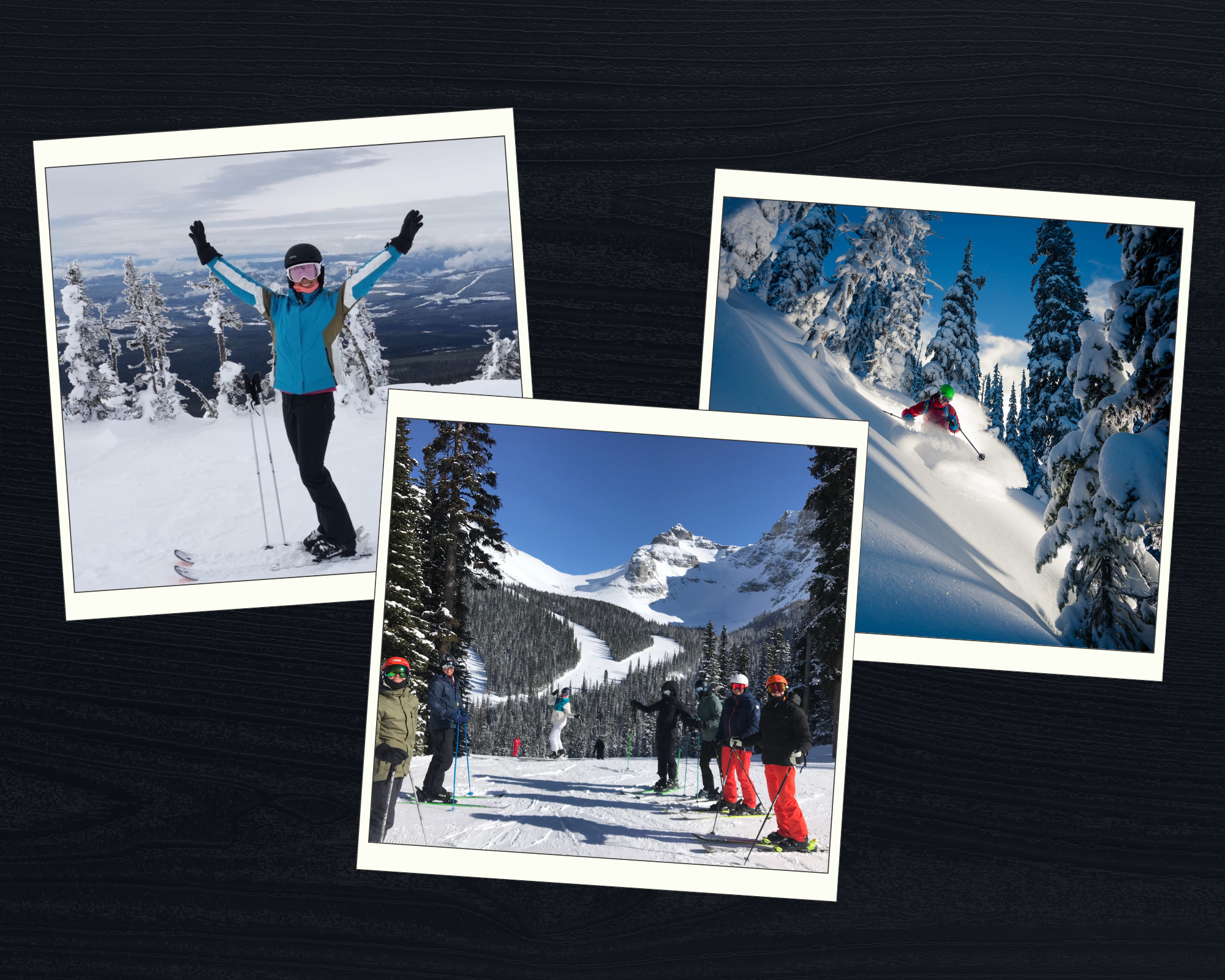 2. Sort the paperwork
Sorry to be a bore, but it has to be done. As soon as you get the paperwork sorted, you can get to the more exciting parts of the planning.
Asides from your passport and ID, you will also need to apply for the IEC Working Holiday visa. This temporary work permit allows young people (18-30) from countries participating in the scheme to work in Canada. You'll need to apply via the IEC website and provide details of your stay, ID, CV or resume and pay a participation fee – and the rest is waiting to be approved. Easy!
3. Get booked onto your course / nab your job
Applying for courses
The hardest part about applying for a course is deciding which one is your perfect fit. We mentioned it previously, but it can't hurt to repeat it: the destination can make or break your trip. So make sure to do your research thoroughly.
At SnowSkool, our courses are taught by the best of the best. And who are the best? That would be our partners in Canada. These guys are the cream of the crop, regulated by CASI (the Canadian Association of Snowboard Instructors), meaning that they have the best qualifications to get you qualified too.
On a SnowSkool ski instructor course, you can expect to train and attain CASI Level 1 and CASI Level 2 qualifications over the course of several weeks.
Applying for jobs
Most Canadian ski resorts will advertise available positions online in July and August, so you have a few months to prepare if you successfully land a job.
If you miss this window, there are also job fairs that you can attend in October and November. Jobs are typically offered on the spot or the same day for bigger departments (e.g., lift operations) so if you are in the area, don't miss out on this valuable opportunity.
As you would for any job, make sure your documents are in order before you apply and that you prepare to the best of your ability for the interview, so you ace it from the get-go. With a bit of self-confidence and practice, you're bound to smash it.
4. Do a virtual reccy of the resort
This is optional, but if you can scope out the resort or your accommodation online before you go, it will help you build up a good idea of what your working trip will be like. You can even ask a friend or acquaintance for their opinion if you know they've recently been.
5. Start packing
"What will I need to pack for the ski season?" is a common question we get asked. We've answered it in detail in the past, but as a quick round-up you'll need:
Skiing kit: skis, bindings, boots, poles
Outdoor clothing, including goggles and helmet
Indoor clothes
Bathroom essentials
Entertainment, e.g., books and board games
6. Getting in the ski season headspace
As your skiing trip comes around the corner, you'll want to get into the ski season headspace. This means doing the following:
Plan as early as possible – the earlier you plan, the earlier you can put your mind to ease and have fun.
Say "yes" to everything – this will be one of the best years of your life, so don't hold back.
Get ready to meet your new best buds – there'll be a lot of socialising on this trip, so make sure to get your new friends' social media handles.
Don't be afraid to ask questions – knowing how to ask questions is difficult, but it's the key to success, so ask away!
An open heart and an open mind – the best skiers are open to new experiences and new people.
7. Write out your ski season bucket list
Another fun optional: create a ski season bucket list. This could be anything you want to achieve on the trip from learning a new skill, trying out ice hockey for the first time, making 5 new friends, exploring the area – it's up to you. When you come back you could even get it framed.
8. Jet off and have fun!
And that's all. At this point, you should be all set for working a ski season in Canada. Bags packed, documents ready, job sorted, all you need to do now is catch your flight and have the best time.
Time to get started!
Now you know how to do a ski season in Canada to get the most out of it, you're probably jumping at the chance to get the ball rolling. And it couldn't be easier!
Just get in touch with the SnowSkool crew and we'll sort you out by matching you up with the Canadian ski instructor course you've been dreaming of.
Or if you're already convinced you have everything you need, by all means, head on over to our course list and get booking now.