The backdrop for 1969 Bond Film On Her Majesty's Service with George Lazenby and Diana Rigg. The setting for Wham!'s Last Christmas iconic video. The Place to do your ski instructor internship with SnowSkool:
Beauty and Sass - Saas Fee! It's the place to be
Fast track your ski instructing career by signing up for our new autumn course that will springboard you into a job this winter. Yes, that soon!
We are so excited to launch this new ski instructor internship in Switzerland.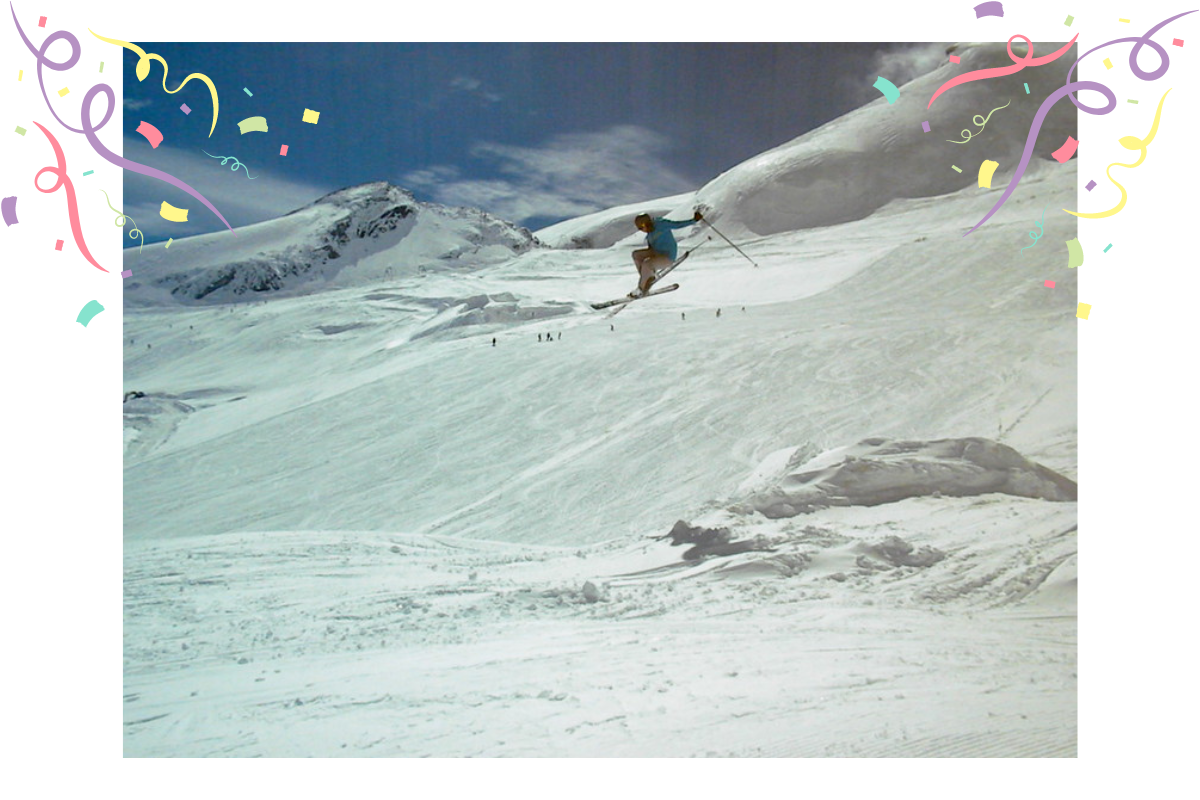 The No Frills Brief
You'll have 8 weeks of top notch ski instructor training from our fabulous - or should that be swiss german fabelhaft - instructor partners from Sommet et Neige Ski School. Internationally qualified to the highest level and looking forward to passing on their skills to you.
A comfortable base camp to ensure you can be your best on the slopes? Yes. We comfortably ensconce you in a three star hotel and make sure you have quality sleep and a good breakfast and evening meal five days a week. We want you to be well looked after so you can hit the slopes well rested and well fuelled for the 215 hours of training on the hill.
Make the most of this opportunity, pass your IAISI Level 1 and 2 Qualifications and claim your first job in one of our partner resorts – Grimentz, Nendaz, Crans Montana, Chatel or Champery.
The Frills – and there are so many!
Sensational ski terrain
Well, you'll be skiing in one of the largest glacial resorts in the world at 2,500 to 3,500m above sea level. You can cover 1,800 m in altitude on skis during a single descent. Imagine! Pretty epic!
And the scenery combined with the climate is just heaven. Saas Fee is not widely known as The Pearl of the Alps for nothing – or Die Perle der Alpen if we are sticking to the native lingo (Oh ….! That's where our fave breakfast muesli's name came from … Am I a bit slow on this?)
Set in the Swiss German Valais Als surrounded by 18 4,000 m peaks, the highest concentration of mountain peaks in the Alps, its unique mountain and glacier landscape make the views on or off piste in Saas Fee uninterruptedly stunning. The weather only enhances things – a snow-and-also-winter-sun-sure (yep that's a new made up phrase but who's making the rules?) part of the world provides the shimmering icing on the cake for your Saas Fee stay. Wellness on stilts – or should we say skis?!
But I digress. Back to some nuts and bolts ski area info:
150 km of blue, red, black and yellow (yes yellow – an additional classification for high complexity slopes which are often off-piste found in Austria, Switzerland and Sweden for anyone who didn't know. I didn't.) fantastically prepared pistes.
22 lifts, 3 cable cars, 1 funicular railway (Metro Alpin - highest underground funicular railway in the world up to the skiing area), 5 gondolas, 2 chairlifts and so you'll deduce from that more draglifts than chairs – just fyi.
Sass Fee is where the professionals come to train. Often described as 'the mecca' for wintersports pros and wannabees alike. Where better to come and do your ski instructing internship?
The beautiful village
As I started to describe in my earlier digression, Saas Fee really is gorgeous. With a history dating back to the 14th century it is the main village of four that arose out of the Saas Valley. Its traditional swiss style wooden and stone chalets with verandas draped in flowers picturesquely staggered up the valley are beautifully kept. The design guidelines for the village require houses to be 40% wooden to maintain its character.
Located at the foot of Switzerland's highest mountain – The Dom (4,545 m above sea level) with the sound of the Saaser Vispa river running through and the tinkling of cow bells from the surrounding farming fields – Saas Fee is a place that is good for the soul. The centre has been pedestrianised ever since 1951 when the road between Saas Grund and Saas Fee was built. Well ahead of the game environmentally. You can imagine the wonderful air quality! Contributing to that all round Swiss 'Wellness' vibe.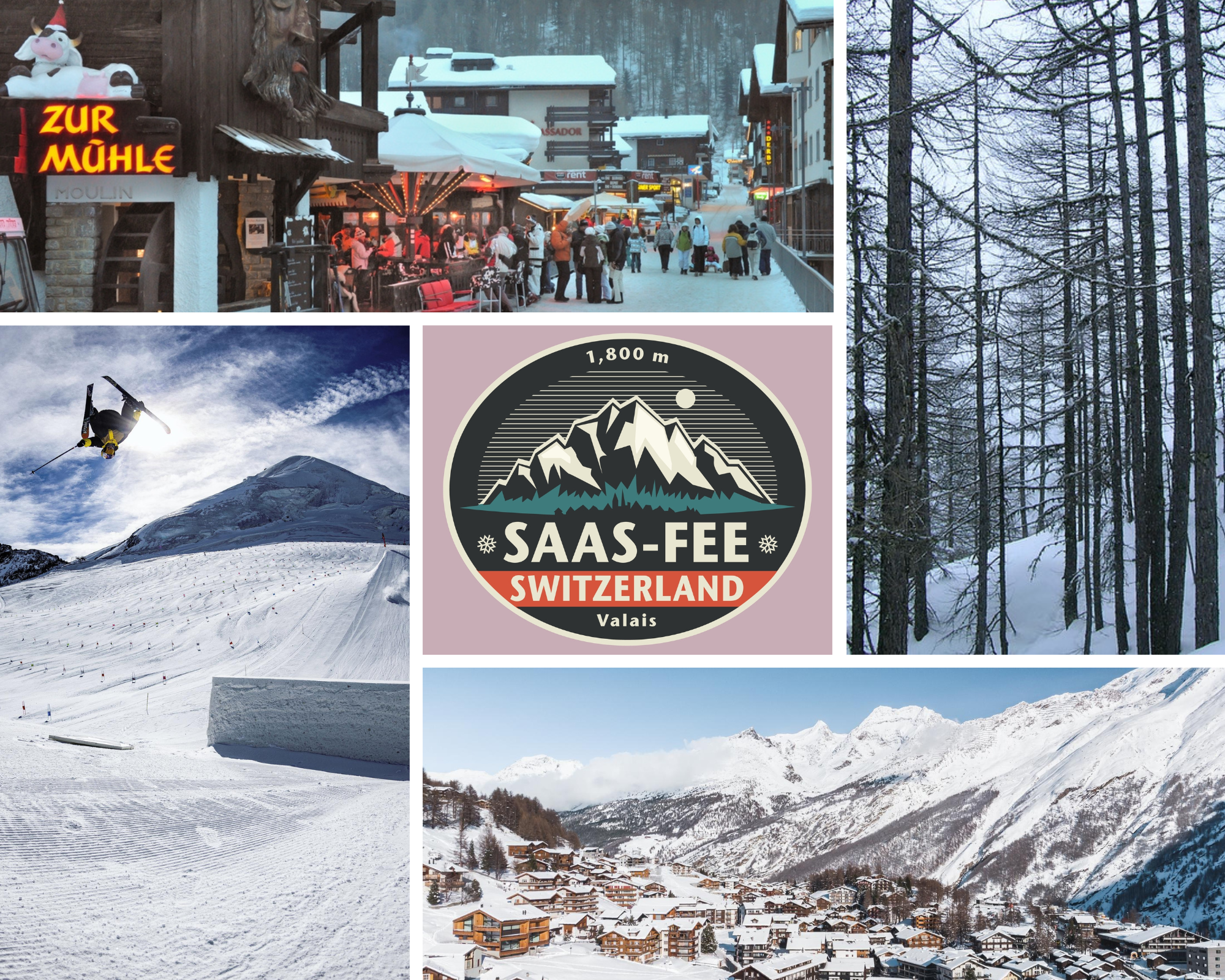 Picturesque yes, peaceful yes, and also vibrant
But don't worry! It's not all slow living peace and tranquility. Saas Fee is modern too. Plenty of shops and modcons and nightlife. A perfect blend of tradition, soul and upbeat 21st century living.
You will have plenty to occupy you on the weekends - those all important rest days. Saas Fee is a centre of outdoor adventure of every kind. It is a place of festival and fun. And of culinary delights.
Typical Valais specialities include apple strudel, fruit cake, Ponscheggia (special sweet pastry often made during carnival season. Made with rye bread, sugar, schnapps, white wine, sometimes with added molasses, ham or other secret ingredients), Saaser Wii-Spaghetti – White wine spaghetti, Hayflower Soup – with cream and nutmeg mmmm, Valais Tiramisu – using rye bread – rye bread seems to be a theme, Pumpkin Gnocchi with sage butter – cinnamon and nutmeg flavours. Yum. So there you go, a quick beginner steer to your Saas Fee culinary journey.
Then there's the all important Après. This is a new course so we'll look forward to hearing about the best places for apres ski, to drink and to eat on and off the mountain as the feedback comes in … but here are some venues to check out for starters:
Black Bull Snowbar opens 15th Oct and is on every way home where dancing and singing are part of everyday life.
Pit Stop on the mountain – in the middle of the ski area with incredible panorama, cool vibes and tunes and inviting sun loungers open daily sounds like a great place for a well earned breather.
There's an Aussie Bar with a down under vibe selling aussie beer - and also raclette late into the night to remind you you are actually in Switzerland!
Pubwise open daily 4pm to 1am looks great for a cocktail!
And you will have to give the highest revolving restaurant in the world a whirl! Drehreataurant Allalin turns 360 degress over an hour giving you an amazing panaromaic journey while you tuck into tasty regional dishes
Tempted? Want to know more?
Tip top trainers, sumptuous ski terrain, beautiful and happening town for après, a Swiss centre of 'wellness' ... a guaranteed job to take you on into the winter season ... Say. No. More.
Check out the course dets including booking links here
Don't hesitate to be in touch to explore things a bit more - we're here to help.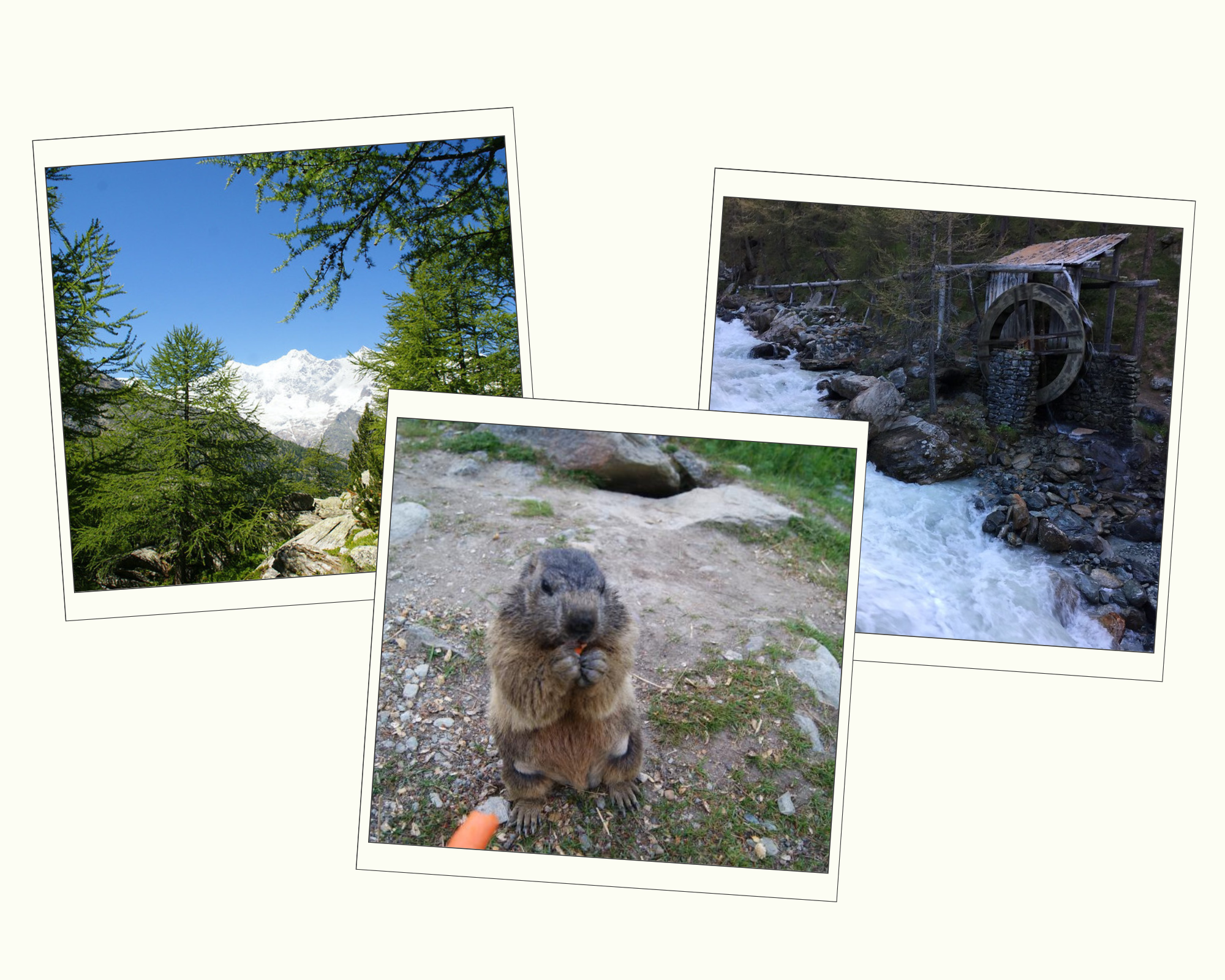 Marmot spotting is a Saas Fee sport ... Cute you have to admit.
Research info on Saas Fee drawn from the following:
https://www.skiclub.co.uk/switzerland/resorts/saas-fee
https://www.myswitzerland.com/en-gb/destinations/saas-fee-1/
https://en.wikipedia.org/wiki/Saas-Fee
In house writer for SnowSkool: Kate Swainson Price