Skiing has been a renowned sport for a long time now, and in that time many advances have been made not only in the materials used for the skis themselves, but also in the clothes we wear when facing the colder climate, partly for warmth, partly to make us feel like kings and queens of chic on the slopes. All we need are colours and styles that a) accentuate our best features and b) match ruddy red cheeks and blue lips.
For all our snowboarders we have also put together a list of the 6 worst snowboard style errors - just in case you want to check you're not falling into that category!
Just like any trends that have taken place since the 1950s - from poodle skirts to chunky highlights - ski gear has certainly been no exception in providing Facebook photos that elicit gasps of "what was I thinking?" when someone gets hold of an old picture and tags you in it.
Join us as we reminisce on some classic ski gear, from the past few decades:
1950s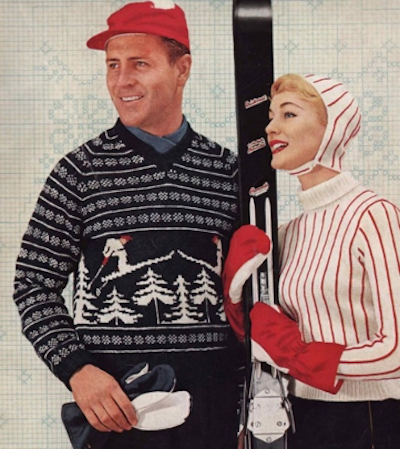 Ah the 50s, where women dressed as toothpaste and men wore their Christmas jumpers all season. We're only pretending to remember them of course, obviously SnowSkool – with the exception of MD Phil - is far too young. The 50s saw the rise of some of the greatest icons of all time, like Elvis Presley and Marilyn Monroe, and was also a great time for skiing as it became more of a recreational sport for the first time. It is also a decade that brought us 'The Good Wife's Guide', reportedly from Housekeeping Magazine, an article that told women in the most patronising way possible, 'a good wife always knows her place. Have his dinner ready for the moment he comes home.'
We don't want to believe any woman, even half a century ago, was willing to submit herself to a life of servitude in order to be considered successful in life but as the model here has on her oven gloves, she's clearly read it and has been nipping off between runs to check on a home-cooked casserole.
Thankfully, American alpine ski racer, Andrea Mead Lawrence, who competed in three Winter Olympics and two world championships in the 50s showed them all the formidable force that was women of the time – she was the first American alpine skier to win two Olympic gold medals.
It was also in the 1950's, in France, that the colour red was established as 'the' ski instructor colour. The iconic red ESF ski suits are known throughout the skiing world today, but it was in 1958 when Henri Thiolière unintentionally started the fashion movement. For some of you readers, the red ski suit maybe something you aspire to wear one day yourself… well, your dream can start now, sign up for SnowSkool's ski instructor courses or snowboard instructor courses.
1960s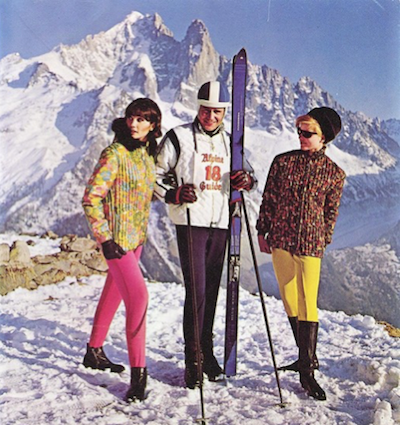 Moving swiftly on to the swinging, skiing Sixties, we saw the invention of lasers at the start of the decade; the first moon landings at the end - and the rise of Beatlemania in between. The sixties also brought more attention to skiing attire, with tighter, lighter clothing and high fashion fabrics to keep you warm while creating an altogether more colourful and sexier look that, unlike some the other decades featured here, still holds up quite well.
Velma, Fred and Daphne here are no exception, despite the fact that they've lost Scooby and Shaggy, who are probably off enjoying a tower of burgers somewhere, leaving these pesky kids to solve clues to the whereabouts of the abominable snowman alone.
1970s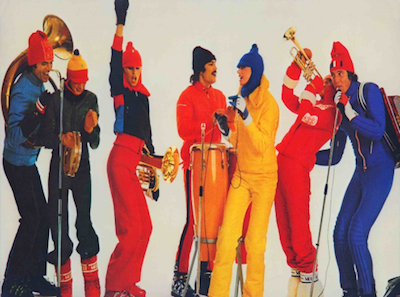 And here we have the 70s – a decade that gave birth to the meteoric rise of Led Zeppelin, ACDC, Van Halen, and many of the greatest rock bands to have ever ruled the earth.
And the 70s, in terms of skiing couture was when synthetics ruled the ski slopes. We began to see the nylon jackets and the fleece mid-layer still worn today. It was also a time when ski wear began crossing over into street wear, with quilted nylon ski jackets with zip-off sleeves that converted to vests becoming regular fashion items - because everyone knows dressing up like you're on a skiing holiday makes the beige-ness of everyday life more bearable!
The après ski of the decade must have made for a seriously good time though - especially for fans of The Smurfs.
1980s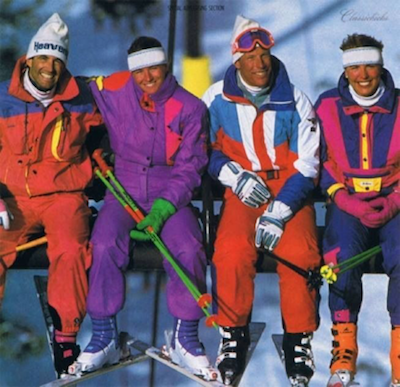 Geometric shapes? Check. Bright colours? Check. Bright, white headbands that look like you fell and banged your head? Check. Looking sharp? …umm, we'll let you make your own mind up on that!
The 80s in skiwear mostly introduced animal design, overalls, and onesies or romper suit as we like to call them. Despite the suspicious lack of goggle tan contrasting with some seriously white teeth here, you must keep in mind that this look was 100% acceptable in the 80s. Whether or not this look is acceptable in the modern day is highly debatable and divisive as some still swear by it. But beware all modern or postmodern day romper suite wearers - if you dare go back there we understand certain student groups like to play a game of 'run up and do a random face-lick' with you. You've been warned.
1990s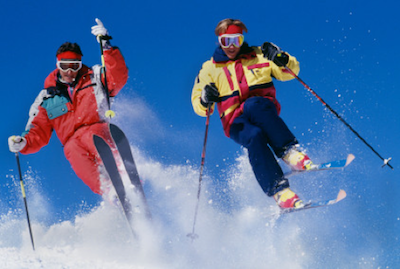 The 90s mostly kept but tamed the animals and bright neon colours of the 80s garments, ditching the perms and legwarmers to something closer to the plainer fashions of today – although curiously the 90s, when you look back on them today, can still look a bit, well… 80s, all without a single helmet in sight!
Remember the essential jacket and pants combo that was Salopettes? These had to be worn by law in the 90s.
2000s - Now
Where is ski clothing today? The answer lies at an eclectic crossroads, somewhere between the past and the future - and as long as we continue to mine the past for fashion inspiration then the predominant themes will be thrown together from before our times.
Ahem. But here we have learned one important lesson at least: never wear neon onesies in earnest again unless required by ironic costume parties, vintage ski days (below) or… nope, those are the only exceptions.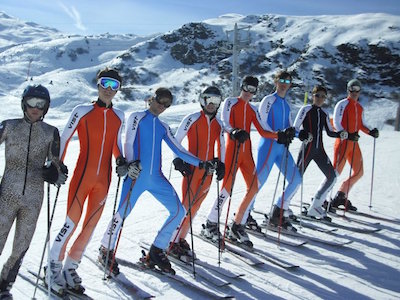 Actually, it's not all rehash. Over the past few years, the booming snowboarding industry and upsurge of extreme winter sports have made skiwear brands emphasise innovation and technology which has made for some exciting new trends that are transforming the skiing experience – adding a bit of a futuristic slant on the looks of the past. One example being this sleek, slightly menacing helmet from Tuvie that also looks very much like a microphone.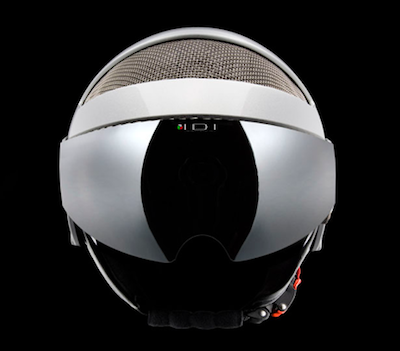 To conclude, despite your decade of birth or choice of ski apparel, be it toothpaste couture or neon romper suits, don your boots, goggles and those impressive hats with the giant bobbles on and get outside!
Fancy Being an Instructor? Try a Ski Instructor Course
If you like red jackets, then try our...
SnowSkool runs ski/snowboard instructor courses in France, Canada and New Zealand. If skiing is a love of yours why not learn to instruct and spend 11 weeks out in the mountains, on what is effectively a fully catered skiing holiday, it's an amazing experience to meet like-minded people who'll become friends for life!