Interview With Annie Thallon
SnowSkool (SS): So, your three highlights of your Snowskool Course?
Annie Thallon (AT): To pinpoint just three highlights of the course is difficult. One of the highlights, possibly the most obvious, is the people that you are surrounded by. Everyone is there for the same thing, to improve their skiing and gain an understanding of the professional side of skiing. Despite age or nationality, you become one huge family because of this.
The second thing would be the fact that the level of trainers that you get to ski with 5 days of week is super high, which is an awesome plus. Because of the high standard, future employers look at this and have no question as to where your standard may be. The last thing would be the connections you make over the course. To this day I am still in contact with all my trainers and see them once a season - which is a valuable thing to have not only for us, but for them as they get to see you improve and they become stoked on that.
SS: When you decided to take part in the SnowSkool course, was your long term plan to be an instructor?
AT: I graduated school and didn't 100% know what I wanted to do. Rather than jumping straight into university, I decided to combine everything that I love doing (skiing, teaching, and travelling) which is when I came across SnowSkool. I knew that I wanted to do a few seasons at least to make the most of the experience, but 5 seasons in I can recognise my potential as a skier and snowboarder and now I am hooked!
SS: What qualifications did you achieve on the course?
AT: CSIA 1&2, CSIA Snow Park, CASI 1, Avalanche Awareness 1, CSCF 1
SS: Tell us what happened when you finished SnowSkool, did you apply for jobs straight away?
AT: After staying in Banff longer than the course I knew I didn't want to give it up right away. I applied to a few Australian resorts, and after a few offers I decided upon Falls Creek in Victoria.
SS: Was it hard to find a job?
AT: Gaining a position in a snow sport school can be difficult as there are many people that try and get jobs. However, having the background experience and knowledge of a SnowSkooler - including access to the SnowSkool recruitment database - helped me out, as you have already seen how lessons are structured and how a snow sport school operates.
SS: Where have you worked since SnowSkool, whats your favourite resort?
AT: I am currently doing winters between Falls Creek Australia and Silver Star Mountain Resort Canada. It is impossible to say which is my favourite as each resort has advantages and disadvantages.
SS: What are the highlights of working as an instructor?
AT: My job is everybody else's holiday. Seeing the thrill and excitement radiate out of someone after a good day skiing and snowboarding is why I love my job. Whether it be tearing up double blacks or teaching snowploughs on the magic carpet, you help make somebody else's holiday, which is a unique and awesome thing.
SS: Doing both summer (well English summer anyway) and winter seasons, do you ever get fed up of the snow?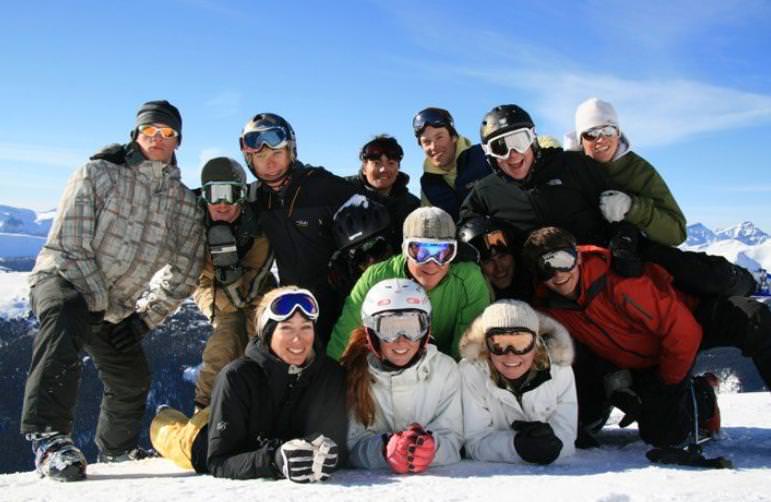 AT: Never!!!!!!!!!! Working in Canada and Australia you experience 2 very different types of winters. Canada can be cold but awesome snow (Champagne powder!!!!) and Australia can be plus 15 degress but bluebird days.
SS: Finally, If you had to pick one and ditch the other...skiing or boarding?
AT: Ski-Boarding?! Having the ability and passion to do both means I never have to choose one or the other. If I feel like snowboarding, I snowboard. If I feel like skiing, I ski. When teaching you always get to mix it up which means you never get tired of the same thing.
Find out more about SnowSkool's ski and snowboard instructor courses in Banff: