It may come as no surprise that Canada is SnowSkool's most popular destination for our customers looking to become a ski instructor or spend the season training to pass their snowboard instructor qualifications! We offer two distinctive courses in Canada that have been designed to appeal to a different target market. Here are the links to the eBrochure for each course:
SnowSkool instructor course Banff
SnowSkool instructor course Big White
As distinctive as the courses are… more of that later… one area where they are very similar is in the training. Both courses are focused on attainment of the Level 1 and Level 2 of the CSIA (Canadian Ski Instructors' Alliance) or CASI (Canadian Association of Snowboard Instructors.) In both resorts, we get priority access to the best and brightest in the Ski & Board Schools and we choose the most-experienced and most highly-qualified ski & snowboard trainers. The majority are Level 4 instructors and, as a group, have a range of specialties … race, freestyle and off-piste/ powder riding … to ensure a comprehensive ski & snowboard education for every one of our clients. Even though the Banff course is longer in duration to the Big White course, the amount of training hours is exactly the same with either programme.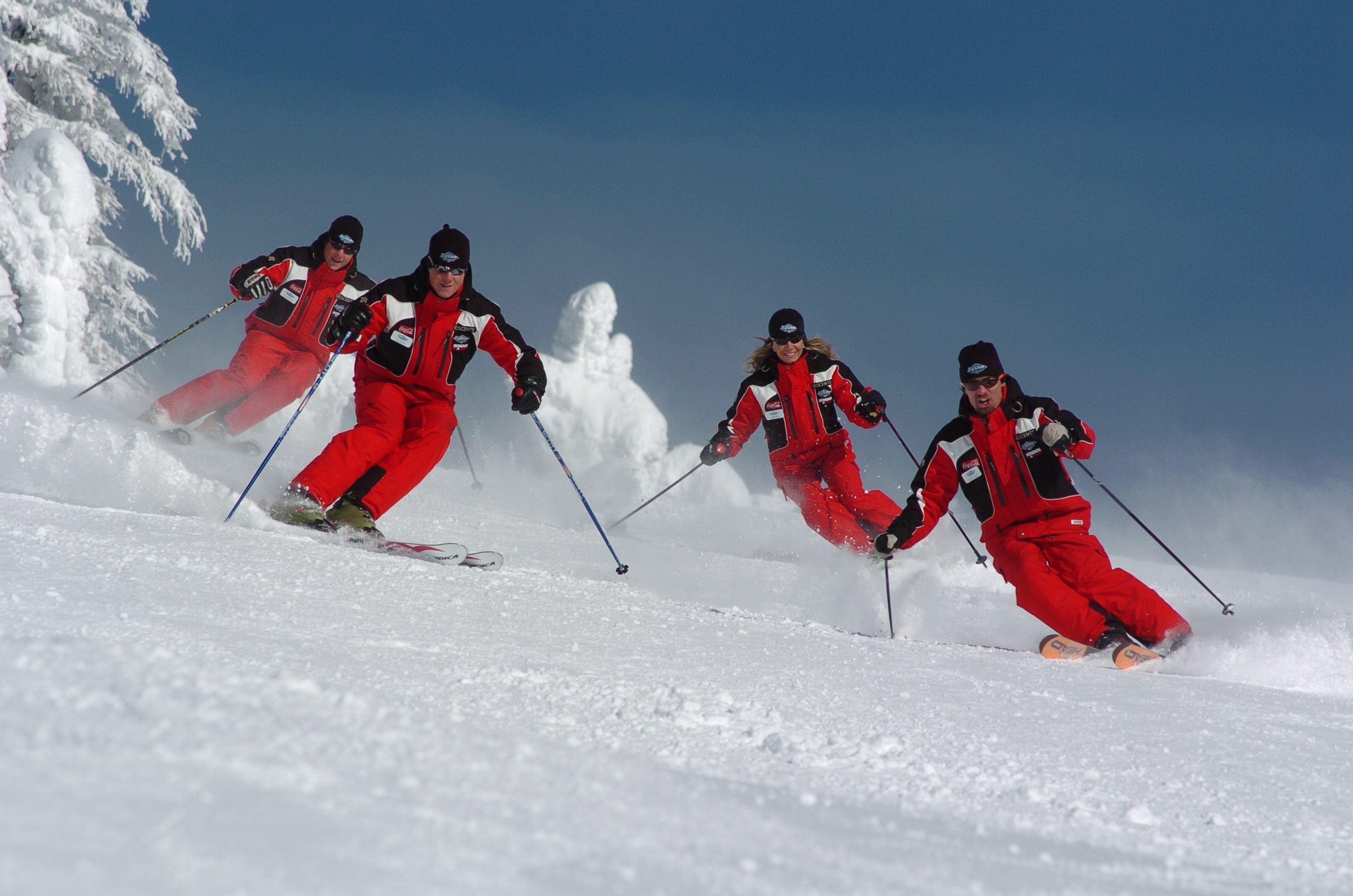 So how do you choose between SnowSkool Banff and SnowSkool Big White? Here are some pointers for you…
The ski hills
A good starting point for this category is to emphasise that the ski hills in Banff and Big White are both in the top five of Canadian ski resorts… they offer an abundance of riding with full diversity: wide-open pistes, tight tree runs & glades, race courses, freestyle parks, off-piste itineraries, bumps, cruisy blues, steeps & deeps, nursery slopes and every other type of terrain you could need for instructor training or want for skier/ rider improvement! And all of this hallowed ground is, as you may expect for Canada, regularly hammered by snow throughout the whole of the winter.
There is some super-nice slack- and back-country riding in Big White including The Cliff, Easter Chutes and Powder Glades but, on the whole, the terrain is more mellow and ideal for instructor training. The skiing in Banff is a little more hardcore… of course, there remains a wealth of "punter pistes" where you can practice your turns and teaching techniques, but you're going to feel that Banff has a tougher edge to it and some insane inbounds backcountry areas such as Delirium Dive and Wild West.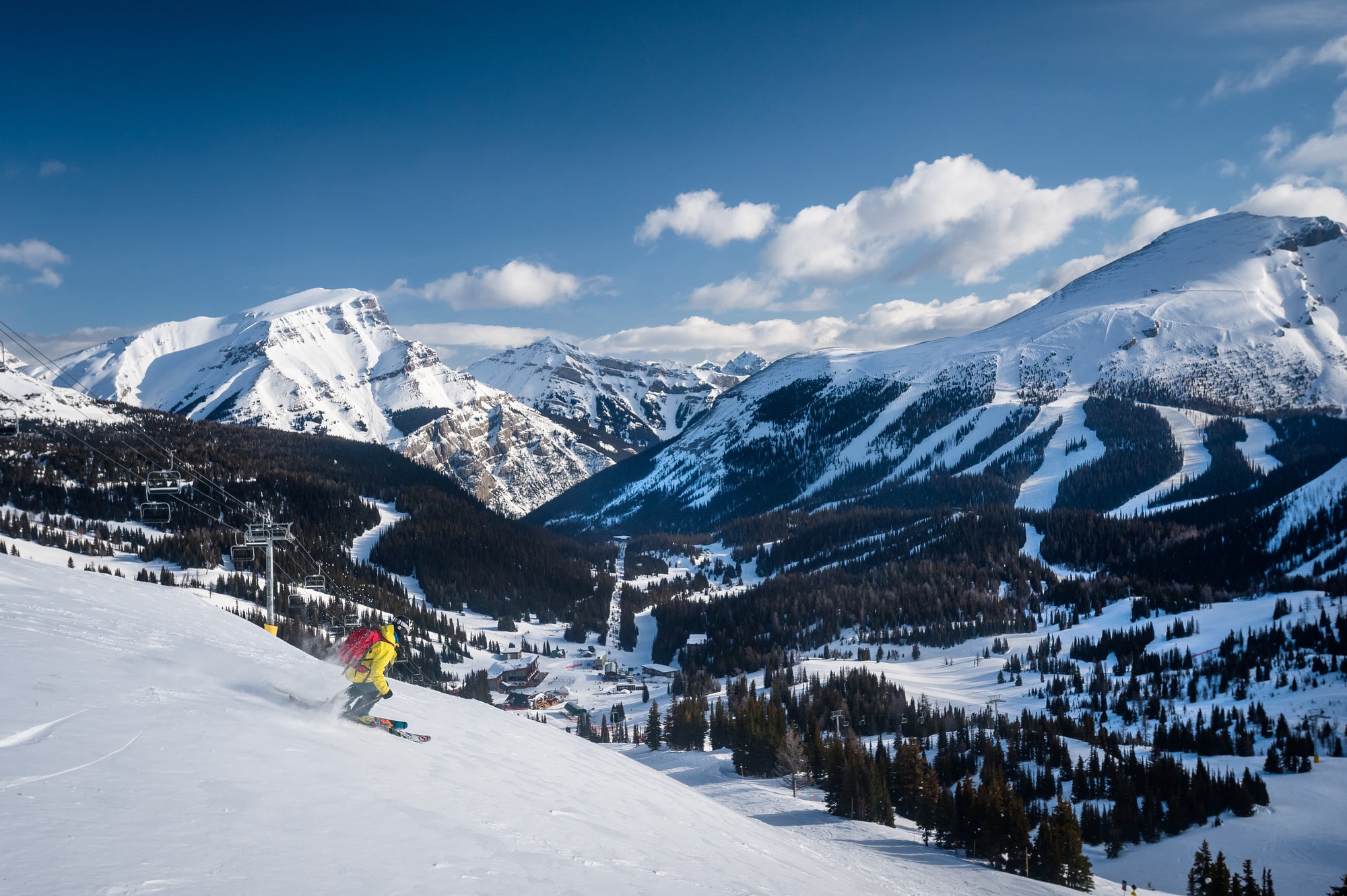 For those that like to throw themselves into the air and twist & spin their way back onto the base of their skis or snowboard, both resorts have a sick park. In Banff, the Divide Park has a whole bunch of S, M, L & XL features to test even the bravest of riders but, although smaller, we probably prefer the Park in Big White as it also has some super-nice hits but also its own dedicated chairlift and a music system throughout!
Accommodation
We have a lodge to accommodate the guests on the SnowSkool course in Banff. It is a fantastic place with a great community feel about it and facilities that are ideal for our younger SnowSkool guests: restaurant, on-site pub with free table football, darts and pool, ice-climbing wall and large communal kitchens and sitting areas with fireplace. Rooms are four-share and a room upgrade means a four-share room with en-suite facilities.
Over in Big White, we have a range of apartments (example) that have ski-in/ ski-out locations close to all the shops, bars & restaurants in the centre of the Village. All apartments have hot-tub access. They have good-sized open-plan living areas with cable TV, WiFi and Bluetooth speaker and a fully-equipped kitchen. Apartments have between three and five bedrooms and the standard room share is two persons. Guests are able to pay a supplement to take a private room for themselves.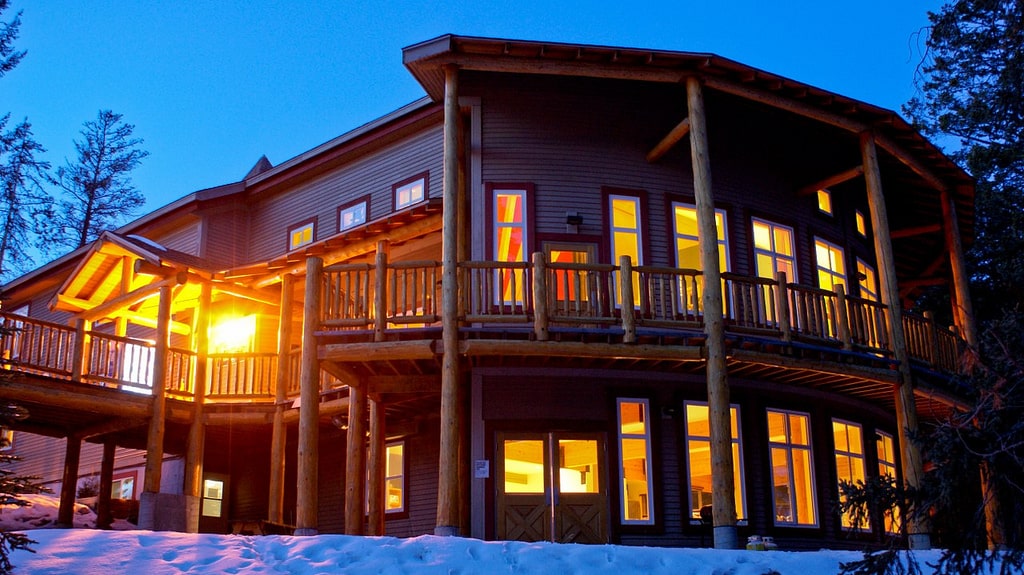 Nightlife
On the face of it, this is the simplest one to deal with. Banff is a town with three nightclubs, thirty-something pubs & bars and live music & concerts on somewhere every night. The SnowSkool accommodation in Banff even has its own pub - The Storm Cellar - which hosts Jam Nights, Comedy Gigs, Karaoke and Quiz Nights as well as free table football, darts and pool every night.
Big White, on the other hand, is a mountain village and so smaller & quieter. There are six bars & pubs, three of which are open late with live music but it's kinda closed up by midnight during the week and 1am/ 2am at the weekends ... although the House Party scene is pretty buzzin'! There is also good sense of community in Big White as the majority of people that work on the mountain also live on the mountain so you'll get to know the faces… this familiarity is often cited on feedback forms as one of the best things about Big White.
Food
Included in the package for SnowSkool Banff is breakfast & evening meals five days per week (Mon to Fri). Breakfast is prepared by SnowSkool reps and buffet-style: cereals, toast, fruit, yoghurts, juices, tea & coffee. Evening meals are served canteen-style by the food & beverage team of Cougar Pete's (the on-site restaurant) and are two-course: starter and main course OR main course and dessert. There is always bowls of salad and bread for the big eaters! Within the Lodge, SnowSkool has its own meeting room where all meals are taken.
We do things a bit differently at Big White because all the apartments have their own cooking facilities and fridge freezers. The package still includes evening meals five nights per week (Mon-Fri) as this is a fun way to hang out with all your course mates. Your in-resort SnowSkool rep organises dinner at some of the lovely restaurants in the Big White village - including one night of pizza takeaway for a Netflix 'n' chill night at home!
Demographics
In an average year, the SnowSkool course in Banff has approximately 65 participants with an average age of 20 years old. They don't mind bunking in with three others and have come for the big mountain skiing and the nightlife to match!
Over in Big White, the age range of the (on average) 35 participants on the SnowSkool course tends to be 18 to 50 years old with an average around 25 years old. The ski-in/ ski-out accommodation plays a big part (and, on average, 25% of people pay a supplement for a private room). They like a good night out but the skiing is the main draw!
I hope this helps… if it's only gone and confused things more, please email [email protected] or give him a call on +44 7760 905559 to discuss things in more detail!!