Created by two snow-loving brothers (Nick and JJ Coates), and spawned from their passion to snowboard and have as much fun as possible in the process, bro! has become a brand that's synonymous with ski and snowboard enthusiasts throughout Europe - and increasingly found in winter resorts around the world.
But where did the brand come from; where did it all start? We ask the brothers to reveal all, from joining an early SnowSkool course to creating the epic bro! brand we all know, love and shred in today.
Can you tell us a bit about yourselves and what you did before bro!?
NICK: Hey! I'm Nick, now at the ripe old age of 31 (how did that happen?!) we both grew up in Guildford - and prior to setting up bro! with JJ I'd done a few bits and pieces:
- A season in Banff on one of the early SnowSkool courses
- Leeds Uni - fully taking advantage of the cheap uni shred trips and subsequently running the Leeds Snowriders (Leeds uni snowsports society).
- A season in Meribel running SnowSkool's first ever course in France
- Working for SnowSkool as Marketing Manager after the France course.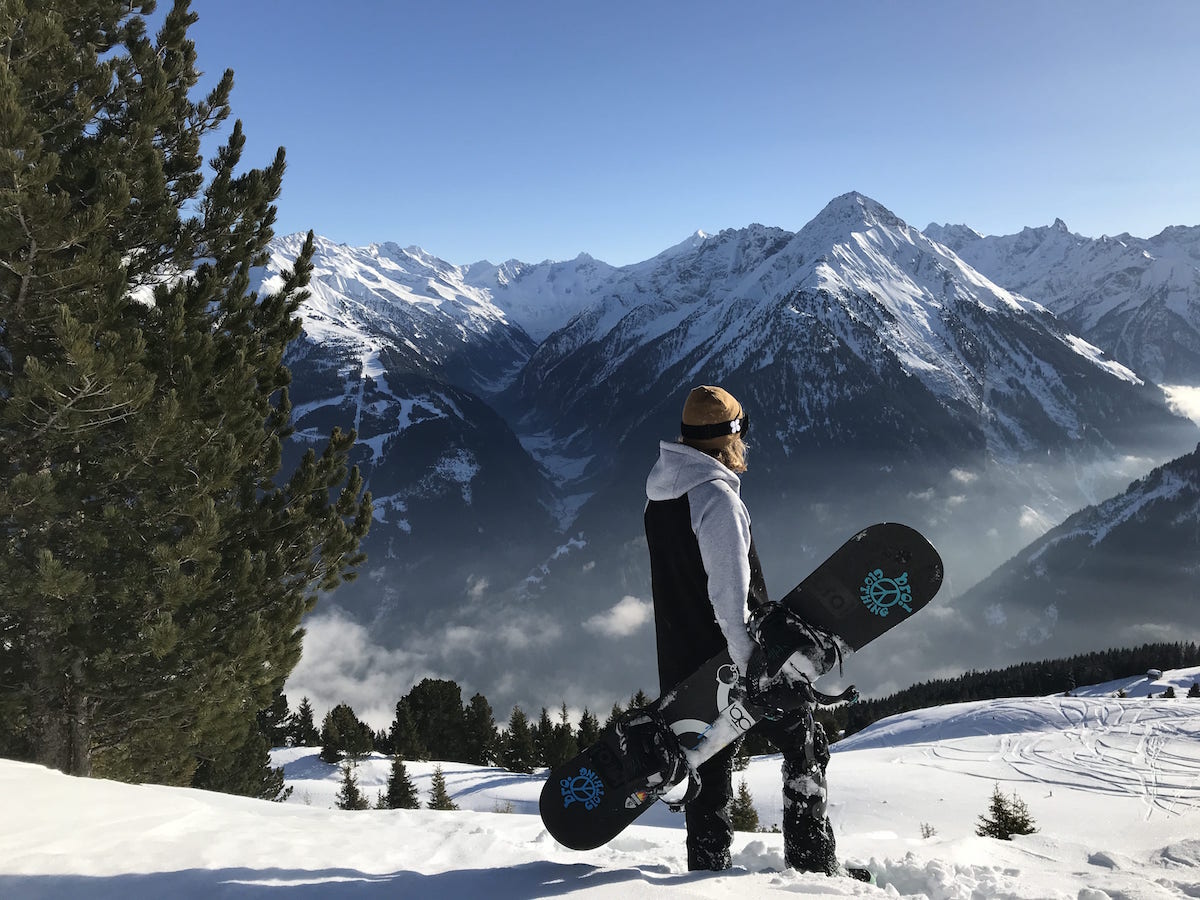 Nick Coates:
JJ: Hallooo, I'm JJ, I'm 26, I think. I grew up with Nick in Guildford. He has four years or so on me so I had only just got to Uni when Nick came up with the idea for bro! So, basically, I had done nothing except for my gap year.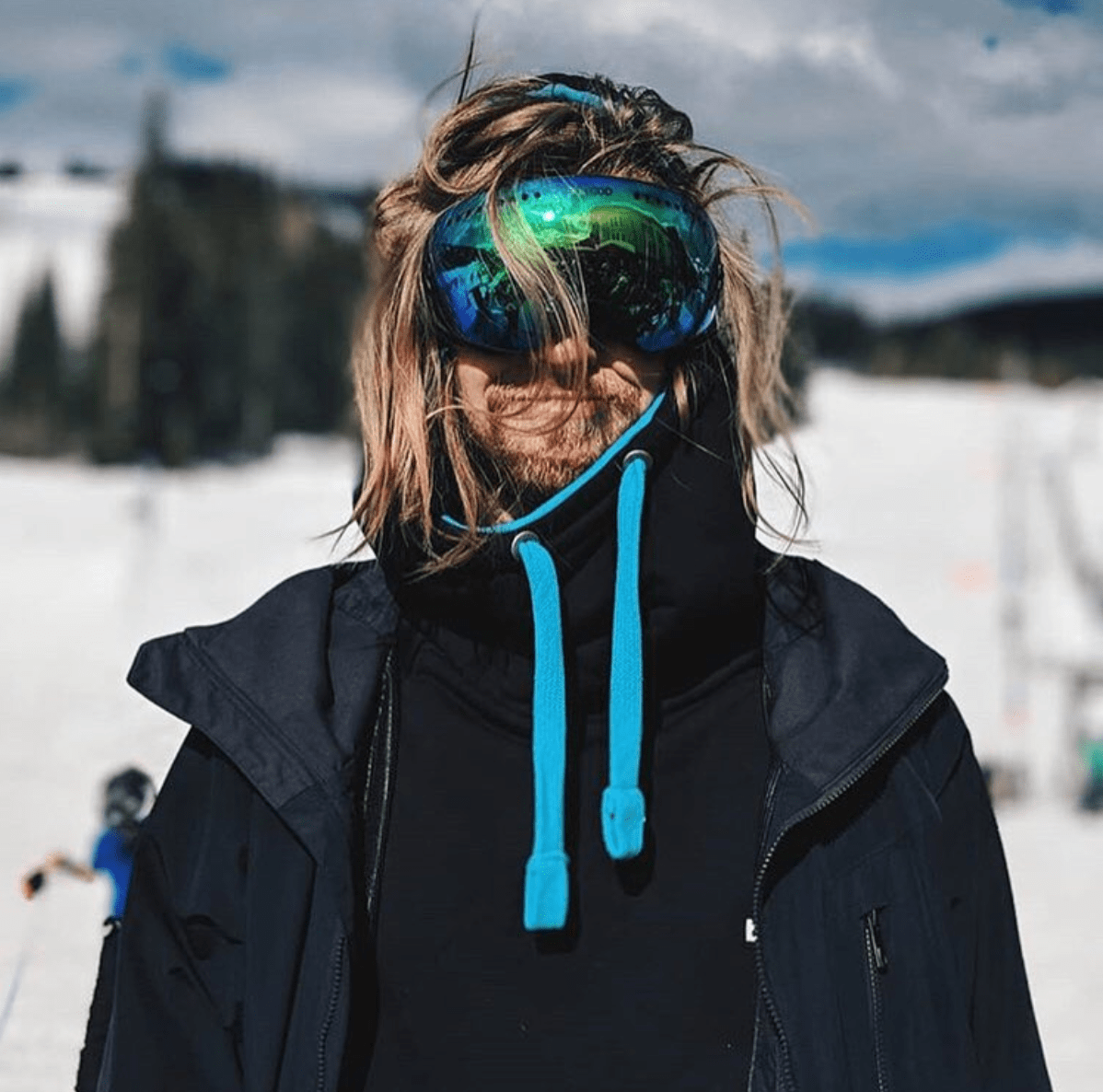 JJ Coates:
You both actually did a SnowSkool Instructor course with us?
Nick: SnowSkool Banff 2006! Pretty sure we were the second SnowSkool course ever, I think. Either way it was an awesome time.
JJ: I think it was 2010 for me and Facebook's Memories function seems to confirm that it was about 8 years ago. I did the same course as Nick: The Level 2 instructor course in Banff.
What spurred you both on to join an instructor course?
Nick: I'd been working at a local lake teaching wakeboarding for a couple of summers. One of the other instructors down there spent his winters teaching snowboarding in the USA (having done a similar course out in Canada). It seemed like a pretty sweet set up to me so I started looking into how I could start doing a similar thing and decided that an instructor course would be the best way to get there.

JJ: We've both always been big into board sports so it just made sense to try and pursue something that might enable me to live in the mountains when I was older. My parents were mostly just happy that I was doing any kind of sport, so they were happy to support me as well. I always knew I wanted to do it but visiting Nick at the end of his season confirmed it.
Why did you choose SnowSkool? – if you can remember that far back!?
Nick: I'm pretty sure for me it came down to price at the time; SnowSkool was better value than other courses on the market and, having spoken to the team, the Banff course seemed like the one for me.

JJ: Not sure, probably because Nick had done it. And was possibly even working for Snowskool at that point, I'm not sure.

Nick: He definitely copied me. But I didn't work at SnowSkool until after you'd finished your course bro!
What did you get up to between finishing your SnowSkool course and setting up bro!?
JJ: I think just my first year of University at Leeds.

Nick: Immediately after the Banff course, I spent the summer teaching wakeboarding and then headed up to Leeds Uni. While I was there I put my qualifications to use: working at Snozone in Castleford teaching snowboarding (in between the uni work - sometimes instead of uni work), then summers were spent back at the lake teaching wakeboarding (the two sports translate pretty well when it comes to both riding and teaching). When I finished university, I briefly worked in a snowboard and skate shop in London before heading off to Meribel to look after the first ever SnowSkool France course.

After that I was working for SnowSkool as Marketing Manager and then bro! popped up but it took a fair while for the company to get to where it is now. Following my time at SnowSkool I also worked another job at a sports marketing agency in London (which took me to some pretty cool places) during the formative years of the company.
Where did the idea behind bro! come from?
Nick: bro! is all about having fun and riding with your buddies.
Having worked in the action sports industry for a little while, I'd noticed a lot of people (younger shredders in particular) putting way too much pressure on themselves to get the latest tricks dialed and racing to try to get sponsored and turn pro. The whole idea behind bro! is to bring the focus back onto having fun and riding with your bros!

JJ: To the best of my recollection, we were both at home and I was busy doing absolutely nothing when Nick burst into the living room stabbing his finger wildly at a piece of paper that said 'bro!' on it. "Make me a logo, I have a great idea!" he probably shouted. I made the first version of the logo and from that point on I was in! I remember we then created an exhaustive list of "bro" puns, surprisingly few of which have ever made it onto the clothing.

Nick: The above is almost entirely true. I've still got the original doodle of the logo, which I may or may not have drawn (in the loosest possible sense) while I almost certainly should have been doing something else at SnowSkool - sorry guys! JJ then used his creative magic to turn that scribble into a legit logo, which is still the one that we use today.
Who gets the design inspiration - and where does the creativity flow from?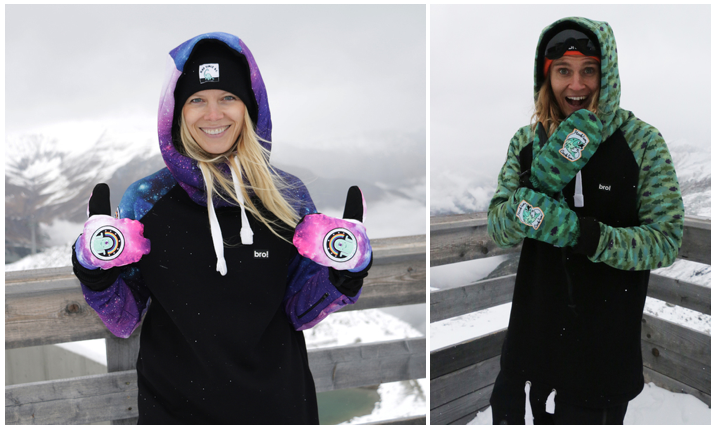 Actual bro! gear being worn
JJ: Nick is 100% the driving force behind bro! I find my main role is as a conduit / translator / filter first and designer second. Our joint creative process generally involves wading through a soupy mess of ideas until we hit on one that we both find entertaining. At that point, I do some sketches and jump into Photoshop or illustrator and throw some half-baked things of my own back at Nick. Some things work, some things don't, but we usually find something we're both happy with fairly quickly.
There are a lot of 'designs' that don't make the cut, mainly because they're too weird; don't make sense to anyone but us, or would just have such niche appeal that we couldn't justify making them.

Nick: Oh, now don't do yourself down broseph. JJ is very much the one with the creative skills here, he's always been the arty one out of the two of us. While I might be the one steering the ship, the best thing about the way JJ and I work is that if I have an idea and generally chat some nonsense down the phone to him, or send a messy WhatsApp message written in ALL CAPS (which would literally mean nothing to someone else), he usually knows what I'm thinking and can knock out a design which is almost exactly what I had in mind - or much better.

I should also mention that JJ is now working in the creative department of a craft beer company over in Vancouver, so that's providing a fresh well of inspiration for us both to tap into - not to mention the beer. Lots of beer.
What defines the bro! brand, what makes your gear so special to you your customers?
Nick: Our focus is pretty much always on having fun and, by extension, making products that enable us to have more fun while doing the things that we love to do. For us that means making quality garments that perform well and look good, both on and off the hill.

I'm always stoked when I spot someone wearing bro! on the mountain or when we see pictures of our customers enjoying our products on social media. I like to think people can get behind the brand message too - after all, it's all about having a good time!

JJ: Nick has already covered this question pretty well and I agree with everything he's said for sure. For me, though, one special thing about bro! is that I would actually buy it! For someone who co-owns a clothing brand, I've never really been one for buying clothes. I'm still wearing t-shirts I was wearing in SnowSkool. I have never enjoyed shopping because I've always been super picky. I'd walk around shops, see things I kinda liked but never bought because I wished they were slightly different somehow. But everything we make with bro! is something that I would buy without a second thought. And that's pretty awesome.
Do you see bro! heading into outerwear clothing, another outerwear product, or stick with the core range?
Nick: We'll see dude, the outerwear market can be a bit of a minefield in terms of quality and often minimums and costs are pretty high too - so there are definitely some barriers to entry there.
We are working on a few new products at the moment, so we'll have to see how the sampling and testing phases go. We've got some good stuff cooking though!

That being said, we do already have a couple technical products out there right now: our range of mitts is growing and we're super stoked on the quality and performance of those - give them a try if you haven't already! We also have a pretty tasty coach jacket out at the moment too.

JJ: Who knows what the future holds…
Where do you see yourselves and bro! being 10 years from now? BIG question I know!
JJ: Too big for me. I lack any sense of forethought or forward planning and I've always just trusted what's in big bro's noggin on this one. He knows the industry inside and out, he knows what's on-trend, he knows everyone. I just like to snowboard and doodle so, hopefully, more of that.

Nick: Ahhh that is a big question! Well, hopefully in 10 years from now, we'll still be doing very much the same thing, snowboarding and having fun!
It all started with SnowSkool Banff....
And while you might not also want to setup a successful brand like bro! after qualifying, you can definitely go onto a rewarding global career as a ski or snowboard instructor after training in Canada. See our 2019 Courses in Banff below:
And you can get your bro! gear here: