Becoming a ski or snowboard instructor in France is a good career move but it's not an easy one. Not only that, it's difficult to know how to approach the process because there's so much misinformation about it all, and most of it's in French.
We recently wrote a detailed piece on becoming a ski instructor in France, which is here in full. Much of it is also relevant to becoming a snowboard instructor in France. Here's a quick summary.
How to Become a Snowboard Instructor in France:
Instructors in France earn more than any other country in the world (up to $65 per hour). However, they need to achieve higher qualifications to instruct.
If coming from outside the French system an instructor can work in France, or enter as a trainee, with relevant qualifications from within Europe (at least to Level 2). Some international qualifications may be accepted on a case-by-case basis.
UK instructors need the highest possible qualification (Level 4 ISTD) to instruct independently. But those qualified from a snowboard instructor course with BASI Level 2 or 3 can work as a 'stagiaire' (trainee), and have a few years to achieve BASI Level 4 ISTD while training.
Both 'stagiaire' status and BASI Level 4 ISTD qualifications involve difficult slalom/GS speed tests as part of the training.
Undertaking snowboard instructor courses to become an instructor in France
Compared to the ski route, the pay is similar and to become fully qualified you'll need an equivalent snowboard quaification. However, there are a few differences.
The major difference is that there is no trainee stagiaire status for snowboarders, as there's no French snowboard diploma or qualification to train at over a few years. This means an instructor must go through an unforgiving process of achieving the highest possible qualification to begin working.
Non European qualifications are not recognised, unlike the ski instructor system where they may be allowed on case-by-case basis. For English-speaking instructors seeking to enter the French system, the most common route is BASI. You could also qualify through the German, Italian, Swiss, Austrian or Slovenian systems but they are all aligned; and they all are tough.
So, those qualifying under the BASI system need to go through all the courses and modules to get the BASI ISTD Level 4, which is the highest possible BASI snowboard instructor qualification.
But first you'll have to achieve BASI Levels 1,2 and 3.
BASI Level 1,2 & 3 (ISIA) Snowboard Instructor Courses
After the BASI level 1 and 2 - which you can train for with the 11 weeks snowboard instructor course with SnowSkool - it's time for the Level 3 ISIA: an international qualification that's made up of quite a few modules: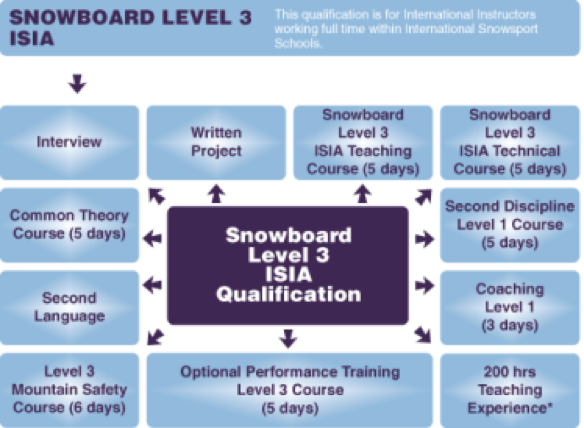 The 200 hours teaching experience must be completed before doing the technical and teaching modules but the other modules can be undertaken in any order.
The 'second language' module is particularly tricky for English speakers and you'll normally need French. So get a head start using free language learning apps like Duolingo or Babbel.
BASI Level 4 Snowboard Instructor Course
On completion of the Level 3 (already a big achievement) you will receive ISIA Snowboard Teacher Status. Then, for the Level 4 ISTD that will enable you to teach in France, you must then complete the following modules. There are fewer of them but they are more intensive.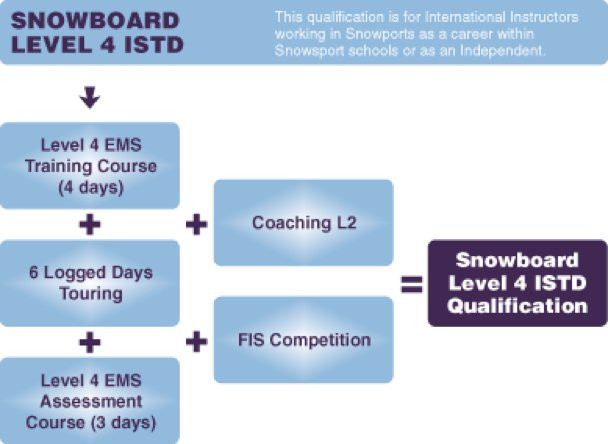 Caution: Races & Points
An important Level 4 module is the FIS competition. This can be taken in whichever discipline you prefer. But most people opt for boarder cross where you need to win a certain number of points over an average of 2 races.
The points available depend on the level of the racers, the big events have more points up for grabs if the top guys on the tour show up. But it means points are harder to score as the level is normally higher. On the other hand, in the smaller events it can be easier to score points against easier opposition but, yep, there are fewer points available.
It's a very complicated, even asburd system, as the points change every year, there is no set number and supposedly it is reviewed on a case by case basis. At SnowSkool we know someone who recently required an average of 5 points over 2 races but it makes it very difficult to state an exact amount to aim for. BASI should be more informed during a current season as to the amount required for that specific year so you can get in touch with them to find out the exact number required in a given year. The format of these things can be quite changeable.
If the ski route, with all its slaloms, is tough; the snowboard route is just as tough, maybe tougher. Scoring points in races is demanding and requires dedicated training, physical preparation – and ultimately financial support.
Because of this, the number of snowboard instructors completing the BASI system right up to Level 4 ISTD is very low and it is often those with a competitive background who do finish it.
Sounds tricky, how long does it all take?
Expect the entire process, from uncertified to BASI Level 4 ISTD, to take at least 4 years. But this is a general rule: some exceptional snowboarders could take less time; some boarders might struggle through in more. But it's certainly difficult, regardless of ability. Dedication and persistence are key!
Will Brexit make any difference for British trainees?
Possibly, that's all yet to be negotiated and worked out. Whether or not free movement will remain will be sorted out in the future, maybe the very distant future. However, if free movement rules were tightened as part of Britain leaving the EU then it's likely that British trainees would have to apply for a work permit or VISA of some kind.
For now, it's hard to be precise. Generally speaking, the route would remain the same but with a bit of added bureaucracy in getting over the border.
And obviously you'd remain unaffected if you're from another part of the world.
Conclusion
Learning a second language; gaining points in competitive races; training to the highest possible certification level. We can easily glean from all this that becoming a snowboard instructor in France is not an easy option. But becoming one of the select few to teach in France was never going to be easy.
If you've got the time, dedication, and ability then go for it and good luck! You'll make a decent living in the end. And you could start your journey here by getting your BASI Level 2 on our 11-week BASI snowboard instructor course in the Three Valleys, France. We also run a 11-week BASI ski instructor course.