Congratulations! You're going to do a ski season, and you can already picture what will come to be known as 'the glory days'. Working hard by day, partying by night and puncturing the breaks carving down the world's most iconic slopes, sinking your worn-out legs into the hot tub... Hold your horses, though!
Before you make a break for it and start sampling that sweet seasonaire life you'll need to get packing. And to help you out we've put together this checklist for the ski season, covering everything you'll need across the board (pun unintended). Let's dive in.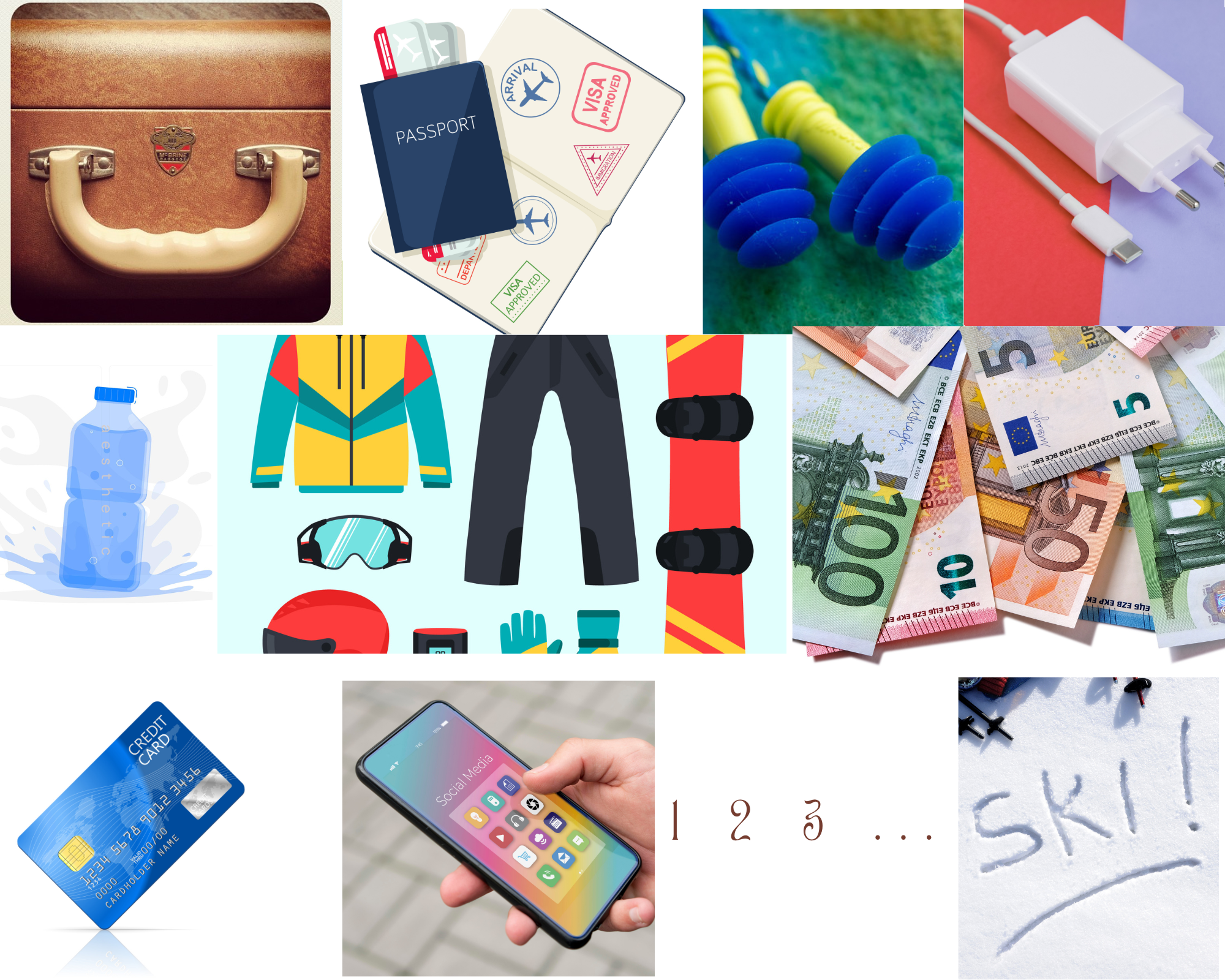 Before you get there
Before we get to the meat and bones of the ski season packing list it's important to focus on the essential documents, Boring, I know, but we gotta do what we gotta do. Let's take a look.
1. Passport
There's no way you'll be forgetting this bad boy, not if we can help it! Make sure your passport has at least 6 months left before it expires on your return, so you don't have a bad surprise later down the line – it does happen…
2. Visa
Another of the most important items on the ski season packing list is your Visa. You'll need this if you want to get a job at a ski resort, whether that's as a ski or snowboard instructor or pulling pints behind one of the many après bars. Make sure to do this as soon as possible; many resorts won't take you on if you're not eligible to work in your chosen country.
3. Travel insurance
We've chatted insurance on the blog before, but it can't hurt to go over some of the key points. We all know that snowsports are for legends, but it's important to remember that there are some risks involved.
Mull over your options: emergency medical expenses, cancellation or curtailment and your standard holiday insurance. For those doing a ski season, you might even get your mitts on something called 'seasonaire insurance'. Either way make sure to keep these documents close, whether that's printed off or a digital copy.
4. GHIC or EHIC
While you shouldn't view the GHIC/EHIC as a replacement for travel insurance, it will come in super handy for those doing a ski season in the EU. If you're based in the UK, you can use these cards to access state healthcare across Europe and you can apply for them via the NHS website. Do note, however, that there are exceptions for Norway, Iceland, Liechtenstein or Switzerland.
5. Revolut or Monzo card
It doesn't matter what job you've bagged on the resort – glorious Banff, glamourous Big White or gorgeous Three Valleys – you won't want to pay additional fees for purchases. With one of these cards, you can easily move money from home and pay for stuff at the best exchange rate.
6. Money, money, money
Must be funny, in a rich man's world… But in all seriousness, make sure you've budgeted correctly, so you will have enough to spend until your first full payday.
En route
With all the serious stuff out of the way, it's time to think about what you'll take with you on the journey to make it as smooth as possible, so smooth that if you closed your eyes you could picture yourself gliding down those perfect pistes, the alpine breeze in your hair…
7. Your phone
While your eyes will probably be glued to the views out of your window and not your screen, you'll want your phone at hand to keep track of the time, listen to music or update your pals on your little adventure.
Speaking of phones, you'll need to check with your provider about your data usage overseas. If it's looking more on the spenny side, you could temporarily switch to a new provider or try out an international eSim to save you in the long run.
8. A charger and a backup
Long journeys and a phone charger, it comes with the territory. Depending on how and where you end up for your trip, you could end up travelling for up to 12 hours, so you definitely don't want your phone to run out of battery. To avoid this, we'd recommend investing in a portable charger or battery pack – they're lifesavers, we can attest to that!
9. Entertainment
Whether you want to wile away the hours on the coach listening to brain-tickling podcasts, reading page-turners on your Kindle or playing a spot of Mario Kart on your Switch, make sure to take something portable to keep yourself entertained.
10. Water bottle
There's nothing worse than being stuck in transit with dehydration tugging at the back of your mind because you forgot to stock up on the last stop. Make sure you have a refillable bottle with you on the journey to make things comfier.
11. Snacks
In the same vein, you don't want to get the munchies hours before you arrive and can procure some grub. Bring along some scran to keep you going – you're going to need it.
12. A travel pillow or DIY alternative
By DIY alternative, I mean anything soft and fluffy. Be it your cosiest hoodie or a jumper bunched up behind your head, something cushioning will help you get a needed bit of shut-eye.
13. Earplugs or noise-cancelling headphones
You might feel like catching some Zs on the way to your coveted destination or you might want to escape the stimulation overload that is a busy vehicle. Taking something to block out the noise will be a lifesaver. Pair it with an eye mask and you're all set for a long nap!
On the slopes
What's a checklist for skiing if we don't cover the gear? Starting with your absolute essentials and working up to the nice-to-haves that will have other seasonaires spotting you a mile off, here's what you'll need to bring with you when you take to the slopes.
14. Ski jacket and a backup
This piece of kit (minus your skis or board) is the star of the show, so don't skimp out here! Whether you go for something modest that does the job or something a bit flashier, ensure it has a good fit, feels comfy on the go and protects you properly from the elements.
You might also consider bringing a second jacket – maybe a lightweight or packable down jacket – as a backup whilst drying out your main ski jacket.
15. A cosy hat or earmuffs
Up at the summit, it gets pretty chilly. You'll be kicking yourself if you don't have anything to protect your ears from the biting winds. A soft beanie, earmuffs or woolly hat will do the job.
16. Waterproof rucksack
If you're working a job outdoors this is an absolute essential: with your waterproof backpack in tow, you can carry your day-to-day essentials (including snacks!) up and down the slopes.
17. Ski trousers / salopettes
Get yourself a pair of light and breathable ski trousers or salopettes to keep you nice and warm and dry as you glide over the champagne powder.
18. Ski goggles / sunglasses
To protect your eyes from the glare of the sun these are a must. Try to find a pair with a snug fit and a decent field of vision. Most decent goggles will be equipped with UV lenses, but if not make sure to bring your sunglasses too.
19. Gloves
Like your hat and earmuffs, you'll need these to protect yourself from the bite of the cold. Make sure they're waterproof too!
20. Base layer / thermals
To keep warm and prevent sweat from getting on your nerves, a good base layer is essential. A top and a pair of thermal leggings get the SnowSkool star of approval. While many skiers prefer merino wool, synthetic materials such as nylon and polyester are more budget-friendly and equally effective.
Also, don't forget a nice thick pair of thermal ski socks! Layering up regular socks won't be anywhere near as comfortable, so make sure to invest in a decent pair.
21. Mid layers
Next are your mid layers. For most, this means a lightweight fleece, but a basic wool or cotton jumper works just as well.
22. Extra bits and pieces
The last thing to consider when you're pummelling down the slopes are those nice-to-have extras. Think hand warmers, a bandana or buff, high-energy snack bars and knee or ankle supports.
In the chalet
It's likely you'll be away for a long time, even if you don't stay for the entire season. So you might as well make your room a home away from home. Let's not succumb to those pangs of homesickness – this is going to be the trip of your life!
23. Fairy lights
By no means a necessity, you might want to add a dash of cosiness into what will be your crib for the next few months.
24. Mementoes from friends and family
Whether you're staying from the start of the season or for the entire shebang, you'll want to be bringing the nick-nacks and mementoes that make you feel right at home. A photo of your mates goes a long way to make the place feel homey.
25. Tea bags
Tea bags. Need I say more? If you've got a special hankering for a particular brand, make sure to take them with you. After all, you'll make a hell of a lot of friends if you offer them a good ol' cuppa.
26. Hot water bottles
One day you might come in after a long day carving up the gnarliest of terrain and you've got a bit of a backache, it might be the dreaded PMS, or you might just be feeling the chills. With your trusty hot water bottle, you can curl up and soak up the warmth as all the stress leaves your body…
27. Toiletries
From the nice-to-haves to the must-haves, make sure you have everything you need for the trip. This means toothbrush, toothpaste, soap, suncream, makeup, hairbrush, chapstick, perfume, aftershave, medication, period products, your flannel and anything else you might possibly need to feel like your best self. If you're to forget anything here, don't let it be your skincare. You'll be surprised at how the climate can impact your skin on a ski season, so make sure to pack all that good stuff to avoid flare-ups. We know you're not just a pretty face on the slopes, but there's no harm in aiming for glowy skin!
28. Comfies
When you slink back to the chalet after boozing it up at the après ski, you'll want to swap your day clothes for something a bit snugger, be it PJs, trackies or your beloved oodie (no - no missing 'h' here an oodie is a thing).
29. On the dance floor
It wouldn't be a SnowSkool checklist for the ski season if we didn't mention the fun stuff. Whether you're boogieing in the après bars of Banff, Big White or Cardrona, you'll want to look the part.
30. Fancy dress
You never know when a bit of fancy dress will come in handy... If you've got some extra space, you could tuck in a little something to surprise your fellow SnowSkoolers.
31. Going out stuff
This might feel like overkill, but if you want to hit the town, you're going to need to bring your fave going-out outfit.
The seasonaire mindset
If you've been following this ski season checklist step-by-step, your bags will be looking pretty full. But don't worry! These last things won't take up any space.
32. An open heart and open arms
With bucketloads of planning and packing underway, it's easy to neglect the measures you can take to prepare for your ski season mentally. This means bringing with you the right mindset: you can get into the seasonaire headspace by keeping an open heart and an open mind.
Our SnowSkoolers find that if you approach everything the ski season throws at you with positivity and gumption you'll get off to a flying start. If you're training as a ski instructor, find the learning style and rhythm that works best for you. And for everyone, listen to what the seasonaires have got to say: you'll find that you'll learn a thing or two!
33. The lingo!
Last but not least, you might want to read up on the seasonaire lingo. Not necessary at all, but a bit of fun, you'll be able to talk the talk as well as impressing your pals crushing it on the pistes.
All packed?
And that's it! Everything you could possibly need to hit the pistes full throttle and make memories that will last a lifetime – and it's completely personalisable! If you need any more help with your own checklist for the ski season or booking your ski instructor / snowboard instructor course, give us a shout and our friendly team will sort you right out.