Every year SnowSkool trains ski instructors from all over the world in Banff, Canada. It's deservedly one of the most popular resorts that we run our courses in - and many of our trainees go on to live and work in town too.
Here's the lowdown on working as a ski instructor in Banff, Canada:
Season starts from November and ends in May
Standard pay is 3 hours per day - with additional pay for each lesson
Cost of renting can be expensive - but consider Canmore and staff accomm
Banff has a great nightlife - but learn the cheap days and local spots
SnowSkool runs L2 ski instructor training courses in Banff from Jan 2020.
Seasons & Working Hours:
Seasons generally start at the beginning/middle of November depending on snow and can end anywhere between end of April (Norquay) and end of May (Sunshine).
Instructors are usually rostered 5 days a week. But this can change depending on busy peak periods such as Christmas, Family Day Weekend, school holidays, Easter etc.
On working days, you start at 9am, this is essentially your register. You then line up at 9:45 if you have kids lessons. Line-up for adult lessons is at 10:20am where you find out if you have a lesson for that morning. This is the standard way to do it unless you have specific programmes such as kids' camp (usually weekends, school holidays). If you don't have a lesson you are able to free-ski for the morning.
Second line up is 1:20pm, where you find out If you have a lesson again. If you don't, you're able to free-ski for the afternoon! Private lessons work a bit differently. You will line up at 10am, 10:30am, 11:30am and 1:30pm if you have private lessons.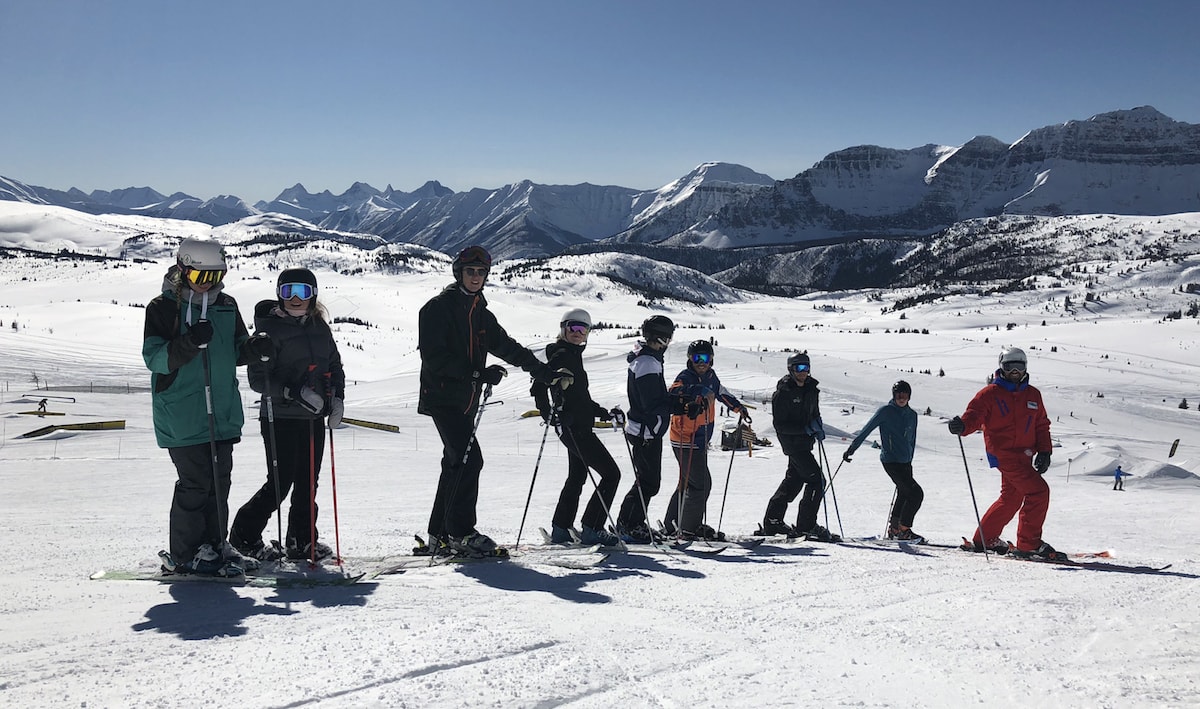 Salaries & Pay:
Standard pay is 3 hours per day if you have no lessons. You then get additional pay for each lesson worked. More money can be earned for private lessons and even more for requested privates (where the customer request a specific instructor). You are paid bi-weekly
Your hourly rate is dependent on your Level. As always, L1-qualified instructors will get paid the least and pay increases with each qualification level you receive. L2-qualified instructors get paid a base of around $17 per hour. You also have a chance to increase your pay by building up "request points". These are accrued by having specific requests for you as an instructor from customers. These request points build up and can increase your pay per hour (when you are teaching) by $1, $2, $4, $6, $8.
Pay can be supplemented by the 'huge' tipping culture in North America – typically amounting to 10-20% per client per lesson. Tips are less common in group lessons and far more common in privates – and can depend on the nationality. With the Bow Valley being a huge tourist destination, whether or not you get tipped can entirely depend on where your clients are from (British are bad for this!). You are also looking to get repeat customers as you get more money for instructor requests.
For more on pay see our separate post on ski instructor salaries across the globe:
Cost of Living:
Banff is an expensive are to live in because it's so popular. Banff town has a (pretty much) 100% occupancy rate throughout the year. Meaning at any time, every single bed/room in Banff is filled (not including hotels).
In Banff – you're usually looking at a twin share room. In a 6-8 share house. Rent is usually around $600.00 a month. Bills entirely depend on the landlord you're renting from. There are only two supermarkets which are fairly expensive compared to Calgary/Canmore although there are "locals' days" which give discounts each month.
Nearby Canmore, around 20km away, is slightly cheaper but you'll still be looking at similar living situation. Food and cost of living is also cheaper in general in Canmore
Staff accommodation can also be an option. If working at Sunshine and Lake Louise, some ski schools have staff accommodation on/near the hill that can be included. The costs are typically from $10-$13 per night. Sunshine Village accommodation is on the hill and Lake Louise is either in Lake Louise village or at the Fairmont in Banff.
If you get a job as an instructor on one of the ski hills you'll have your season pass, hill transfers and uniform all included.
How much is a beer?
An important question. Standard pints are around $6-8, single spirits $3-5. The nightlife in Banff is pretty lively – with plenty of bars and clubs for a relatively small place.
Drinks and going out can sometimes be expensive if you don't know where to go though but Banff has a tonne of deal/cheap days and local drinking spots which can be cheaper.
Visas & Getting There:
Flights depend entirely on where you are coming from. From the UK you'll be looking at anywhere from £300-700 for a flight to Calgary (£40 to transfer from Calgary to Banff). Aussies will be looking between $1100-1800 AUD for a flight depending on where in Australia you are coming from and what kind of connections are available.
Visas usually should be acquired before applying for jobs. Some resorts make exceptions (sometimes if you're an ex SnowSkooler). Visa applications differ depending on what country you're from. For UK citizens on a Canadian working visa, you are required to enter the country with $3000 to tide you over "for the first 3 months"
You should apply for the job once each hills season ends. Usually the people that do the hills hiring are busy up until the season has finished, so you are more likely to be noticed and not be buried in emails/application stacks.
For more information on visas see our post on getting a Canadian working holiday visa.
Training as a ski instructor in Banff:
This is the bit we can fix: take a look at our ski and snowboard instructor courses starting Jan 2020 here: