What better way to become a ski instructor or snowboard instructor than getting your qualification in the best resort in the southern hemisphere, in one of the most epic countries in the world??!
Life is sweet on an instructor course in New Zealand. Here's a taster of a pretty standard training day.
Good morning Wanaka!
Your alarm will go off about 7:30 but snooze that thing and make it future-you's problem! Luckily, your roommate (also SnowSkool) shoves you out of bed and you shovel down breakfast with the rest of the crew at the accommodation.
Heading outside to meet the bus, you catch a look at the lakefront, and the snow-capped mountains behind and realise you never get over how incredible the views here are. You still can't believe you've been living here all season.
The bus to Cardrona takes 30 mins so you catch up on a podcast or message some friends back home who are just heading out and it's still the day before – mental! Again, more incredible-view-madness.
Hello Cardrona
You're dropped off at the Base and collect your stuff from the heated locker (such a dream not having to lug all your kit up and down the mountain!). There's a bit of time before training starts so you head up MacDougall's chair and get the legs going with a ride down Westons.
The timing's spot on to re-convene with your group and meet your trainer from ITC. First thing today is personal technique – balance and control. Naturally, it involves ridiculous drills on one leg, arms out, arms down, poles all over. Somehow it ends up making sense and actually improves your skiing!
A pit-stop at Captain's follows, and you watch some video footage of the drills. Not how you were looking in your mind!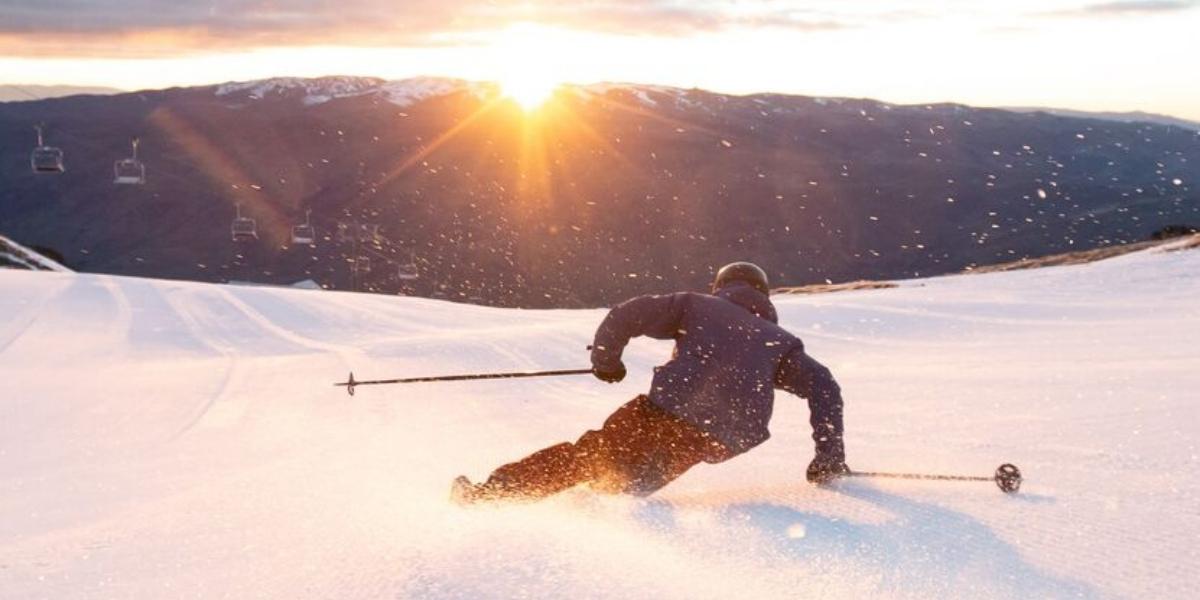 Teaching skills
The rest of the morning is spent practicing how you would assess students in your class and then how you'd plan a lesson around their goals. Lots to think about here, but glad that you'll recap it in the evening class next week.
Lunch on the hill
So you brought a sandwich which is looking tempting and flattened in its foil… but the others are getting noodles and they just look too good! Sandwich gets shoved back in the bag, let's be honest you'll eat it on the bus back home.
The afternoon's session
The rest of today's training requires you to put the morning's work into action and assess, then teach, each other. It's a bit awkward instructing your mates for the first few goes, but you roll with it and just imagine they're future clients.
With a bit of time to spare before the lifts shut, you finish off by doing some park laps and testing your legs on some chunky snow off to the side. New snow is coming and you're heading to Treble Cone tomorrow so you want to be ready for whatever it throws at you!
Back to HQ
No time to grab a beer at Cardrona because the bus is coming, but you crack a few with dinner to round off a week of pretty solid training. The group are cooking up a Mexican feast and you take your guac role very seriously.
Post dinner, a deck of cards comes out and silly beer games ensue. Chat turns to going to Woody's to play pool… very tempting, although it's never really 'just for one' is it… and you've got that big day at Treble Cone tomorrow… What to do!?
~
More about instructor courses in NZ
The reasons why you should do a ski or snowboard instructor course in New Zealand
SnowSkool's Ski Instructor Courses in New Zealand - My Experience
How to Become a Ski Instructor in New Zealand - in 5 Steps
Life as a ski or snowboard instructor in... Cardrona, New Zealand
The best things to do in New Zealand after (or before) an instructor course
Follow us on Instagram, Facebook, Twitter and Pinterest.
Image credits: www.lakewanaka.co.nz