When it comes to moving abroad, New Zealand has to be one of the top choices, with amazing scenery, friendly locals and fantastic quality of life. Infact, we've already written a whole article on why you should do ski instructor course in New Zealand!
Ex-SnowSkool ex-pat Clark Doran explains what life as an instructor in New Zealand is like: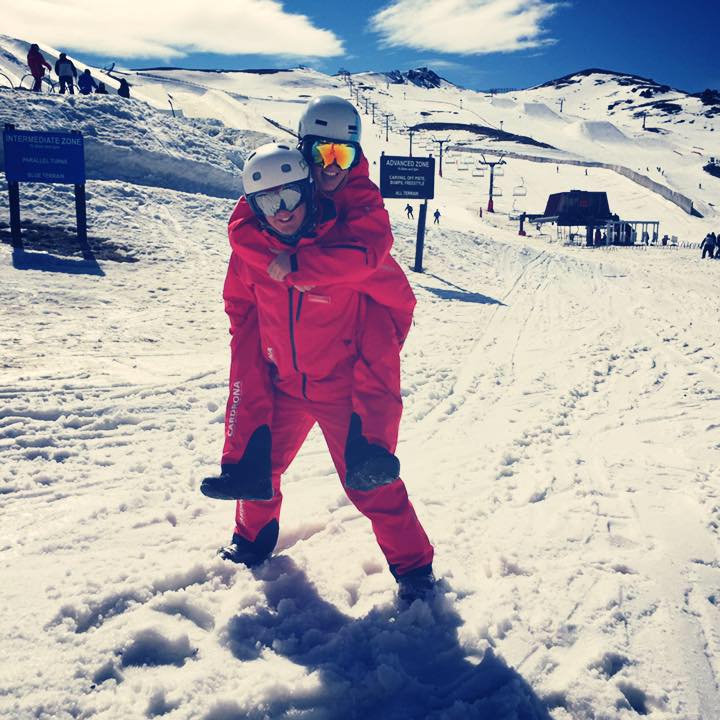 Q: Which country and resort did you work in?
A: I work in Cardrona Alpine Resort, New Zealand
Q: Why did you decide to become an instructor?
A: A mixture of things really, ever since my first lesson at 16 I had wanted to teach others the sport that I love - and the lifestyle looked great!
Also, my younger brother became an instructor before me and although I was proud I wanted to be better than him – so sibling rivalry!
Q: What is the best part of the job?
A: I love the job satisfaction when somebody just "gets it" when it finally clicks for them.
Q: What is the worst part of being an instructor?
A: Early mornings can sometimes be a pain but you get paid to ski!
Q: What qualifications have you got, what do you need to start working?
A: I am a Level 2 NZSIA ski instructor shortly attempting Level 3. With the Level 1 NZSIA qualification you can teach pretty much everywhere. And you get a good idea of what to expect from the job.
Q: What are your daily hours, do you work all day most days?
A: On a typical busy day I will work around 6 hours. But this can be dependent on the ski school you work for and your own willingness to work.
Q: How have you found gaining employment after qualifying as an instructor; easy or difficult?
A: I found gaining employment pretty easy actually when it came to the northern hemisphere winter. I had applied to a lot of places and was offered a few positions.
For jobs in the Southern Hemisphere, I trained at Cardrona which made me only apply for Cardrona when it came back to the Southern Hemisphere winter. Luckily I got the job and I've worked here a couple of years now.
Jobs become more available to you when you put yourself out there and talk to people and apply yourself.
SNOWSKOOL: Here's how much instructors earn in New Zealand based on our 2019/2020 survey. Note that instructors qualified to higher levels will earn more.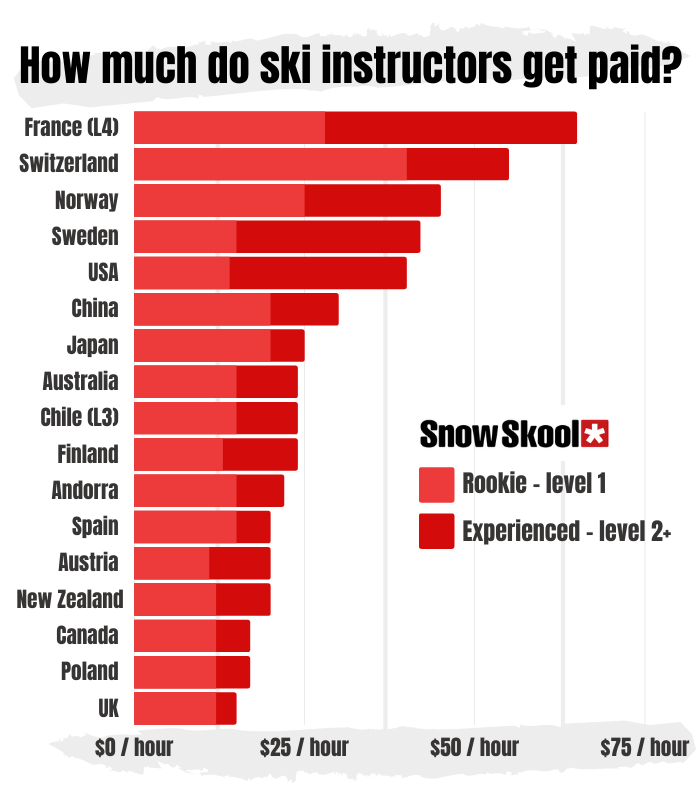 Q: What visa did you need, and how long does that last?
A: I started off with a working holiday visa for New Zealand which lasts for one year,
I applied for this once I was offered a job. On returning back I was offered a sponsored visa as ski instructors are on the shortage skill list for New Zealand.
Q: When your visa runs out, can you get another or if not how can you go back and work there?
A: So as I said previously I was offered a sponsored visa so I'm ok and may eventually apply for residency. But the working holiday visa can be extended from 1 year to 2 years.
Q: Where do you see yourself in the future, still instructing?
A: I love teaching. It's taken me a while in life to find something that I truly love to do. I hope to be teaching as well as perhaps moving into ski school management in the future.
Q: What is the biggest tip you could give to others looking for a career as an instructor?
A: I wasn't even looking for a career change if I'm honest. I just wanted to get better at skiing. I would say though, work hard, play hard and remember it's not always what you know in this industry it also has to do with who you know. So being a nice person is very helpful!
I was once told:
"Ski safe, Ride Gnarly and watch for frostbite"
Fancy Being an Instructor? Try a Ski Instructor Course
If after reading this interview you're thinking, this sounds like a dream job, I'd love to do this, then why not have a look at one of our instructor courses. SnowSkool runs ski instructor courses and snowboard instructor courses in Cardrona, New Zealand! You'll be qualified after the course and should be able to work in New Zealand. Find out more about getting work and gaining residency here. We also run more ski instructor courses and snowboard instructor courses in France and Canada.
Related Ski Instructor Course Content:
For more information about ski or snowboard instructor courses have a look at these Snowskool blog articles to give you a further feel for the job: Where are they now? Ex-Snowskoolers and Which is the best instructor course for me?
Here are our other interviews from the 'Life as a Ski Instructor' series:
Alex Williamson in Switzerland