SnowSkool has been catching up with ex-SnowSkool ex-pats who now have lives as ski or snowboard instructors in faraway places. We ask them: "what is life as a ski or snowboard instructor like"?
Last week we spoke to Alex Williamson who in an instructor in Switzerland. This week it's Scott - who is now a snowboard instructor - is based in Aspen, U.S.A.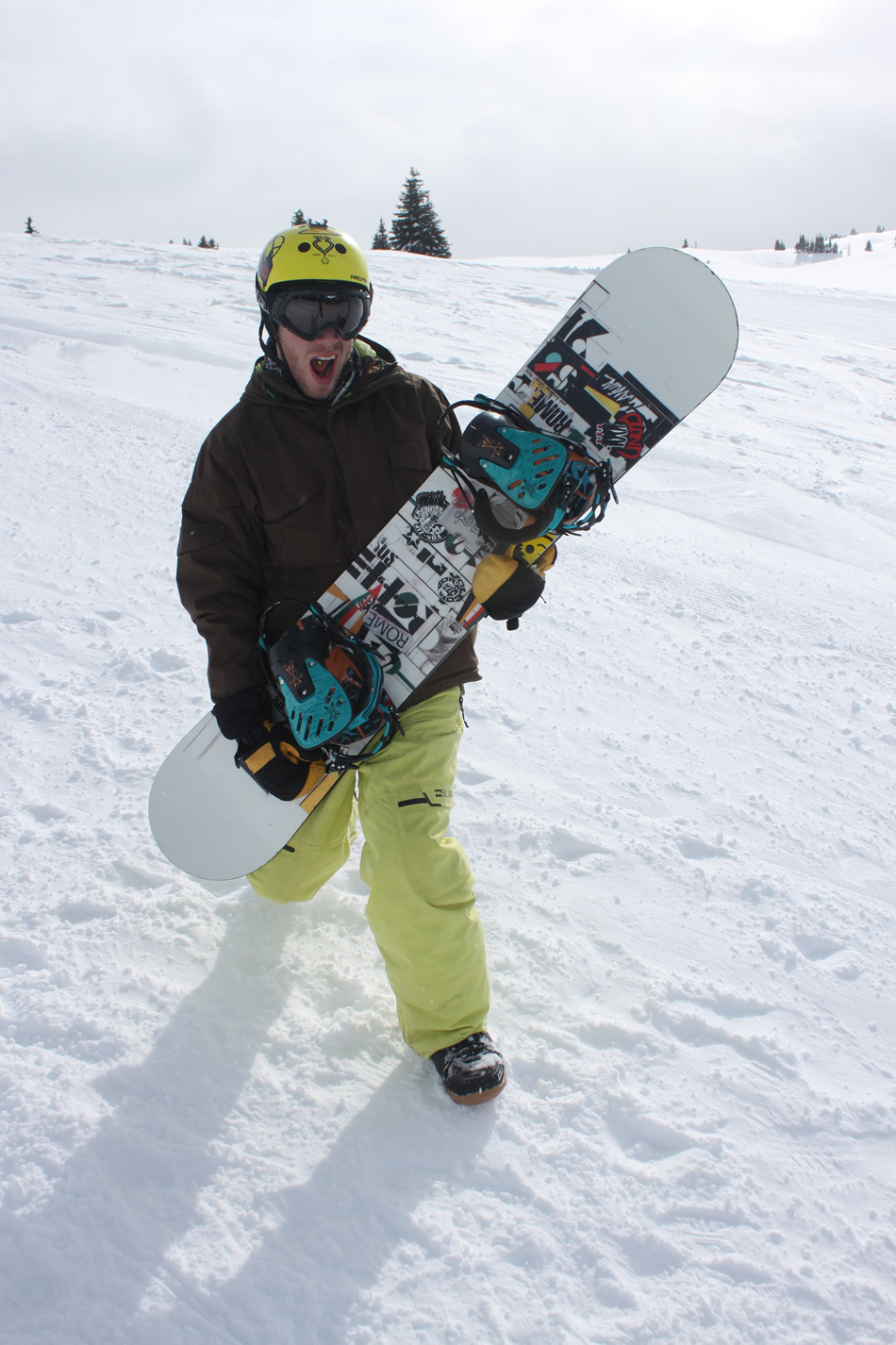 Q: Which country and resort did you work in?
A: I live in the U.S.A and first taught in Telluride, Colorado. I am currently living and teaching at Aspen, Snowmass.
Q: Why did you decide to become an instructor?
A: Ever since I traded my skis in for my first snowboard, I have loved snowboarding. I really enjoy being out in the mountains and experiencing every day for what it is: a new adventure. Because of this, the average 9-5 job just wasn't going to work for me and I've known this since I was 17. I knew then that I wanted to become a snowboard instructor and for years I had that desire. One day, I decided to take action, do a snowboard instructor course and make it happen. My life has changed for the better ever since.
Q: What is the best part of the job?
A: Hard to say what is the best part. Meeting extraordinary people, having the opportunity to travel, being out in the mountains and just doing what you love. It is the best.
Q: What is the worst part of being an instructor?
A: Having to work on Pow days. It's a rite of passage. Just suck it up and find the hidden stashes tomorrow.
Q: What qualifications have you got, what do you need to start working?
A: I have a CASI Level 2, Freestyle 1 and Avalanche Safety 1.
You should at least get a level 1 to start working. Some places will take you without a certification but its worthwhile to cert up as high as you can. You can do that with SnowSkool with one of our snowboard instructor courses in Canada.
Q: What are your daily hours, do you work all day most days?
A: Depends on what type of lesson it is. Private lessons are all day, 9am-3.30pm. Adult groups are from 10-3 and kids' lessons are from 9.45-3. If i get any of those then I am busy all day.
Q: How have you found gaining employment after qualifying as an instructor; easy or difficult?
A: Easier
SNOWSKOOL: Here's how much instructors earn in the U.S.A, based on our 2019/2020 salary survey. Bear in mind North American tips tend to be higher than in Europ and other regions.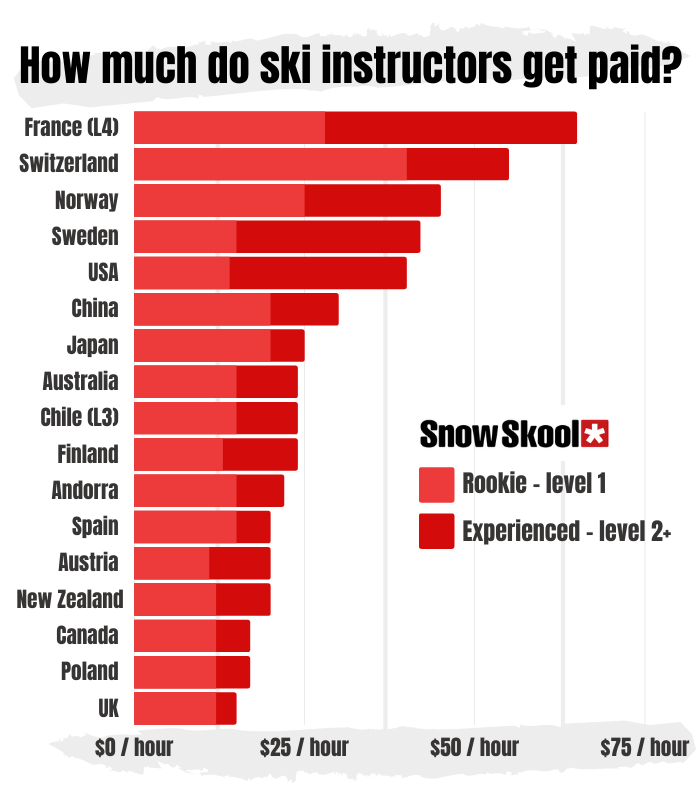 Q: What visa did you need, and how long does that last?
A: My first move was to New Zealand and I had a Working Holiday Visa. It lasts for up to a year from when you step foot in the country.
My second time there I had a Skilled Migrant Visa. This lasts for as long as your employer states that you are needed.
In the U.S.A, now I have a few years' experience, my visa is sponsored by the Ski School I work for.
Q: Where do you see yourself in the future, stil instructing?
A: I believe that I will instruct for as long as I can. Technology is only getting better. I hear you can use stem cells to regrow knee cartilage so sign me up for another 50+ years of teaching!
Q: What is the biggest tip you could give to others looking for a career as an instructor?
A: If you really want to do it, just do it! Or try it at least. It is a wonderful way to experience life. You may not make your millions this way but I bet you will find a truly unique form of happiness.
Fancy Being an Instructor? Try a Ski Instructor Course
If after reading this interview you're thinking, this sounds like a dream job, I'd love to do this, then why not have a look at one of our instructor courses. Unfortunately SnowSkool no longer runs instructor courses in the US, but does run ski instructor courses and snowboard instructor courses in Canada, France and New Zealand. Canada is only next door to the USA and once you qualify you'll be internationally recognised and the door to the US will start to open.
Related Ski Instructor Course Content:
For more information about ski or snowboard instructor courses have a look at these Snowskool blog articles to give you a further feel for the job: Where are they now? Ex-Snowskoolers and Which is the best instructor course for me?
Here are our other interviews from the 'Life as a Ski Instructor' series:
Clark Doran in New Zealand
Tom O'Hanlon Japan
Andrew McGregor in Canada