This is the first in a series of posts where SnowSkool asks ski instructors working across the globe: "what is life as an instructor really like?".
We've started by posing this question to the below-pictured Tom O'Hanlon who works in... Myoko, Japan.
We also have a whole article dedicated to explaining how to become a ski instructor in Japan.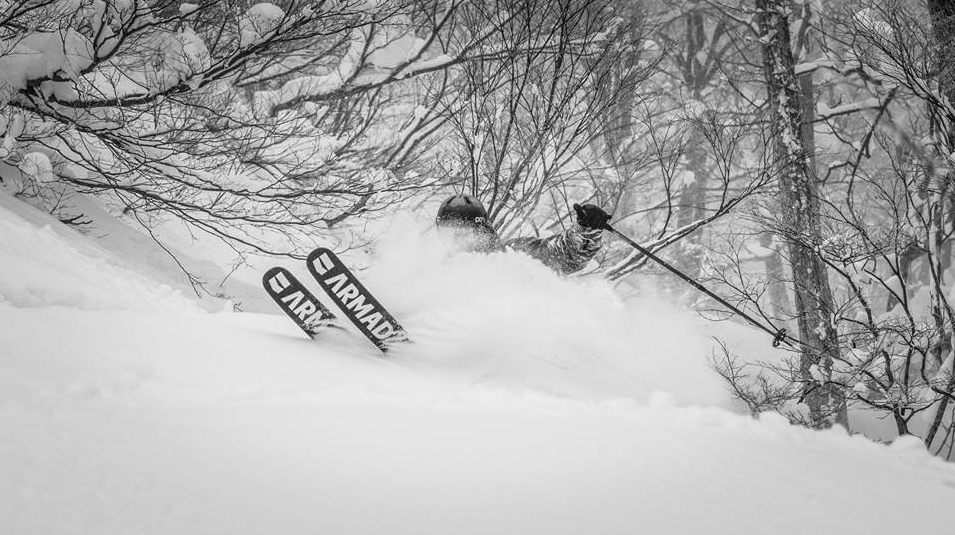 Q: Which country and resort did you work in?
A: I worked in a place called Myoko, in Japan. Within Myoko there are 7 different resorts that we can teach in. One of which (Seki Onsen) had the most snow in the world at points in 2015.
Q: Why did you decide to become an instructor?
A: I wanted to become an instructor because I loved skiing first and foremost. I then realised I loved teaching and the two go hand in hand. Becoming an instructor has made me a more rounded person and given me lots of skills not only how to ski well.
SnowSkool Note: If you want to kick start your career as an instructor we can help, SnowSkool run both ski instructor courses and snowboard instructor courses in France, Canada and New Zealand.
Q: What is the best part of the job?
A: The best part of the job is living in the mountains - and being able to travel and see different countries and cultures. I wouldn't have visited Japan, Australia, Dubai or even Malaysia if I wasn't a ski instructor.
Q: What is the worst part of being an instructor?
A: There aren't that many cons for me. The worst part is probably being teased by the snow conditions when you are at work. Yes you get to ski every day, but you are not skiing for yourself 70% of the time. This kind of gets frustrating when you have just had 50cm of fresh snow and you are trying to teach a 14 year old kid how to snowplough. Upside is, if you have had that much snow they can more often than not skip snowplough and head straight to parallel! It also gives you more motivation to improve their skiing so you can ski powder with them!
Q: What qualifications have you got, what do you need to start working?
A: I have CSIA Level 2 ski, CSIA Snowpark cert, Avalanche Awareness level 1, APSI Level 1 Snowboard and an APSI adaptive snowsports cert, and for me that is enough. I get good enough lessons to have fun, but I do not have to spend all my free time training. Instead I can go touring in the back country and have some fun in the park.
Q: What are your daily hours, do you work all day most days?
A: In most ski schools you have to be on it if you want time off. You can work every day if you want to but if you want time off you have to be proactive, and book a day off. I try to work 6 day weeks, when I am working this will be from about 8am until 6/7 pm at night, because I also work in the rental stores after work.
SNOWSKOOL: Here's information on how much Ski Instructors in Japan earn, based on our 2019/2020 survey.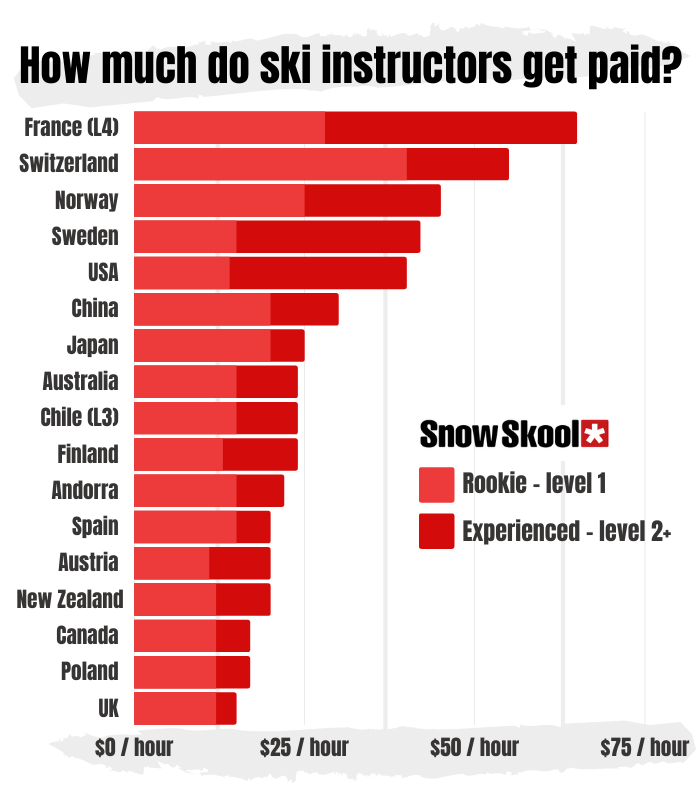 Q: How have you found gaining employment after qualifying as an instructor: easy or difficult?
A: Easy. A level 2 CSIA got me to Australia teaching skiing, and from there, my attitude, and level of improvement got my job in Japan. I found that if you work hard then you get noticed and that makes it much easier to get jobs. Working in the southern and northern hemisphere is fun, because you can go from winter to winter with a little summer break in between.
Q: What visa did you need, and how long does that last?
A: In both countries I have used Working Holiday visas, and when that ran out the Japanese ski school sponsored me to come back. For UK residents working holiday visas last 1 year but in Australia you can extend that by another year if you complete 3 months agricultural work. Which is actually quite fun - and my agricultural work was filled with fun activities like wakeboarding and riding motorbikes.
SnowSkool Note: the age limit for working holiday VISAs in Australia will be extended from 30 to 35 for Australia from 2017 - a big change for instructors also considering work in Oz.
Q: When your visa runs out, can you get another or if not how can you go back and work there?
A: Kind of already touched on this but you have to get sponsored to go back and work for the ski school if your working holiday visas have run out. This kind of depends from person to person though because people have different qualifications and experience and citizenship.
Q: Where do you see yourself in the future, still instructing?
A: I am heading back out to Japan this winter for another powder filled season but after than I am going to study Outdoor Leadership at Cumbria University. I can see myself going on to be a teacher in schools but eventually emigrating to Australia with my Girlfriend. During University, I hope to do a few southern hemisphere seasons, hopefully incorporating this into the course.
Q: What is the biggest tip you could give to others looking for a career as an instructor?
1. Have as much fun as possible
2. Make as many friends as possible
3. Try to be the best instructor you can be
4. Ski with good skiers, you wont get better otherwise
5. Figure out what skiing you like to do, and find other people who like doing that too
6. Don't get stuck teaching somewhere you don't want to be, go to the places you want to ski
Fancy Being an Instructor? Try a Ski Instructor Course
If after reading this interview you're thinking, this sounds like a dream job, I'd love to do this, then why not have a look at one of our instructor courses. Unfortunately SnowSkool no longer runs instructor courses in Japan, but do run ski instructor courses and snowboard instructor courses in Canada, France and New Zealand, and once you qualify you'll be internationally recognised and the door to Japan will start to creak open.
Related Ski Instructor Course Content:
SnowSkool runs ski instructor internships in Gstaad, Switzerland! You can earn as you learn (around €30 - €40 per hour) - and once you qualify you'll be internationally recognised and the door to other countries will start to creak open too.
For more information about ski or snowboard instructor courses have a look at these Snowskool blog articles to give you a further feel for the job: Where are they now? Ex-Snowskoolers and Which is the best instructor course for me?
Here are our other interviews from the 'Life as a Ski Instructor' series:
Clark Doran in New Zealand
Alex Williamson in Switzerland
Scott in Aspen USA
Andrew McGregor in Canada