This is the second in our series of Q&As with ex-Snowskool expats where we ask "What is life as an instructor really like?".
Last time we spoke to Tom O'Hanlon in Myoko, Japan. And this time, it's the turn of Andrew Mcgregor, in Banff, Canada. Here he is - looking pretty happy to be there...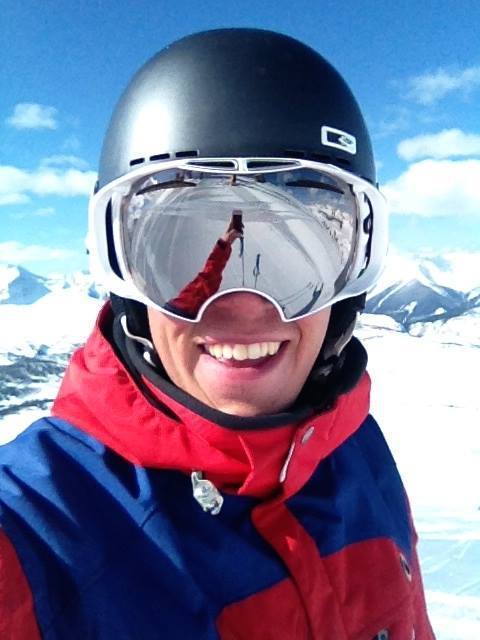 Q: Which country and resort do / did you work in?
A: Canada, Banff - Sunshine Village.
Q: Why did you decide to become an instructor?
A: Love of skiing and helping people to improve their skiing.
Q: What is the best part of the job?
A: Being out on the snow almost all-day everyday. Meeting a ton of awesome people and getting to teach something you love.
Q: What is the worst part of being an instructor?
A: The pay can be pretty low if you're not getting tipped and it can be hard to secure work visa to work in places like Canada.
Q: What qualifications have you got, what do you need to start working?
A: I have CSIA L3, CSCF Entry Level, CSIA Course Conductor. You will need a level 1 CSIA to teach in Canada and if you want to get a reasonable amount of work you should take a ski instructor course and be qualified to level 2 standard.
SnowSkool side note: You can get your CSIA level 1 and 2 with us on our two Canada instructor courses: 11 week ski instructor course Banff or 11 week ski instructor course Big White
Q: What are your daily hours, do you work all day most days?
A: I work from 0900 until 1600 most days. I might only teach for 4 or 5 hours of that day but the way lessons are structured I will end up being at the resort all day.
Q: How have you found gaining employment after qualifying as an instructor; easy or difficult?
A: I found finding work was not a given. But If you work hard and made a good impression then I think you stand a good chance of finding work.
Q: What visa did you need, and how long does that last?
A: IEC (International Experience Canada) Visa which is a 2 year visa. I have also carried on working in Canada after that expired by being sponsored by my resort but you will need to really work hard to get that.
SNOWSKOOL: Here's information on how much Ski Instructors in Canada earn, based on our salary survey - Canada is low down the list (compared to other countries) because traditionally North American tips are higher.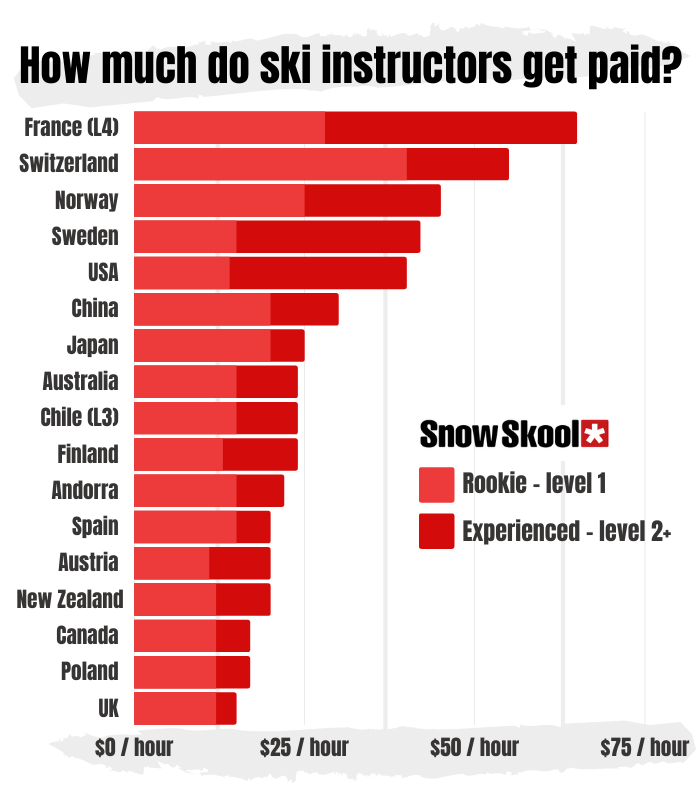 Q: When your visa runs out, can you get another or if not how can you go back and work there?
A: As above I can be sponsored by my resort or I could get Permanent Residency in Canada to continue working.
Q: Where do you see yourself in the future, still instructing?
A: I might teach for a few more years. Depends what happens and where life takes me
Q: What is the biggest tip you could give to others looking for a career as an instructor?
A: My biggest tip for anyone wanting to work in a ski school is work hard. Don't just learn to pass exams, learn to get better. The better you understand skiing the better you will get at skiing and the better teacher you will be. Which will mean people will want to come back and have lessons with you. You will make more money and overall have a better time if people are enjoying what you're teaching and getting lots out of it.
Fancy Being an Instructor? Try a Ski Instructor Course
If after reading this interview you're thinking, this sounds like a dream job, I'd love to do this, then why not have a look at one of our instructor courses. SnowSkool runs ski instructor courses and snowboard instructor courses in Canada! And once you qualify you'll be internationally recognised and the door to other countries will start to creak open too.
Here's some more info on Canadian visas and jobs.
Related Ski Instructor Course Content:
For more information about ski or snowboard instructor courses have a look at these Snowskool blog articles to give you a further feel for the job: Where are they now? Ex-Snowskoolers and Which is the best instructor course for me?
Here are our other interviews from the 'Life as a Ski Instructor' series:
Clark Doran in New Zealand
Alex Williamson in Switzerland
Scott in Aspen USA