This is the third in our instructor Q&A series, where we ask ex-SnowSkoolers about their lives as ski or snowboard instructors. We've been to Japan with Tom O'Hanlon; we've been to Canada with Andrew McGregor, and now we're going to Switzerland.
Featured, is Alex Williamson who you can just about see through the snow below. Alex took a SnowSkool ski instructor course a fews ago and has since gone onto to a full time ski instructor in Switzerland, here's what he has to say about his life an instructor...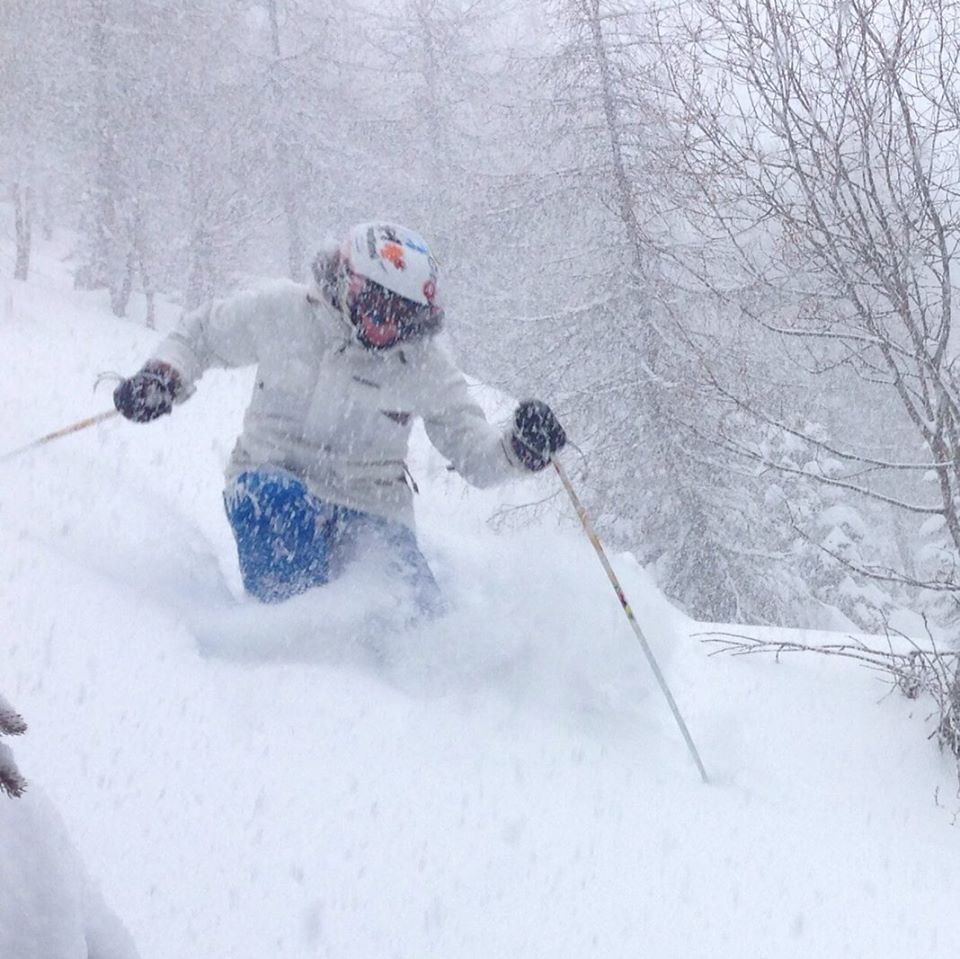 Q: Which country and resort did you work in?
A: In Switzerland - I have worked in both Crans Montana and Leysin.
Q: Why did you decide to become an instructor?
A: My dad was the biggest influence in my decision. He could see that I loved teaching my sister when I wasn't qualified - so he pushed me to do the ski instructor course, which was the best decision of my life so far.
Q: What is the best part of the job?
A: The satisfaction at the end of a lesson when someone has had great fun, learned loads of stuff and become a much better skier too.
Q: What is the worst part (not that there are many cons) of being an instructor?
A: As bad as it sounds the cold! I hate being cold so I wear lots of layers to try and prevent this happening. Many times I have been asked: "how can you be a ski instructor yet hate the cold!". It's a fair point.
Q: What qualifications have you got, what do you need to start working?
A: Level 2 CSIA hopefully level 3 soon and I also have my avalanche safety certificate too. You can be level 1 to start work, there are quite a few opportunities even at that level.
Q: What are your daily hours, do you work all day most days?
A: It's really dependant on where you work. I have been lucky to have full day lessons for my career so far. But sometimes if you work with private clients or group adult lessons your hours can vary. I try to work as much as possible. Peak times you will always work lots but In-between times most companies are flexible and usually allow you to work 5 days a week.
SNOWSKOOL: Here's information on how much Ski Instructors in Canada earn, based on our 2016 / 2017 salary survey. Switzerland is pretty high up the list but bear in mind the cost of living is a bit higher than other countries too.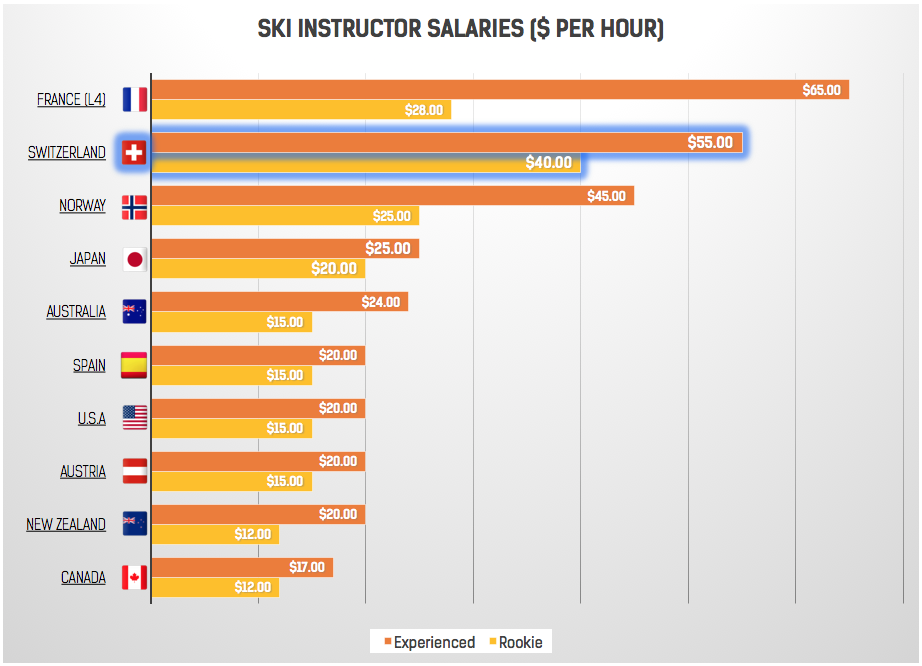 Q: How have you found gaining employment after qualifying as an instructor; easy or difficult?
A: I have been very lucky. SnowSkool helped me gain my first job overseas and as soon as I got my foot in the door I have found it easy to gain employment season after season. Like a lot of other careers, the ski industry can be very much not what you know but who you know.
Q: What visa did you need, and how long does that last?
A: For Switzerland I needed a work permit for both the seasons. Both of the ski schools I've worked for have helped me to get this permit and this allowed me to work with the company for a year.
Q: When your visa runs out, can you get another or if not how can you go back and work there?
A: In Switzerland it's easy enough to get another work permit. The most expensive part is the health insurance that you must pay for if if you expect to be there for a long time, but again most companies will help sort this out.
Q: Where do you see yourself in the future, still instructing?
A: In the future I want to try and stay within the ski industry. As for instructing I'm not sure yet. Just need to see how my body holds up, but certainly I don't want to move away from the ski industry.
Q: What is the biggest tip you could give to others looking for a career as an instructor?
A: If you really want to do it then get yourself booked on to a SnowSkool ski instructor course and get yourself started on the right track. As soon as you can get your foot in the door it's a pretty secure career and if you are willing to work hard the rewards are worthwhile, and the opportunity to work abroad opens up too.
Fancy Being an Instructor? Try a Ski Instructor Course
If after reading this interview you're thinking, this sounds like a dream job, I'd love to do this, then why not have a look at one of our instructor courses. We run ski instructor courses and snowboard instructor courses in Canada, France and New Zealand.
Related Ski Instructor Course Content:
SnowSkool runs ski instructor internships in Gstaad, Switzerland! You can earn as you learn (around €30 - €40 per hour) - and once you qualify you'll be internationally recognised and the door to other countries will start to creak open too.
For more information about ski or snowboard instructor courses have a look at these Snowskool blog articles to give you a further feel for the job: Where are they now? Ex-Snowskoolers and Which is the best instructor course for me?