Skiing Moguls, a divisive topic, but love 'em or hate 'em – it's a good idea to know how to handle 'em. Here are Snowskool's top 5 tips to improve your Mogul skiing.
Take the Moguls on: this is skiing… not shopping
You shouldn't be looking for a friendly bump to give you an easy ride; you need to adapt and learn to tackle bumps all shapes and sizes.
So choose your line down. Focus on an object or location in the distance, fix a line straight down from you to your chosen point, and then begin with conviction. Mix your turn shapes up - long and short turns - depending on your confidence /ability. This will teach you to adapt to the terrain as you approach it. Which brings me onto my next point:
Find your rhythm and stick with it

Start skiing down, get into a rhythm – a good way to do this is to count to a certain number, then turn, then count to that same number and turn again. Whatever your technique, put it into action, or try it at least; see the difference!
Keeping a steady rhythm helps with your stability and balance – stopping you from skiing more erratically and improving your confidence and fluidity.
To pole plant or not to pole plant
There's no ambiguity in the answer: pole plant!
Pole planting is critical when skiing Moguls as the poles help keep rhythm and they stabilize the body. They also help to keep your balance onto your downhill ski, with the shoulders over toes.
Yet pole planting is a technique that so many people fail to do correctly, or at all. Remember: poles are not just a survival tool against snow mammals!
On top or in-between?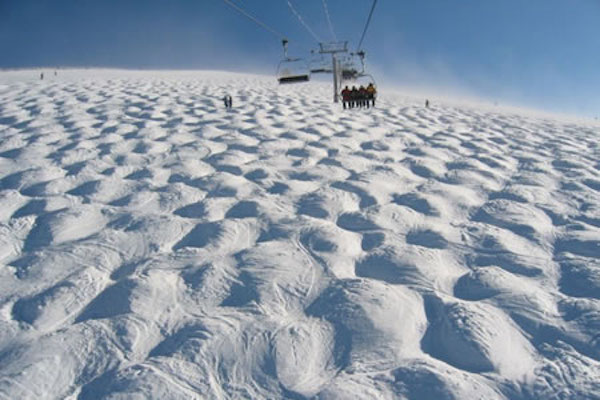 Some like to turn on the top of the bump, some in between the bumps, what to do?
We say mix it up – by getting into a rhythm, and turning according to that rhythm, you'll have to turn between the bumps and on the bumps; The Moguls won't politely rearrange themselves to fit your routine!
Go in-between the bumps for a faster turn (the racing line) – or turn on top of bumps to encourage a rounder turn (as less of your ski will be in contact with the snow, and the turn will be easier).
Keep a level head…
If you find that you get thrown around in the bumps, this will be likely due to some of the above issues not being addressed - and also your body being too stiff.
Stay loose! Challenge yourself to ski some bumps and maintain your head at the same level throughout your skiing. The ONLY way you will be able to do this is by allowing your ankles, knees and hips to bend. Relax, let your legs act like a suspension system, this will give you a greater feeling of control - allowing you to stay centred and mobile, which is key.
Approach The Mogul, allow your lower body to bend as you ski over the bump, and extend coming down the other side.
You should imagine that your legs are like pistons that do not stop moving, especially in bumps.
There are of course other factors in your skiing that could help your skiing Moguls but these are the 5 key areas that can make a massive difference to your ability – and in turn they will increase your confidence and love for Mogul skiing.
Need more tips…
Our ski improver courses can teach you how to ski better on all sorts of terrain - including Moguls!