Maybe you're seeking an extra challenge - maybe you're looking for something that'll ensure you are the talk of the town during that evening's après-ski. Whatever your reasons for seeking out the world's scariest black runs, there's no denying that you'll get your daily RDA of adrenaline, and then some, with this lot.
If you love this kind of content and awlays want to know what going on in the snowsport wolrd, check out our article on the best ski blogs to follow!
Delirium Dive, Banff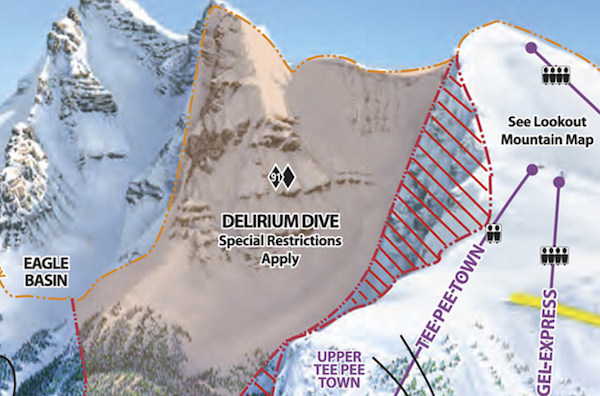 Let's kick off with a run that terrifies even the most experienced skiers. Firstly, you're not allowed to enter this freeride zone without avalanche gear and a buddy (a promising start) and it starts with a horizontal rock band which then quickly becomes a tight channel you have to carefully negotiate.
Hidden rocks and unstable snow mean that the area's extremely avalanche-prone, and the 55-degree gradient chutes are only recommended for the most confident of skiers. Access is gained through a special gate; if that doesn't fill you with fear, nothing will.
Backside of the Valluga, St Anton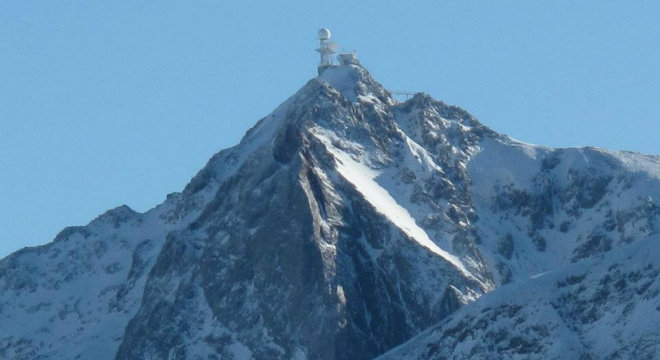 This run is technically undemanding - you've just got to have the nerve to take it on in the first place, which is a lot harder than it sounds.
Your journey starts with a cable car ride to the top of the most challenging ski area in Austria and you can only get on the car if you're accompanied by a qualified mountain guide (ominous). You'll then have to gently push through the crowds of tourists at the top of the viewing platform. And don't be surprised if you hear a few gasps when you click into your skis.
The first slope is pretty easy to handle but, as luck would have it, it ends in a precipice. Pay attention - if you miss the left turn, you'll end up on jagged rocks 700m below!
Surviving skiers will finish off in Zürs: it's a luxury ski resort with exceptional hotels and international restaurants. It even has its own biomass district heating and is the perfect counterpoint to the huge cliffs and limb-endangering rocks on the way down.
The Streif, Kitzbühel
There's a reason why this demanding slope commands such respect; this is where the Hahnenkamm World Cup downhill ski race takes place, and it's known for being the most difficult run on the circuit.
There have been several mishaps over the years - huge, career-ending crashes are not uncommon. In fact, it's such a beast that a new docudrama by Red Bull - Streif: One Hell of a Ride - has been produced as an homage to this menacing run.
The course is a monster, by all accounts, from the 85 percent drop-off at the Mausfalle jump near the top of the course, it's non-stop carnage. We're talking jumps up to 80 metres and speeds reaching 140kmh.
Of course, after the World Cup, the course is open to the rest of the public. Fancy giving it a go?
Tortin, Verbier
Many of these runs become a little easier or harder depending on snow cover, and Tortin is no exception. During plentiful seasons, you may find that the going's remarkably simple; try coming back when the powder's a little thinner on the ground.
Access to the run is via a traverse. You then steel yourself, pick your spot and take a left turn onto a wide but horribly steep slope. During the busy times, the moguls here are the ones to watch: thousands of skiers glide over them and disfigure the original bumps, making them steeper and harder to navigate.
Our advice? Head off at the start of the traverse. It's steep, but if you focus, you're likely to stay on your feet. After a good snowfall, it's a safe and exhilarating run. But when it is icy, a slip can spell doom.
Kill the Banker, Revelstoke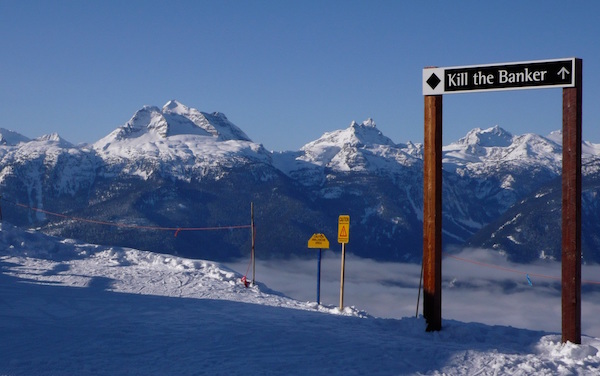 Apart from its somewhat unfriendly name, there's more to fear on this piste than shady finance workers. There's the small but unavoidable matter of a waterfall to jump halfway down that gives this run its fearsome reputation; oh, and there's no hiding, as this treacherous feat must be attempted directly below the gondola, so everyone can either see you succeed - or fall.
Unfortunately, the waterfall isn't the only trial you'll have to face. The run boasts cliff edges that are steeper than the falls in global stock markets after the 2008 financial crisis but don't be put off - the run is fun and adrenaline-packed! Just watch out for those cliffs.
Tried any of these - or something better?
We´d love to hear about it...
Want even more? Take a Snowboard or Ski Instructor Course
As you may have noticed, a lot of these runs require a guide/instructor to be with you if you want to go down them. Wouldn't it be cool you could ski/snowboard to the same level as them, or maybe even become an instructor/guide yourself?! SnowSkool can help with that, we run multiple ski instructor courses and snowboard instructor courses in France, Canada and New Zealand:
>Ski Instructor Course Big White, Canada
>Ski Instructor Course Banff, Canada
>Snowboard Instructor Course Banff, Canada
>Snowboard Instructor Course Big White, Canada
Related:
Take on the World's most terrifying ski runs, with greater peace of mind with a ski improver course from Snowskool.
This article was contributed by Columbus Direct who specialise in winter sports travel insurance to keep skiers safe on the slopes.